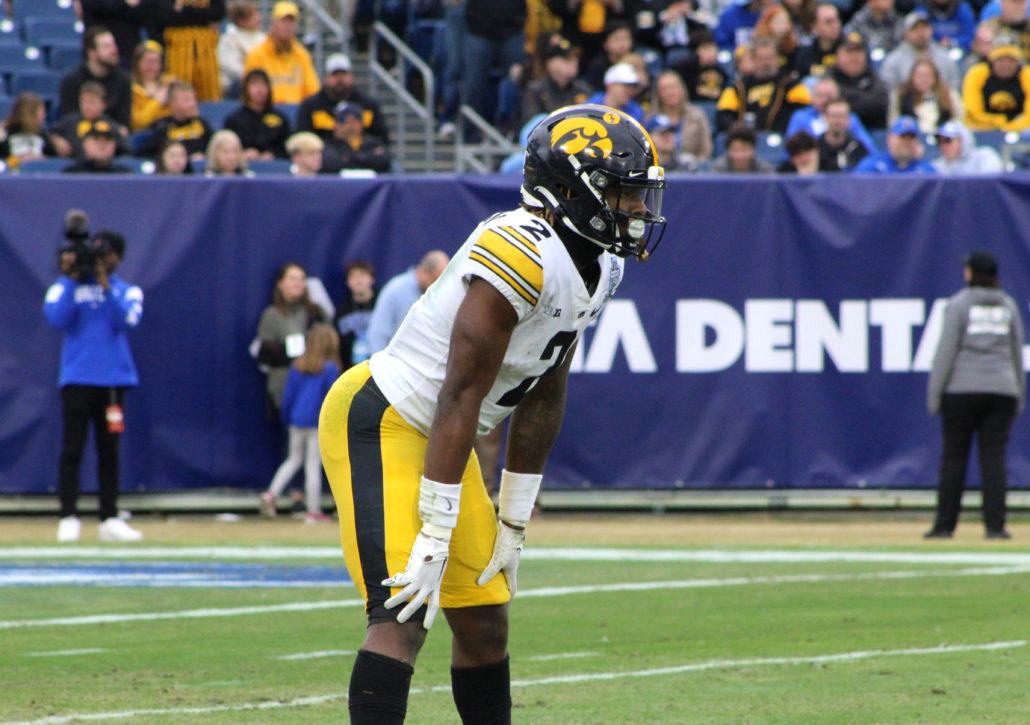 IOWA CITY, Ia. — The running back raised several eyebrows after he led Iowa in yards on the ground and rushing touchdowns as a true freshman last season.
As promising as Kaleb Johnson's 2022 campaign was for the Hawkeyes, he only caught four passes out of the backfield. The Ohio native thought he left a lot of plays on the field. That's because Johnson was limited in his contribution to Iowa's aerial attack.
He felt he wasn't efficient or consistent with his blocking. Not to mention his route-running wasn't crisp, and his hands weren't soft. Johnson wanted to be used more out in the slot, but knew he had to crawl before he walked. Which is why Johnson spent the entire offseason working non-stop on his hands, blocking and route-running. Now Johnson is confident he's made tremendous strides in those areas, and can't wait to unleash his versatility on opposing defenses.
"That's going to be my big thing this year, is getting a lot of receiving yards, and showing people that I can catch too," Johnson said. "Not just run the ball, because everybody can run the ball, so I just want to add another option to my game."
The six-foot, 222-pounder is still a load for would-be tacklers. Johnson expects to make the most out of his carries too. He has more confidence this time around, because of the big boys up front. The offensive line is healthy, has depth and is more experienced.
The cherry on top to the offense is the addition of Michigan transfers Cade McNamara and Erick All. Johnson knows defenses won't be able to just load the box to stop the run now. With McNamara behind center, and All as an extra safety blanket at tight end, everything appears to be trending up for the offense.
It all has Johnson licking his chops. In his eyes the sky's the limit for what the offense can accomplish this fall. The former four-star prospect wants to build off the momentum he generated last year. And that's a scary thought for defenses.
After all, Johnson rushed for 103 yards against Nevada, 109 against Nebraska, and a career-high, 202 against Purdue. He even molds his game after power rushers like Derrick Henry, Najee Harris and Hall of Famer Eric Dickerson. Johnson has a baseball background too, in which his grandpa kept him active in the sport as an adolescent.
He's prepared to do whatever it takes for the offense to be successful. Rather it requires him to be the workhorse, or be part of a running back by committee approach. Johnson is proud to be among a group of running backs that have so much love and respect for each other. In his mind, that chemistry on and off the field is going to go a long way this fall.
Although the Hawkeyes only averaged 94.9 rushing yards per game, which was the worst in the conference, Johnson is determined to improve that mark. The true sophomore is planning on surpassing the 1,000-yard mark too. He's not worried about the offense scoring 25 points per game either.
"I promise we're going to score 25 points per game, I'm going to make sure of that," he said. "I just really believes that we can do that,  and we're going to continue to pour it on."
As the Hawkeyes get deeper into fall camp, Johnson anticipates the intensity is going to crank up. He just wants to be able to deliver the goods when his number is called. That means having durability, no fumbling, getting stronger with every carry and being a weapon out of the backfield.
"My route-running and my pass blocking, I just want to learn how to be an all-around back, and that's my focus right now."