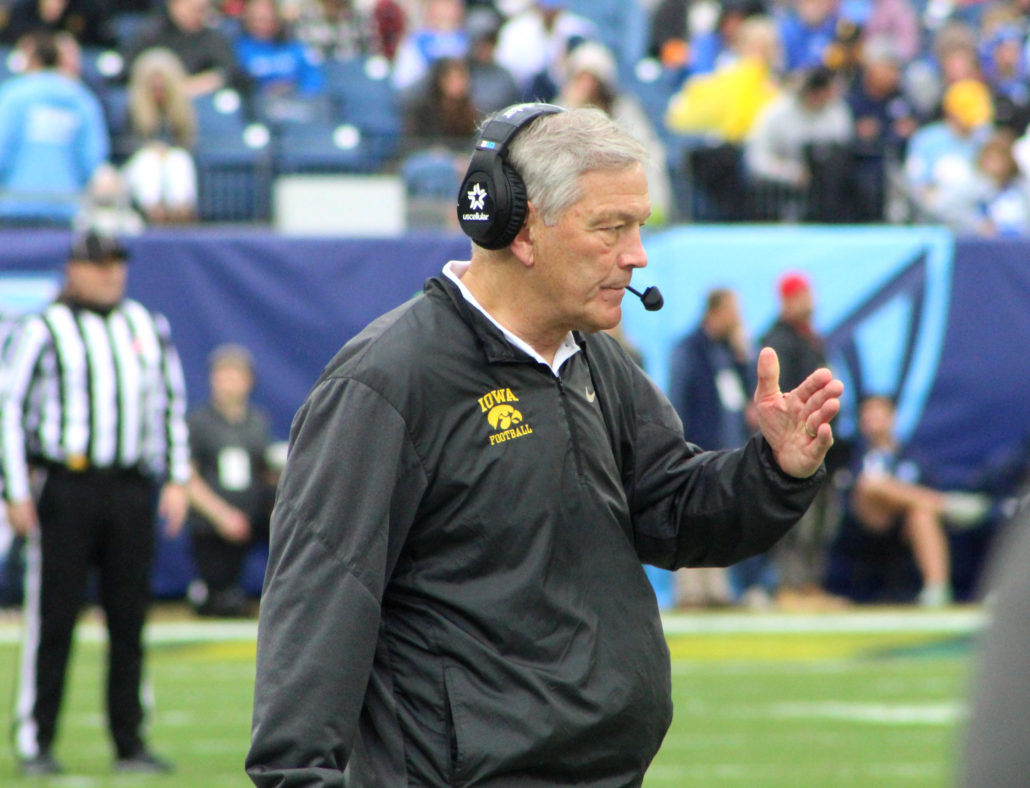 IOWA CITY, Ia. — College football's longest-tenured coach is trying to keep his players focused on the upcoming season, while an ongoing gambling investigation sits over the program like a black cloud.
There's no denying Kirk Ferentz has been on a roller coaster ride over the past three months. He first heard about Iowa's gambling probe back in May, Longtime Athletic Director Gary Barta announced his retirement later that month.
Hawkeye fans were left speechless when star defensive lineman Noah Shannon was implicated in the investigation back in July. Shannon didn't even attend Big Ten Media Days, and was replaced by Jay Higgins. Earlier this month backup kicker Aaron Blom was also accused of betting on eight Iowa sporting events, including the Cy-Hawk rivalry in 2021, and tampered with evidence.
Not to mention former players Arland Bruce and Reggie Bracey, plus current wideout Jack Johnson, and Graduate Assistant Owen O'Bryan also surfaced Thursday evening. So when Ferentz took the podium at Iowa's Media Day Friday afternoon, he made it crystal clear where he stood on the issue.
"I think it's become pretty apparent that sports betting is common in football in general, just athletics in general," Ferentz said. "Based on an NCAA survey I saw a couple months ago, it's pretty prevalent on every college campus, not only with athletes but just general people, and certainly as I've learned the last couple months, it's a big part of what's going on out there in the general public."
On top of that Johnson, Bruce, Bracey and O'Bryan placed over 900 bets while underage. It's no mystery that sports betting is legal in the state of Iowa, and has been since August of 2019. Ferentz believes sports gambling has always been around, but it's more available now than ever. People can literally download an app from their cell phone, and place a bet on it minutes later.
Gambling content is on networks now too. ESPN even has a show called Daily Wager. That's frustrating to Ferentz, because it makes his job harder in terms monitoring what his players do. Coaches can't be everywhere. However, he believes there are several solutions to make the situation better for the future.
"As I stand here right now, the one thing it doesn't — it can't be compromised, the integrity of the game, that's first and foremost," he said. "That's got to be protected, and that's where everything should start."
Iowa isn't the only program suffering from a gambling fiasco. Iowa State is also involved. The Cyclones had several players implicated, including it's starting quarterback from last season. Ferentz knows it's out of his hands with the NCAA and DCI involved now. He just hopes once the smoke clears, everyone will follow the rules and not be reckless.
"As far as I can understand it, no matter how you do it — and one of ironies is, from what I can understand, these might've been better off going through bookies, which I know is illegal," the 68-year old coach said. "That's what people my age did 40 years ago."
Gambling can lead down a dangerous path to self destruction. It's very addictive and easy to fall into a big hole. To Ferentz gambling doesn't deserve a place in College athletics because of potential corruption. Regardless, the game is constantly evolving.
Ferentz is still unaware of the type of suspensions that will be handed down to his current players that were involved. So he's going to approach his 25th season like he has all of the others. Still, he's going to keep a close eye on the ongoing investigation. Most importantly, he refuses to let it all be a team distraction, and take away the excitement from the 2023 campaign.
"We'll continue to cooperate, but our biggest thing right now is focusing on this season, and we'll handle each case basically individually as they come."