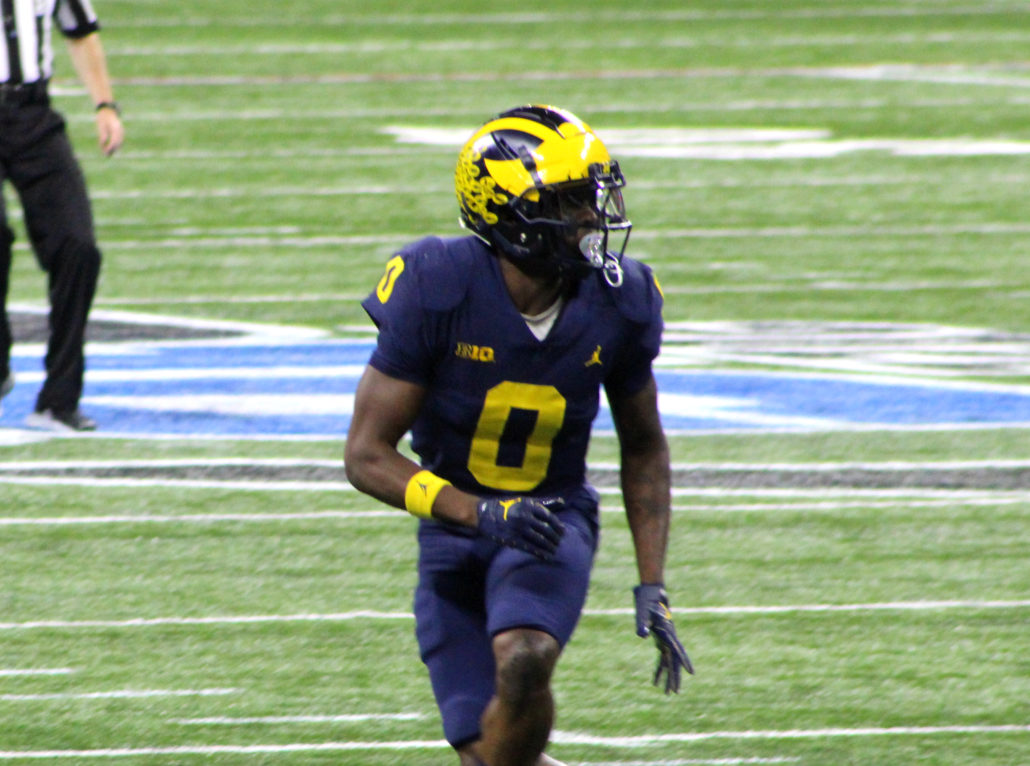 INDIANAPOLIS — Michigan's senior defensive back is one of the most talented athletes on the roster, but he's not your average student-athlete.
Mike Sainristil is a unique weapon for Coach Jim Harbaugh to operate with, and has played on both sides of the ball up to this point. However, what separates Sainristil from his teammates is what he does off the field. After all, he's an underrated musician.
Although Sainristil hasn't picked up an instrument in over a decade, he considers himself a natural on the piano, with the violin and several others. Wolverine fans know Sainristil as the defender who finished fourth on the team in tackles last season. The Massachusetts native lives in his own world outside of football though.
Sainristil has five pets, including four dogs and a cat that he cherishes. He also has that same type of love for his teammates. Not to mention he's improving in a sport that very few people know he plays.
"I'm big on bowling, I just got my own ball recently," Sainristil said. "I like playing video games, I just built a game and a computer, plus I love to cook and watch a bunch of videos on new recipes."
Just because he enjoys doing a variety of things, doesn't mean Sainristil isn't concentrating on football too. The former three-star prospect is ready to build on his promising campaign last year. Sainristil generated six solo tackles apiece in victories over Maryland and Ohio State. The 5-foot-10, 182-pounder even picked off a pass in the Playoff Semifinal against TCU.
That's impressive on his part, and shows Sainristil has come a long way as a defender, after playing wide receiver for his first three seasons with the Wolverines. With camp starting next week, Sainristil is anticipating the intensity will amplify in practice.
Regardless of the matter, Sainristil is making sure he accomplishes everything in the classroom because there'll come a day when he hangs up his helmet and cleats. So he's making sure that he's establishing some stability down the road. Football has been his safe haven, but he wants to make an effort to enjoy other aspects of life.
"I love football, football is what I do, but it's not who I am," he said. "You have to find what you love outside of your sport, because at the end of the day your career will come to an end, and there are other things in life out there that you can fall in love with."
There's no denying Sainristil plans on being an alpha in Michigan's secondary this fall. The Wolverines are trying to win three-straight outright Big Ten Titles, which hasn't been done at the program in quite some time. Sainristil is just glad that he has played an integral part in it all, and plans on doing everything it takes to keep the success going.
"What I do is bigger than myself, I'm just going out there representing and understanding the name Michigan holds a lot of weight, so I hope everything I'm doing I'm making those who came before me proud."