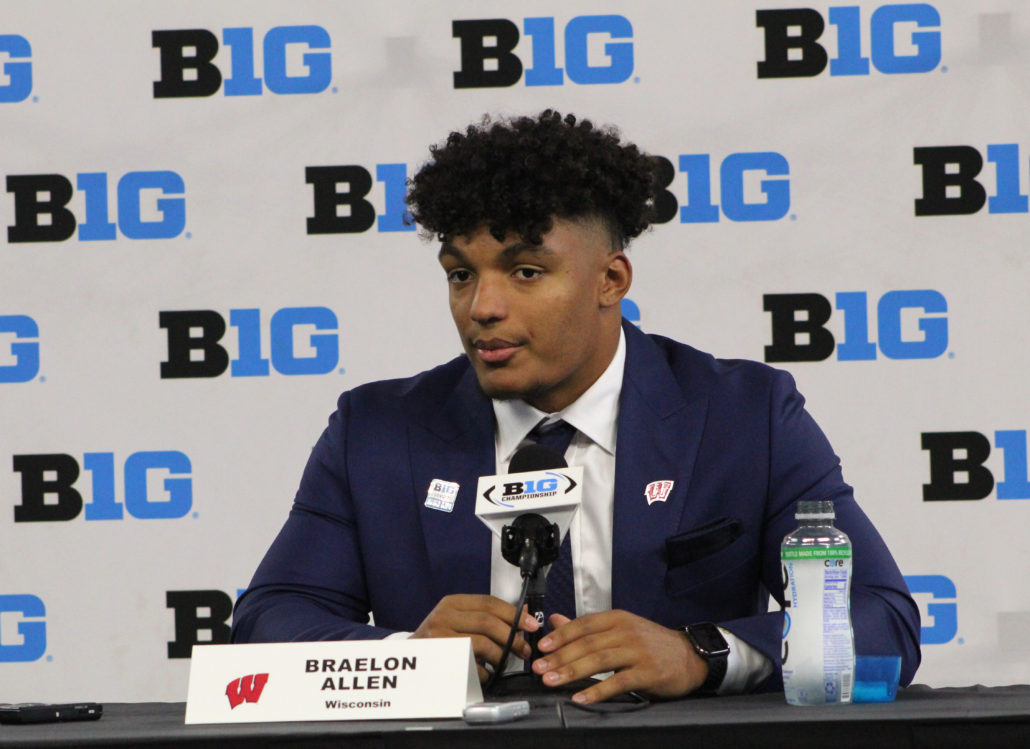 INDIANAPOLIS — He's coming off back-to-back 1,000-yard campaigns and is one of the nation's most punishing rushers, but will now be playing in a pass-happy offense.
Braelon Allen has been steamrolling over defenders since he landed in Madison. It's hard to argue against that when he has racked up 2,510 yards on the ground, and 23 touchdowns over the past two seasons. However, new Offensive Coordinator Phil Longo has installed an Air Raid-type of scheme. That means Allen will have to contribute in a variety of ways.
"It's going to be different for sure, it's going to be shotgun, pistol, no fullbacks, and four wide a lot of the time," Allen said. "So it's not going to be what fans are used to traditionally seeing Wisconsin do."
Allen understands he's going to be required to block more efficiently, and catch passes out of the backfield. The former four-star prospect has only caught 21 passes for 143 yards as a Badger. Still, he's excited to show the world a new aspect of his game. After all, Allen believes it has been a smooth transition up to this point. Not to mention he's already comfortable in Longo's scheme despite learning it over the spring.
Allen is very confident that Longo is going to elevate his skills because of his his track history with running backs. Longo had two 1,000-yard rushers in the same season during his time at North Carolina. That's what has Allen and teammate Chez Mellusi licking their chops approaching fall camp.
"He (Longo) is at the top of the game in terms of offensive minds," he said. "He's done a great job of implementing his offense so far and getting us all brought up to speed, and I'm excited to play in it."
Allen is still ready to be the workhorse if he has to. The six-foot-two, 240-pounder is still a load for defenders to bring down. He wants defenses to try to load up the box to stop him. That's because quarterback Tanner Mordecai can make defenders pay with passes over the middle and down the field. It's still mind-boggling that Allen's rushing production could decrease. He averaged 103.5 rushing yards per game in 2022, and that ranked fourth in the Big Ten.
Longo will have to take advantage, considering the caliber of weapon Allen is to the offense overall. At the end of the day, Allen just wants to be put in the best position for the Badgers to be successful. Coach Luke Fickell has generated a lot of buzz around campus, and Allen wants the team to capitalize on it. He's not worried about the outside predictions or expectations. Instead Allen is focusing on what he can control.
"I just want to be the best overall player that I can be, be the best every week and help my team win."