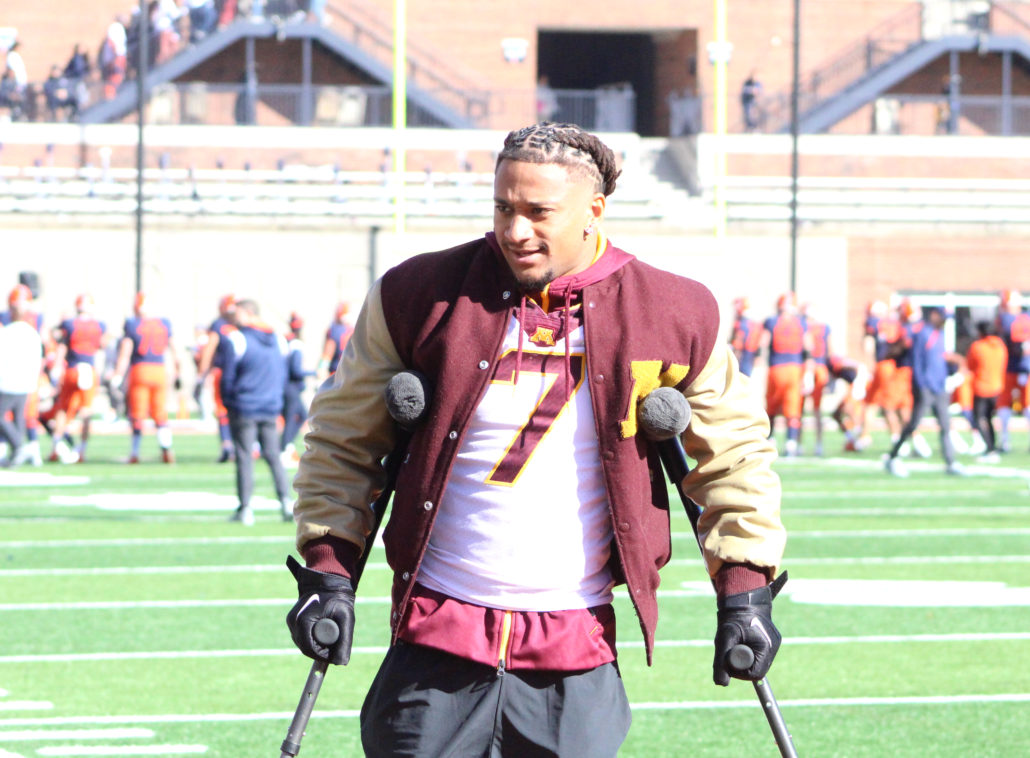 INDIANAPOLIS — The veteran wide receiver is the oldest player on Minnesota's roster, who's nearly healed from a leg injury that forced him to miss the final nine games last season.
Chris Autman-Bell is eager to get his seventh season as a Golden Gopher underway. After all, his experience, production and leadership will be vital to the offense. Over the past six seasons Autman-Bell has caught 125 passes for 1,970 yards and three touchdowns.
However, as fall camp approaches, he's not concerned about stats or accolades. Instead he's remaining humble, and guiding the younger players on what it takes to be a Golden Gopher.
"The biggest thing for me is I don't care about the stats or any of that, I just want to strap up and play each snap with my guys one last time," Autman-Bell said.
The Illinois native understands the responsibility that comes with being a leader, and that's required on and off the field. However, being part of the team since 2017, he finds it sometimes challenging relating to the younger influx of freshmen. It's just a reminder to him that the game is constantly evolving, as well as the players.
Regardless, Autman-Bell is the dean of the players, so he demands respect and wants everyone to soak up his knowledge like a sponge.
"I get to relate to my younger guys all the time, because I got a bunch of younger guys, especially in my position group that's going to be special players when their time comes," he said. "Me being there helping them out along the way, giving them advice, strengthening their mind and mental game, that's what I'm there for."
The former three-star prospect was on a tear through Minnesota's first three games last year, before he went down with injury. Autman-Bell generated 118 receiving yards against Western Illinois, and caught a touchdown in the victory over Colorado. Now he considers himself to be 90 to 95 percent healthy from a grueling rehab.
Midway through fall camp Autman-Bell should be fully healthy. He's already polishing his route-running, improving his lower body strength for blocking and learning the new offense. The motivation for the 2023 campaign is through the roof because Minnesota will be hosting Nebraska on Thursday night to open the season.
Autman-Bell is just glad to be part of the team for a rare seventh season, and wants to be remembered for all of the right things once he's done playing alongside his brothers.
"My biggest thing here is to leave a certain legacy and standard, especially in the wide receiver room, with teaching them how to move like a pro, and how to be a player here at this University."