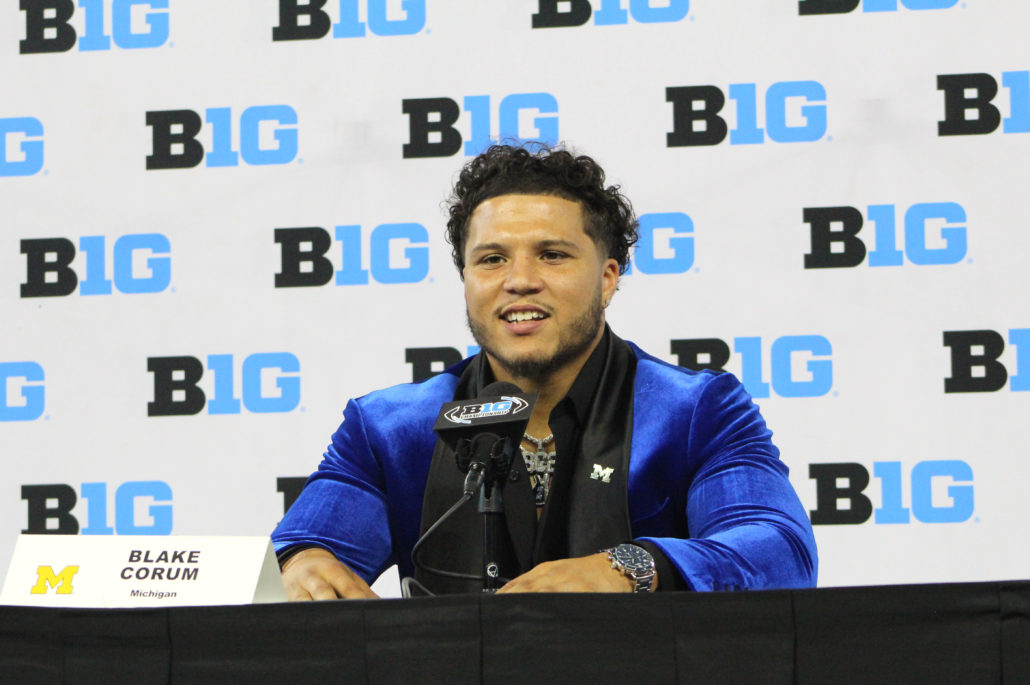 INDIANAPOLIS — The reigning Big Ten Running Back of the Year is back fully healthy for the Wolverines, which spells bad news for defenses across the conference.
It hurt Blake Corum deeply that he barely played against Ohio State. He sat out the Big Ten Championship Game, and the Playoffs Semifinal. No doubt they were the three most important games for Michigan, and a knee injury kept Corum from contributing.
After all, he steamrolled for 1,457 yards through 11 games in 2022, and eclipsed the century mark in rushing in seven Big Ten tilts. The Virginia native has basically been out of action for the past nine months, but it only added more fuel to the fire. Corum is more motivated than ever, and is preparing to show the College football world that he hasn't missed a beat.
"I'm not worried at all, I'm going into fall camp with the mindset that I'm fully healed," Corum said. "If they want me to do a hitting drill I'm going to be good, because my knee is fine, my knee is perfect and I'm ready for some ball now."
The Wolverines led the entire Big Ten in rushing offense, and return most of that production. Not only will Corum be accompanied in the backfield by Donovan Edwards, but J.J. McCarthy returns, as well as a veteran offensive line. That has Corum eager to get back on the field with his teammates, and he strongly believes they can go all the way this fall.
"I hold my teammates, I hold myself and the coaches hold us to a high standard, and part of me coming back was unfinished business," he said. "On the field, off the field and in general."
In Corum's mind it's National Championship or bust for 2023. However, he's not taking anything for granted, and is remaining humble. Rehabbing his knee was a long process, and there were times when he felt discouraged. Corum trusted in the process, remained patient and now he's ahead of schedule approaching fall camp on August 2.
"There was definitely a point in time where I was liking where this was headed, I saw the hard work paying off," the 22-year old said. "A couple of weeks ago that's when I realized my speed was coming back, then I started feeling the burst and my cutback ability."
The former four-star prospect is willing to do whatever it takes to be out there with his brothers. Corum understands that he doesn't have to carry the load with Edwards in the mix. So he can stay healthy down the stretch this time around. Regardless, Corum isn't afraid to be a workhorse again.
Although Corum isn't the fastest or biggest back in the Big Ten, he's definitely one of the most productive ones. With 2,415 rushing yards and 29 touchdowns over the past two seasons, he's arguably the most feared running back in the league. The reigning Big Ten Champs are on a mission this fall, and will likely enter the season as a top-three team. Corum know expectations are through the roof for him and his teammates, so he wants to deliver something remarkable for the fans.
"We have a team that's very special right now, a lot of guys are coming back, J.J. has a year under his belt and we have transfers."