JT Tuimoloau crediting basketball for defensive prowess on gridiron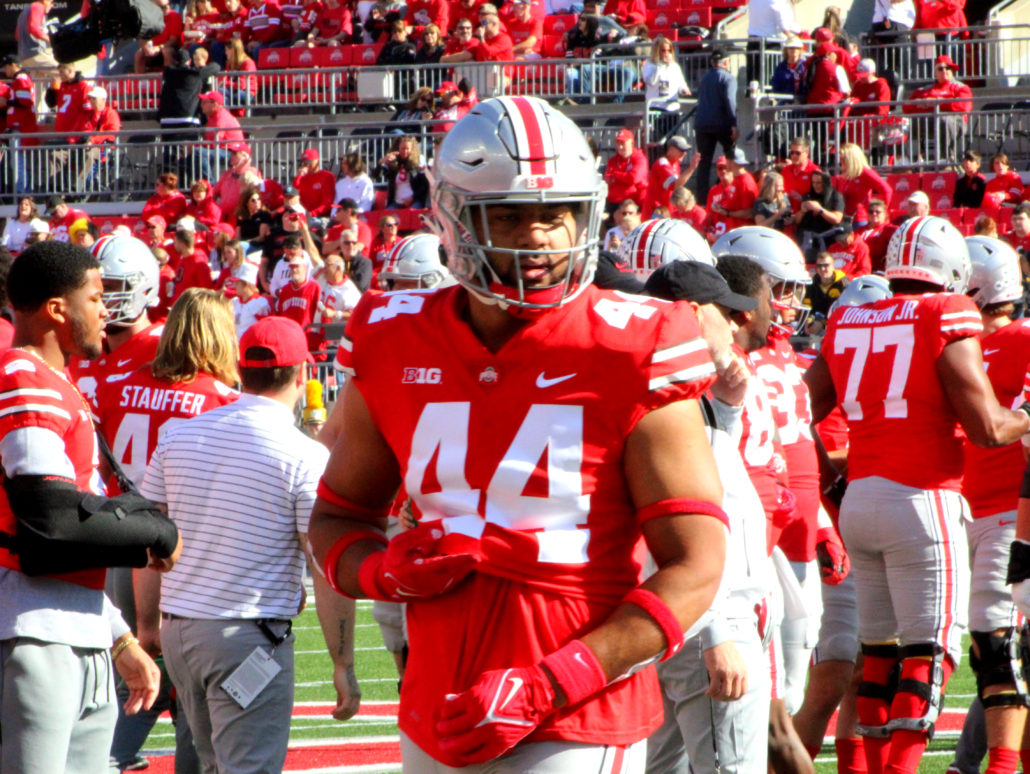 INDIANAPOLIS — The edge rusher wreaked havoc on ball carriers as a true sophomore last season, and made a name for himself in the Big Ten.
JT Tuimoloau is eager to pick up where he left off as the most feared defender in the conference. He always seem to be in the right place at the right time because of his natural instincts. However, Tuimoloau believes being a two-sport athlete has molded him into an elite defender.
After all, he was a standout in basketball throughout high school. The former five-star prospect knows athletes have to be in top shape to run up and down the court, which explains his non-stop motor. Tuimoloau has a low center of gravity too, and is flexible in the hips because of basketball.
"Agility from basketball, being able to guard guards at 250 in high school, so when you jump towards football it tests you a lot," Tuimoloau said. "Being able to react quick, or move laterally quick, rather it's dropping back in coverage, you find yourself colliding with running backs."
The six-foot-four, 270-pounder is relentless off the edge, and finished second on the Buckeyes with 10.5 tackles for loss last season. Basketball helps Tuimoloau jump higher, and in return he's able to easily bat down balls at the line of scrimmage. The Washington native is as versatile as defensive linemen get, and can cause terror from the interior or off the edge.
Not only does Tuimoloau take pride in being a staple against the run, but he's also a natural out in pass coverage. That explains why he tallied two sacks, and returned an interception 14 yards for a touchdown in the victory at Penn State.
Tuimoloau is encouraged by the intensity in the defensive line room because there's always competition. Second-year Defensive Coordinator Jim Knowles has simplified his system, and Tuimoloau is looking to make quarterbacks eat grass. He's able to operate smoother, and Knowles is giving him more freedom up front.
"This year our relationship is growing even more with Coach Knowles, and our defense wants to play fast, play physical and have fun," he said. "That's one thing Coach Knowles has always preached, and is always reminding us of what it means to be a silver bullet, and what it takes."
After earning second-team, All-Big Ten honors, Tuimoloau is preparing to amplify his dominance in the trenches. There's no denying he's going to require to blockers on every play, and quarterbacks will have to locate him before every snap. Requiring that much attention should open things up for other Buckeye defenders to make plays.
So when Buckeye fans see Tuimoloau making a game-changing play in the clutch this fall, just know that his athletic ability comes from playing basketball.
"That's one thing basketball has helped me with is my stamina, being able to have a quick twitch."