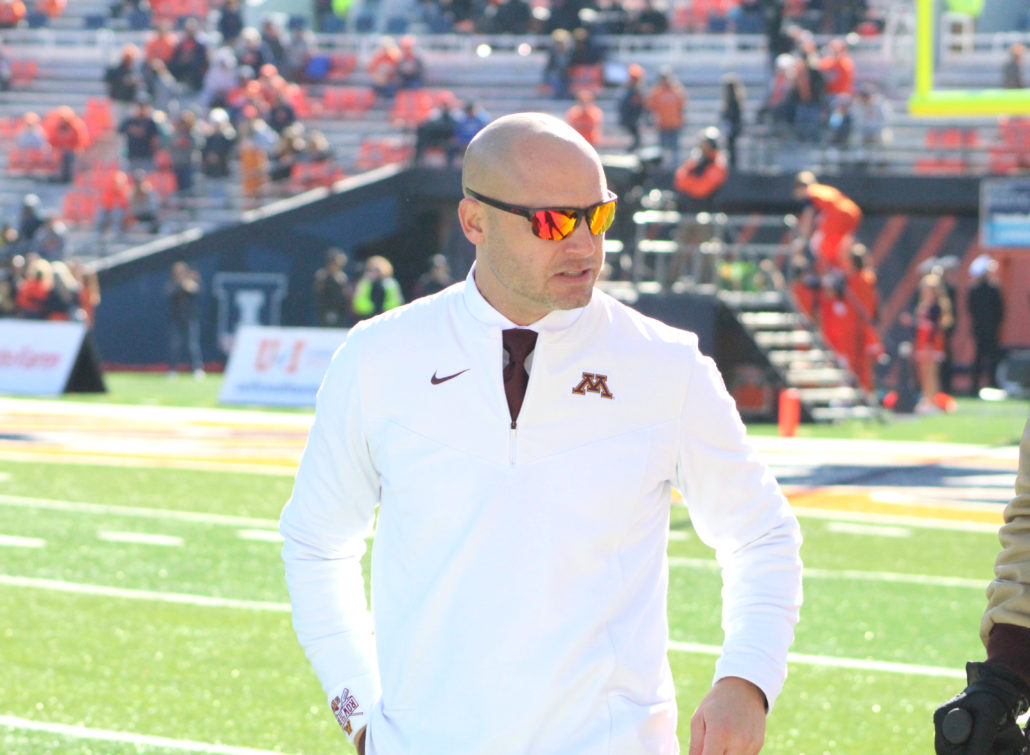 INDIANAPOLIS — For the third time in last four years Minnesota will be opening up the season against a Big Ten opponent.
The Golden Gophers have a wave of momentum because they've won four of their past five games dating back to last year, and Coach P.J. Fleck is enjoying that ride. He doesn't have to motivate his players for the clash against Nebraska.
After all, Fleck is 5-1 against the Huskers as the Golden Gophers' coach, and has won four-straight in the series. Not to mention he has never lost to Nebraska at Huntington Bank Stadium. However, Fleck isn't taking the Huskers lightly, despite them having a new coach, two new coordinators, and a new quarterback.
Coach Matt Rhule has raised several eyebrows around the Big Ten since he landed in Lincoln, especially with recruiting. He's known as a program-builder, and has also assembled a decent roster in a short period of time, thanks to the transfer portal. Which is why Rhule and the Huskers have Fleck's full attention.
"I've known Coach Rhule for a long time, and have a lot of respect for what he's done," Fleck said. "He's a phenomenal football coach, with a phenomenal culture, and his culture is all about connectivity."
On paper everything appears to be in favor of Minnesota. Nebraska has lost three-straight season openers, and each one was to a Big Ten opponent. Regardless, the Huskers appear to be a wild card, because no one really knows what kind of team Rhule is going to field.
Fleck can only control his side of the ordeal, and that's making sure his players are ready. The spotlight will be shining bright on Huntington Bank, and Fleck plans on taking full advantage.
"Anytime you're opening with a Big Ten opponent, you know it's going to be a tough matchup," Fleck said. "Especially when you have a coaching staff like he (Rhule) has, and a team like he has."
There's no denying Nebraska is hungry for another conference victory after defeating Iowa at Kinnick Stadium to end 2022. Fleck anticipates a well-coached team will be invading Minneapolis, and the Huskers always gets the Golden Gophers' best.
"I've always had a ton of respect for Nebraska, our team always has, and starting Big Ten play off right away kind of gets the season off to a really exciting start," the 42-year old coach said. "So it's going to be a fun environment, Huntington Bank Stadium, and we're looking forward to it."
A win for either team on August 31 will go a long way in the West division race. The Huskers really have nothing to lose, and Fleck knows that's what makes them dangerous. Fall camp is going to be a physical one for the Golden Gophers, but should have them ready to deliver four quarters of madness.
The entire Big Ten will be watching because it's going to be nationally televised, and the only conference clash on the slot. Husker fans travel better than anyone too, so expect to see a lot of red in the venue. One coach is trying to keep his foot on the pedal, while the other wants to snap an embarrassing losing streak. So fans should expect fireworks from both teams on the gridiron.