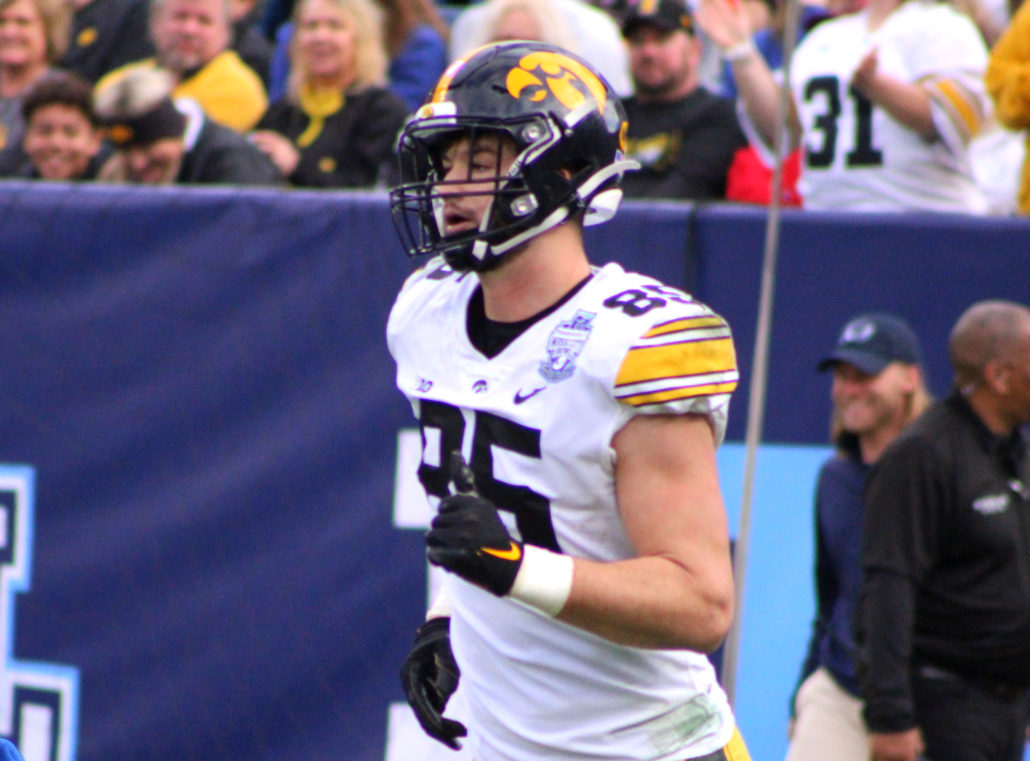 INDIANAPOLIS — Last season he had a promising campaign, in which he led the Hawkeyes in touchdown catches, and finished second on the team in receiving yards.
Luke Lachey understands what it means to be a tight end at Iowa. So he's carrying the torch that Sam LaPorta left behind. It also helps that Lachey will be joined by Michigan transfer Erick All in the tight end room. The two have the potential to do damage against opposing defenses this fall. Not to mention they form one of the best tight end tandems in the country.
All has taught Lachey a lot so far, and brings a championship mentality to the program. And that's something Lachey can appreciate.
"He (All) teaches me some of the things to add to my routes," Lachey said. "Getting out of my route, my stance and what to do at the top of the route, just a bunch of little things."
The former four-star prospect has been impressed with Iowa's long line of elite tight ends through the years. As a matter of fact, the Hawkeyes have had a jaw-dropping, 12 tight ends drafted during Ferentz's tenure. Which is why Lachey knows he's in the right place to be successful. Knowing what comes with the territory of playing for 'Tight End U' is what's going to take him far this fall.
"It is very meaningful, anytime anyone bring up tight ends I think of Iowa," he said. "It's a cool thing, but at the end of the day I'm just going to go out there and fill my role by helping the team win any way  I can."
Playing alongside LaPorta benefited Lachey at ton, from his blocking to running routes, and the two remain close friends. As for now, Lachey is trying to build chemistry with new quarterback Cade McNamara. By doing that it's going to help with the communication on the field. Lachey is prepared to be the Hawkeyes' ultimate safety blanket.
Standing six-foot-six, and weighing 253 pounds means Lachey will provide a lot of mismatches out in space. The former four-star prospect just wants to deliver the goods when his number is called. And there's nothing like coming up big in the clutch. So far it has been a smooth transition with McNamara behind center, and everything is going ahead of schedule approaching fall camp.
"I'm encouraged that Cade will provide a lot to the offense, and I'm excited for him," the junior said. "It's kind of unfair to put so much pressure on him because he's just one guy, and it's going to take 11 of us, so everyone has to do their job."
Offensive Coordinator Brian Ferentz must find a way for the offense to average 25 points per game. The stipulations to his contract is well known across the conference, and Lachey is confident the offense will be up for the task. Lachey has momentum, considering there's a different vibe around campus and everyone is determined to prove the doubters wrong.