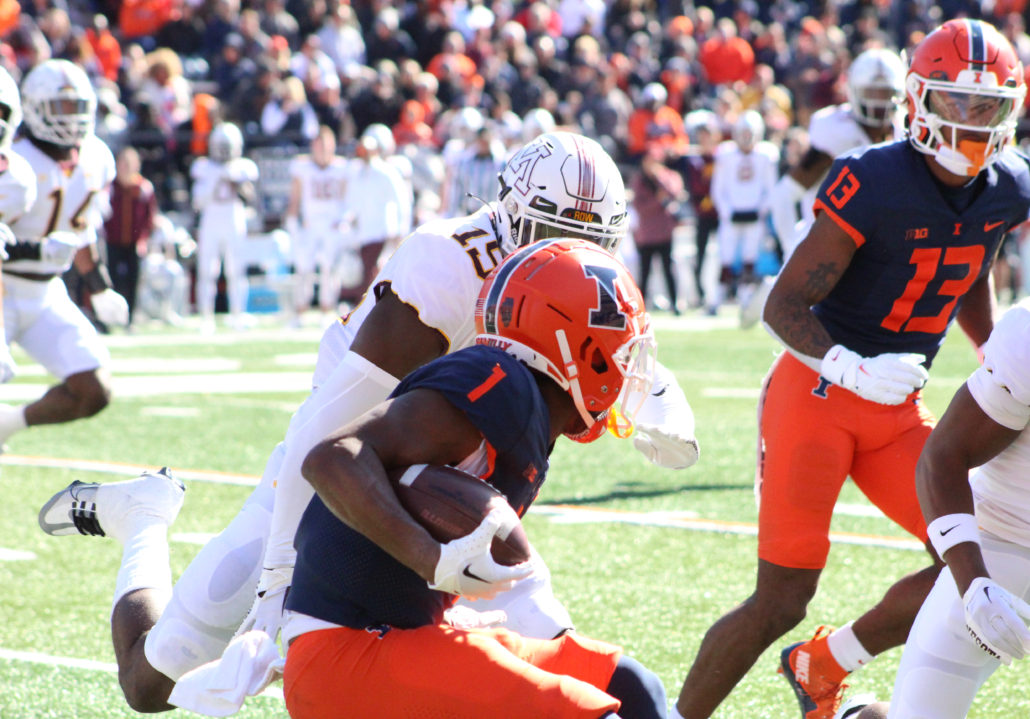 INDIANAPOLIS — The wide receiver led the Fighting Illini in receptions, receiving yards and touchdown catches last season, and now he's ready ready for more.
Isaiah Williams has come a long way being a wideout, considering he's a converted quarterback. The former four-star prospect has grown to love the position though, and will be Illinois' best offensive weapon this fall. Williams will have new quarterbacks throwing him the ball this time around in Luke Altmyer and John Paddock.
Regardless of the matter, he's not expecting to miss a beat, and is more confident in himself as a pass catcher than ever before. And that's saying a lot, considering Williams hauled in 82 balls last season. The St. Louis native is his own worst critic, and is constantly trying to perfect his game. Williams is already explosive, and can do damage out of the slot, but now he's trying to take the top off opposing defenses.
"When it comes to tracking the deep ball, that's one thing I really wanted to work on," Williams said. "I feel like last year I showed that I can catch a short pass and take it the distance, but now I'm trying to take my game to the next level, and catch a pass 50 yards down the field."
Williams finds himself the veteran in the wide receiver room approaching fall camp. So he's guiding the youngsters, and is also embracing being a leader. Most importantly, Williams is trying to build chemistry with the new quarterbacks, and appreciate all of the reps with them. In his mind, that's going to lead to the gunslingers trusting him more, which will help in clutch situations.
Williams wants to improve his blocking, continue to contribute at returning punts, and decrease his number of dropped balls.
"Tracking the ball through the air, understanding sometimes it might go through a blind spot and that's just catching everything, and making sure your eyes are right," he said. "So I've been focusing a lot on my eyes, because there are times as a receiver when you try to make a move before you fully catch the ball, and that's where some my drops came from."
Despite not earning All-Big Ten consideration, the 5-foot-10, 180-pounder will use it as motivation for his junior year. Williams won't be sneaking up on anybody this time around, and will likely require coverage from two defenders. Stil, he's not expecting his production to decrease. With running back Chase Brown off to the NFL, the Fighting Illini are looking to air the ball out more, and Williams is going to be the top target.
There's a lot of responsibility that comes with the territory he's entering, but judging from Williams' journey up to this point, he's ready for whatever comes his way. That's why he's making sure the quarterbacks stay on point, because the rest of the offense will only go as far they'll take them.
"I know when I played quarterback, if I didn't trust you, I wasn't really looking your way unless you were wide open."