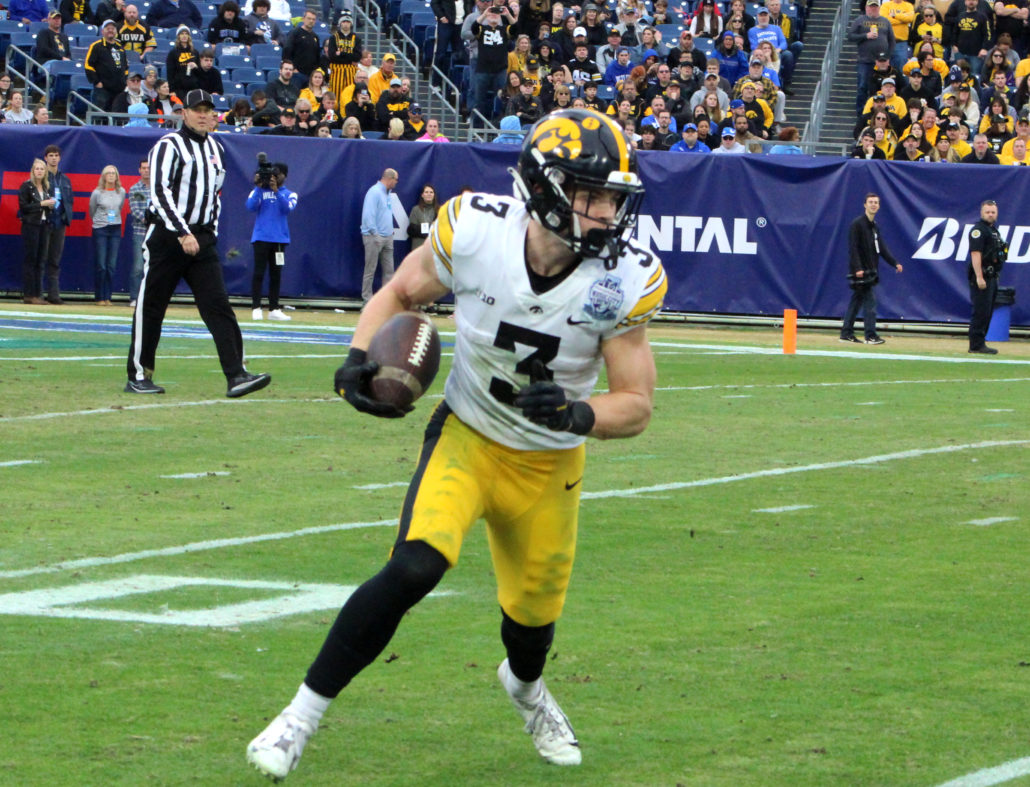 INDIANAPOLIS — The Hawkeyes All-Big Ten cornerback was basically an unknown commodity approaching last season, but through hard work and determination, he became one of the best defenders in the conference.
Cooper DeJean established himself as a ballhawk in Iowa's secondary, and helped the defense pick off 15 passes, which tied for 14th nationally. Not to mention he was a staple against the run, out in coverage, and contributed heavily on punt returns.
With Riley Moss and Kaevon Merriweather off to the NFL, DeJean understands it's his responsibility now to be the general in the secondary. It's something that DeJean is completely comfortable with, considering he's playing for Phil Parker, who happens to have one of the best defensive minds in today's game.
Parker is a former defensive back himself, and works closely with the secondary. Which is why DeJean trusts Parker, and is embracing the responsibility of being a leader approaching fall camp.
"Coach Parker puts us in the right position each and every game, and he knows defense better than anyone else at this level," DeJean said. "So we take a lot of pride in turnover, and forcing them however we can."
Although he ranked third on the team with 75 tackles last season, DeJean's five interceptions is what raised eyebrows around the league. With his speed and natural instincts, the Iowa native has the ability to blanket an entire side of a field. That gives him range and allows DeJean the opportunities to take more risks.
Parker can use him in a variety of ways too. From corner, to nickel and DeJean can even line up in the CASH position for Parker. He's such a versatile defender. There's a reason why DeJean was named the MVP of the Music City Bowl shutout victory over Kentucky. The six-foot-one, 207-pounder posted six solo stops, and returned an interception for a score. DeJean wants to keep that momentum going, and for the defense to continue that intensity as one of the nation's top units again.
"Our preparation week in and week out, no matter who we're playing, we're always going to prepare to the best of our abilities," he said. "I think that's just how our team is wired, that our culture at Iowa, and we want to prepare every week like it's our last."
DeJean is appreciating all of the preseason love he's receiving, but knows there's still a lot of work to do on the field. The Hawkeyes aren't as experienced at linebacker, and has some new faces in the secondary. Still, DeJean feels the defense will be a team strength again.
"The challenge is continuing to be a good defense," the 20-year old said. "I think we got a lot of new guys coming in, and will be filling some holes for individuals that played last year, so that'll be a challenge for the defense as a whole."
Regardless, DeJean is up for the task, and wants to continue the great legacy of defensive backs at Iowa. After all, the program has become a puppy mill for the NFL, with 13 defensive backs drafted from the secondary over the past seven years. DeJean appears to be well on his way to becoming Iowa's latest prospect, especially if he can have a campaign like he did in 2022.
The Iowa native recently spent time down in Florida at the same training facility Randy Moss attended. DeJean want to expand his football knowledge and learn a different perspective on how to play defense. As for now, he's going to continue to lead by example, and carry the torch that Moss and Merriweather left behind.
"It's a lot of  fun playing on that defense, and it is year in and year out for guys that came before me."