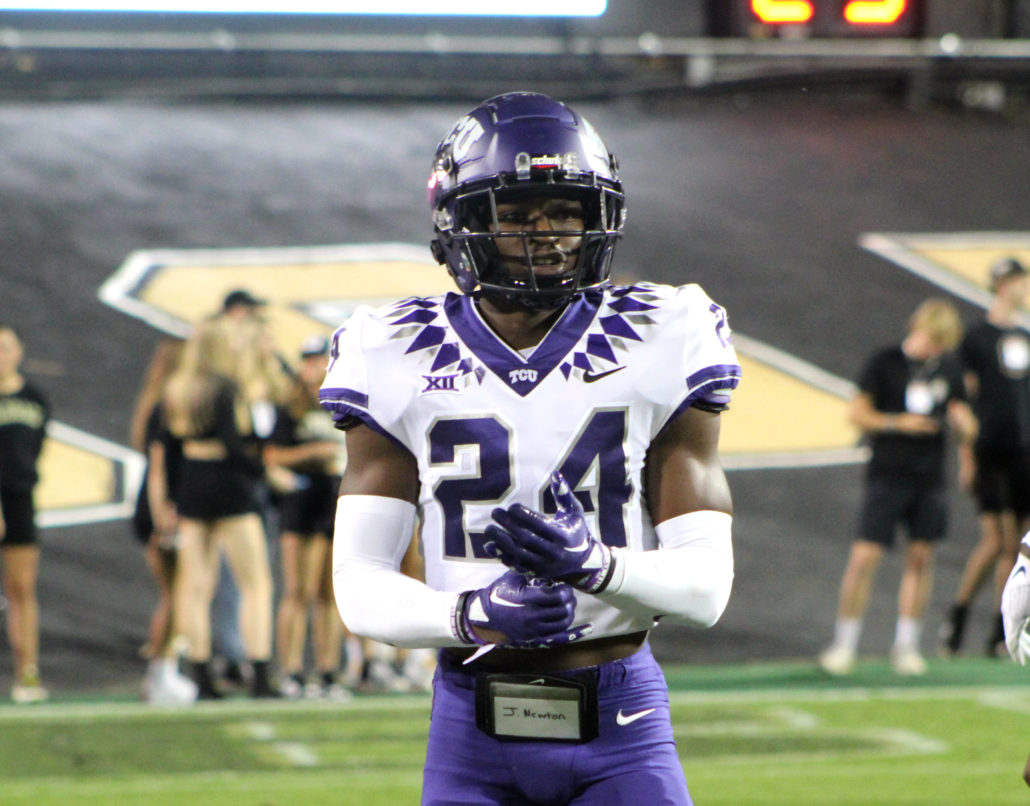 ARLINGTON, Texas — The Horned Frogs lost the Jim Thorpe Award winner from last season, but don't expect a drop off in their secondary.
A defense that tied for 10th in the FBS in interceptions last year, returns a plethora of defensive backs with experience, production and leadership. Senior Josh Newton happens to be one of those defenders, and he's confident TCU's secondary will be legit.
The All-Big 12 cornerback is one of the generals in the secondary, who started all 15 games last season. Now Newton is looking to pick up where Tre'Vius Hodges-Tomlinson left off. He hauled in three interceptions, and broke up a jaw-dropping, 12 passes. The Louisiana native is very capable of carrying the torch, but knows what Hodges-Tomlinson meant to the unit.
"Losing Tre' was big because he's was a highly competitive guy, who was taller than what he stood, and was an overall dog," Newton said. "We're bringing back basically our whole group, so it really just brings me a whole lot of confidence playing with my brothers another year."
Newton understands it's going to be his job to lockdown the opposition's top receiver. However, TCU has so many ball-hawking safeties that can blanket half the field, which in return will make Newton's job easier. Mark Perry was the Horned Frogs' second-leading tackler last season. Bud Clark picked off five passes, Abe Camara generated 54 stops, plus an interception, and Namdi Oblazor tallied 45 tackles.
With that much firepower in the secondary, Newton feels there might not be enough balls for everyone to get their hands on. Not to mention 4 of TCU's 16 interceptions were returned for a touchdown.
"At the end of the day we're all going to be competing for the Thorpe because it's about the best defensive backs," he said. "So when the ball goes in the air, we're all trying to go get it, it's going to be fun."
TCU's defense allowed 249.3 passing yards per game last season, which ranked 97th nationally. Those numbers have to improve if the Horned Frogs are expecting to make strides. Newton welcomes quarterbacks to throw his way. The six-foot, 195-pounder picked off a pass against SMU, Tarleton State, and returned an interception 57 yards to the house in the victory over Iowa State.
The entire secondary is eager to wipe away the bitter taste of defeat, after getting torched in the National Championship Game. Newton and his teammates have a chip on their shoulder because of it. Now they want to show the rest of the country their embarrassing performance was a fluke.
There's no denying the Horned Frogs have the potential to contain the best pass defense in the conference. The closer fall camp gets, the more excited Newton is to compete. In his eyes, having a close-knit group that bonds on and off the field, will help with the chemistry and communication during games.
"The type of brotherhood it is, it's just second to none, since we all depend on each other, we all love each other, and we all want to see each other do good."