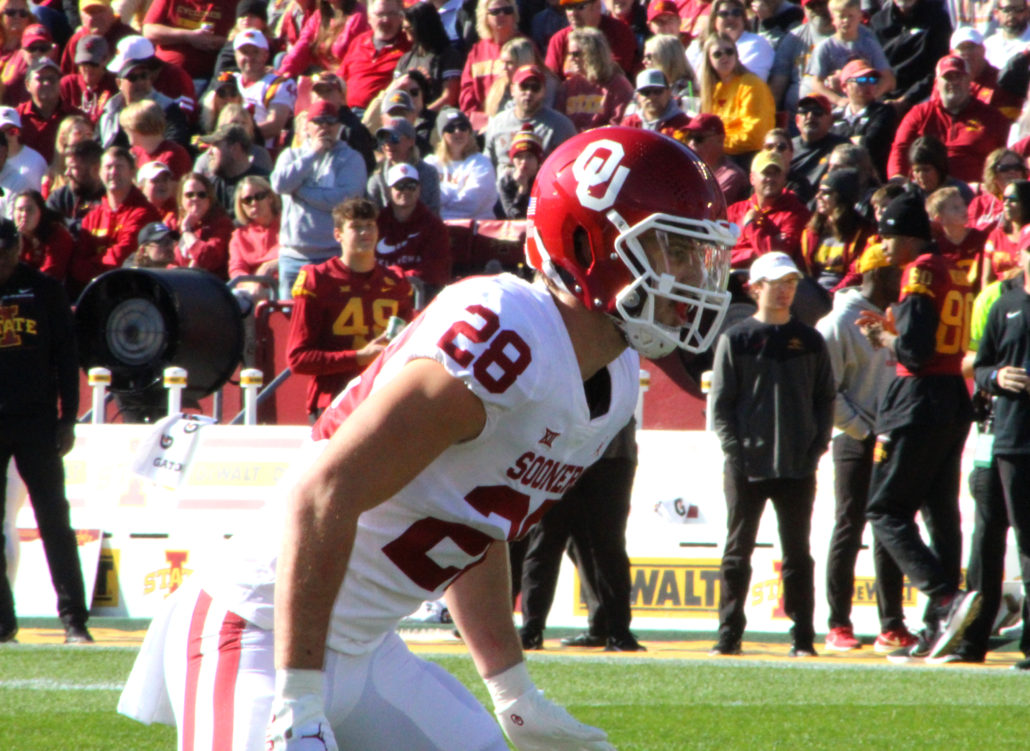 ARLINGTON, Texas — Last season the Oklahoma linebacker led the conference with 125 stops, but didn't receive any All-Big 12 consideration.
Danny Stutsman wasn't even named on the 2023 All-Big 12 preseason team that was released earlier this month. The lack of recognition has fueled the underrated defender approaching fall camp. Throughout the offseason he has worked heavily on his footwork, lower body strength and explosiveness.
Some Oklahoma fans believe Stutsman isn't fast enough, and want him to be more effective flying from sideline to sideline. The former three-star prospect is his own worst critic though. That's why he's out to prove all the naysayers wrong, and been ironing out all of the wrinkles to become the defender the Sooners need him to be.
"Pretty much efficiency, you got to be at the right place at the right time," Stutsman said. "I know at times I had bad hands, bad eyes and bad footwork, so I just got to clean up my game as a player."
Stutsman knows the responsibility of being a linebacker in the league. Linebackers have to be physical, tone-setters, intimidating, and enforcers of the front seven. The Florida native feels he has all of those qualities, and can't wait to unleash everything on ball carriers this fall.
Most importantly, Stutsman is embracing being a leader for the defense. And in order for him to be a great one, he'll have to hold his teammates accountable, and place a ton of responsibility on his shoulders. Oklahoma ranked ninth in the Big 12, and 122nd in the FBS in total defense in 2022.
As a matter of fact, defensive lineman Ethan Downs was the only Sooner that made it on the 2023 preseason All-Big 12 team. So Stutsman and his teammates have a sense of urgency this time around. There's a very slim margin for error if the defense wants to make strides. Which is why Stutsman is determined to lead the way, and wants everyone involved.
"Confidence doesn't come from the outcomes, it comes from the hard work," he said. "Last year we didn't accomplish what we wanted, but we're still confident with what the coaches teach us."
The naysayers believe Lincoln Riley left the cupboard bare, which is the reason for the big drop off on defense. However, Stutsman and his teammates are out to prove the critics wrong, by being one of the most sound and tenacious groups in the Big 12 this upcoming season.
Sooner fans are wondering what Stutsman can do for an encore, especially after all of his production last year. The six-foot-four, 240-pounder can't wait to show everyone how vastly he has improved. Regardless, Stutsman feels he hasn't reached his full potential yet, and is still a work in progress.
"Obviously I still have a long way to go, I'm not where I want to be as a player, and I know that, everybody knows that, but the game has slowed down for me."