Gerry Vaughn trusting Cyclones will field Big 12's toughest defense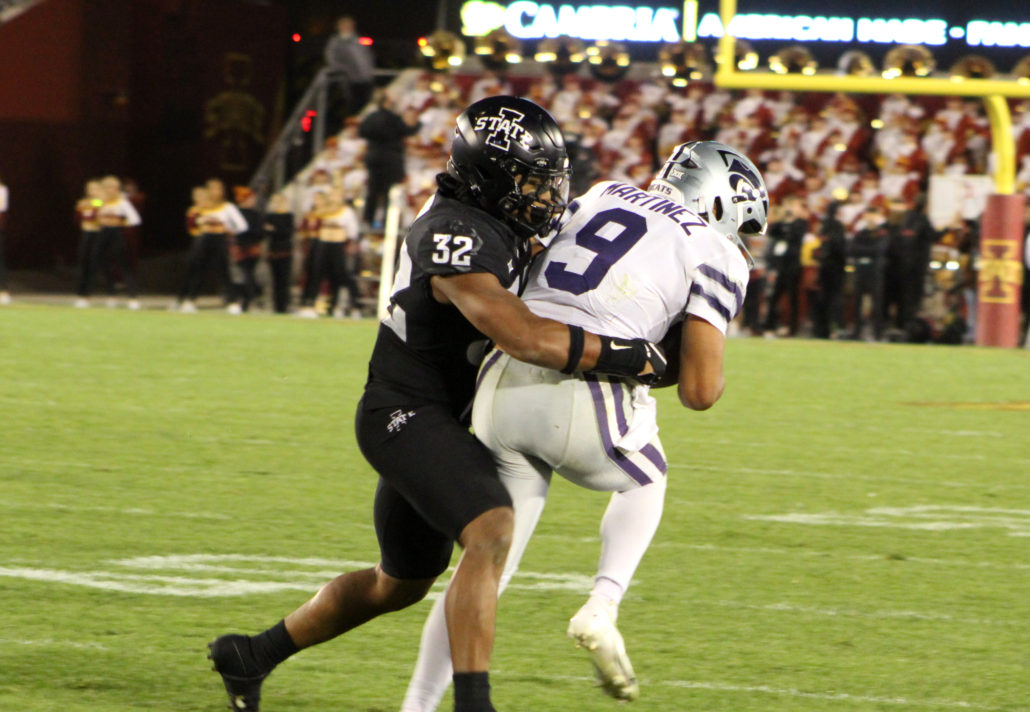 AMES, Ia. — It's no mystery that the Cyclones annually field one of the Big 12's best defenses, which should continue this fall according to their leading returning tackler.
Gerry Vaughn has been with the team since 2018, and is confident this year's defense has the potential to be the most dominant since he became a Cyclone. After all, defensive guru Jon Heacock is still patrolling the sidelines, and has an All-Big 12 caliber defender at every level of his unit, including Vaughn.
Iowa State finished first in the conference, and fourth nationally in total defense last season. Not to mention Heacock returns seven starters from that group. Vaughn feels there's a different vibe around the team coming off their first losing season since 2016.
With two days of fall camp in the books, Vaughn senses the hunger and passion in his teammates, and everyone is pushing each other.
"It's been going good, we all have evolved and are on the rise, so everybody is getting better one day at a time," Vaughn said. "I'm loving it, being back at football, being around the guys and coaches, it's been great."
Vaughn is encouraged by the intensity in practice, and there's a lot of motivation in the locker room. The former three-star prospect is riding a big wave of momentum, after generating 71 tackles in 2022. Vaughn is expecting to be the enforcer again, and he takes pride in setting the tone.
With Will McDonald in the NFL now, the defense is going to need a playmaker. Vaughn definitely fits the bill, considering his production. The Atlanta native recorded a season-high, 11 stops against Texas Tech. Vaughn also tallied nine tackles against Texas, eight against Kansas State and made the quarterback eat grass in the victory at Iowa.
His body feels stronger and more fluid this time around too. However, Vaughn understands in order for the defense to replicate last year's numbers, it's going to take an effort from everyone, especially the linebackers.
"It's not just a one-man job, I would say it takes a whole defense, so we're all working together to get better as a defense and as a unit," he said. "I'm just trying to push the room, set an example for the young guys and make sure I'm doing the right things, so when they follow me, they're making sure they do the right thing."
The defense has so much experience, production, and leadership. Nose guard Isaiah Lee often requires two blockers, cornerback T.J. Tampa is an All-Big 12 performer, and safety Beau Freyler racked up 68 tackles last season. Those defenders are helping the defense stay focused as the team goes through adversity during these uncertain times.
Vaughn isn't letting the recent gambling scandal be a distraction to the Cyclones though, so he's keeping everyone focused.
"We all try not to look at anything like the media, outside noise," the senior said. "So we kind of just stay in the house, do our own thing, and not worry about what's going on on the outside."
The 5-foot-11, 235-pounder knows all of the drama is bringing him and his teammates closer together. The linebackers are already like a brotherhood. In Vaughn's eyes that's going to translate a lot on the field, because everyone trusts each other.
Vaughn never wants to stop improving all areas of his game, from pass rush, to zone coverage. And that's saying a lot, because he's a natural at bringing down ball carriers in the open field. Although it's going to be his last season as a Cyclone, Vaughn is going to enjoy every bit of it with his brothers, and playing for Heacock, who he feels is the best Defensive Coordinator in the game.
"He (Heacock) sees things that you would probably never see, and kind of points it out to you, and open your eyes to the big picture."