Jaylin Noel embracing being the torch-bearer to Xavier Hutchinson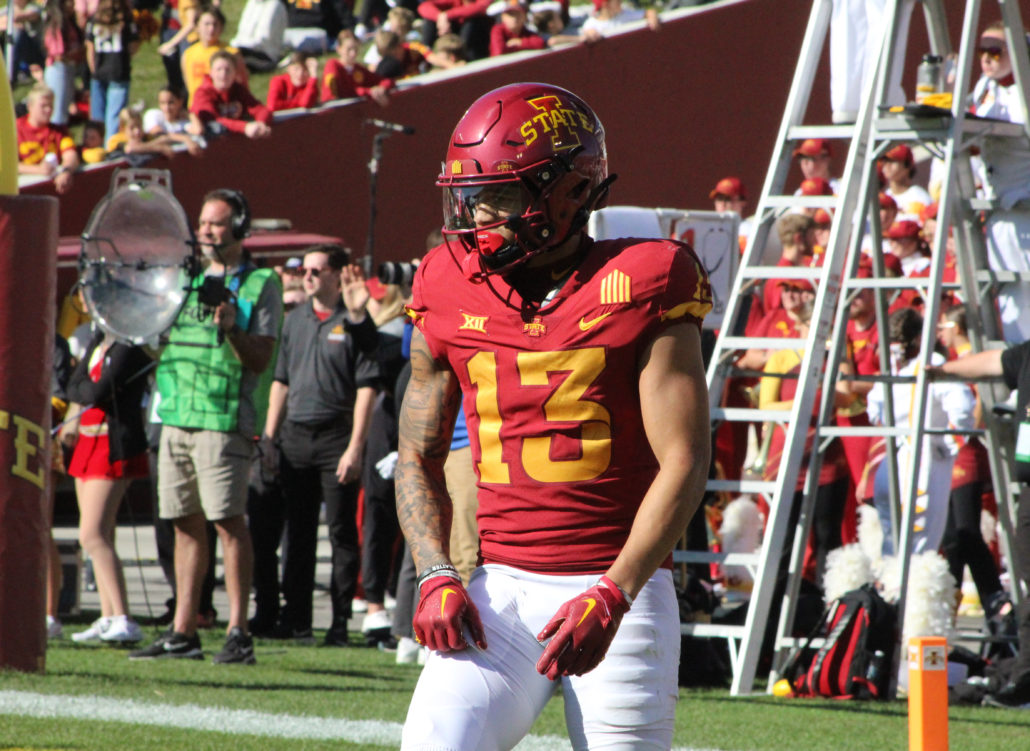 ARLINGTON, Texas — Xavier Hutchinson left Iowa State as the program's all-time leader in receptions.
Replacing Hutchinson's production and leadership won't be easy, but there's a Cyclone who's ready to become the go-to-receiver. Jaylin Noel finished second on the team in catches and receiving yards last season. Now he's the alpha male in a young, but talented wide receiver room approaching fall camp.
Noel been guiding the younger receivers, and takes pride in leading by example on and off the field. He's encouraged by how hungry everyone is for playing time.
"We're all pushing each other, and everyone is pushing each other to play in that room," Noel said. "Even though we're competing to play on the field, I feel like it's bringing everybody closer within that room, and making our brotherhood even stronger."
Noel understands the pass catchers are only going to go as far as the quarterbacks are going to take them. Hunter Dekkers was last year's starter. He passed for 3,044 yards, which ranked third in the Big 12, and 32nd nationally. His 19 touchdown tosses also ranked third in the conference.
However, Dekkers finished 82nd in the FBS in passing efficiency because of his 14 interceptions. Rocco Becht and JJ Kohl battled Dekkers throughout the spring, and it's a competition that's going to carry over into fall camp. Noel feels the intensity in that room is great for the offense overall, and believes the best player will win the job.
"It's a lot of competition, guys pushing each other, guys leading the whole team," he said. "I feel like all those guys are pushing to better themselves, by preparing themselves to play this year."
In order for Noel to fully take over as Iowa State's top target, he's going to have to improve certain areas of his game. His blocking and route-running has been the focal point throughout the offseason. Building chemistry with the quarterbacks and earning their trust will be vital.
Still, Noel is confident he'll be able to deliver every time his number is called. Hutchinson was clutch, and Noel wants to replicate that with his skillset.
"My explosiveness with the ball, I feel like I'm a guy that can make a big play at any moment," the 20-year old said. "I'm a guy that can catch in traffic, and a guy that you can rely on in important situations."
The 5-foot-10, 190-pounder is using everything he learned from Hutchinson and applying it on the field. Hutchinson taught Noel how to be consistent and have that dog-like mentality. Having those attributes, and 99 catches over the past two seasons is what's going to take Noel far this fall.
"I'm a guy that's going to go in everyday, do what has to be done and compete."