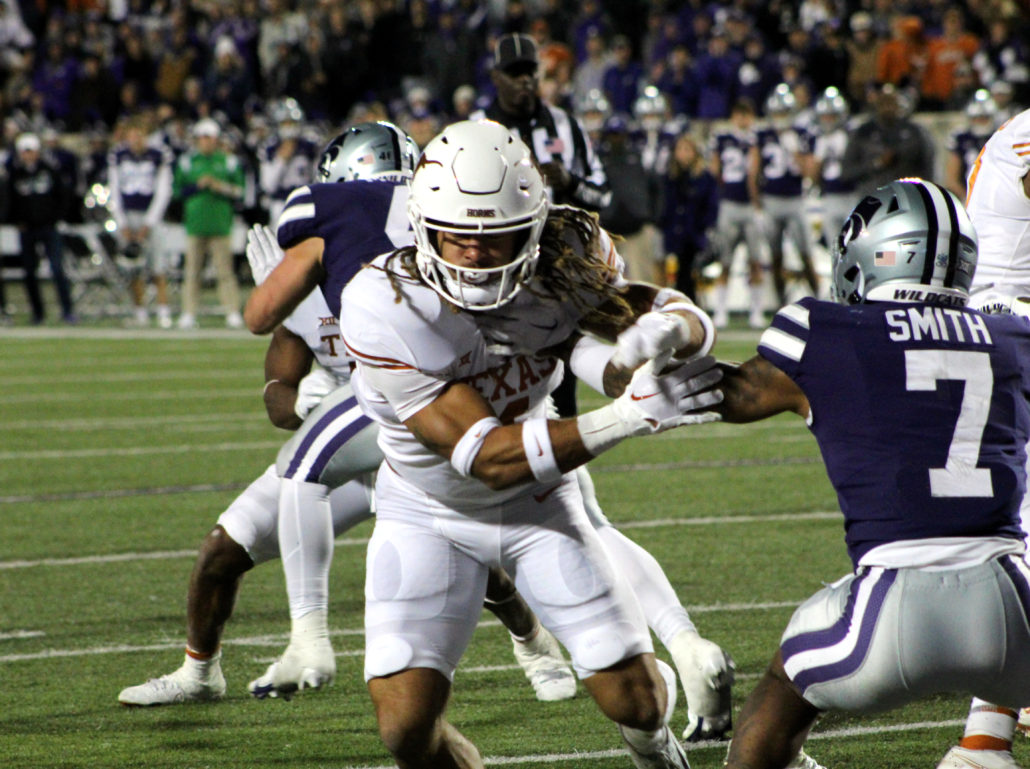 ARLINGTON, Texas — Approaching last season Longhorn fans had high hopes that their team would have a potent passing attack.
After all, five-star quarterback Quinn Ewers had arrived after he transferred from Ohio State. Wideout Xavier Worthy was coming off an All-Big 12 campaign, in which he led the league in touchdown catches. Not to mention Wyoming transfer Isaiah Neyor was on the roster after he led the Mountain West in touchdown receptions in 2021.
However, it didn't pan out as everyone expected. Ewers wound up playing musical chairs with Hudson Card in the starting lineup, and Neyor suffered a non-contact ACL tear in fall camp. The Longhorns finished 52nd nationally in passing offense for the year, which was a disappointment, considering all of the talent.
Senior wide receiver Jordan Whittington is determined to improve those numbers. He believes everything is coming full circle for Texas to have one of the Big 12's best passing attacks.
"I think with us all together again, we're way closer than we've ever been, we got all the pieces of the puzzle," Whittington said. "So the offseason is about putting it together, and once we get it together, it's going to go exactly how we want it to."
There's no denying the Longhorns have a ton of experience, leadership and production among their pass catchers. Whittington has 81 career receptions, including 50 last year. Worthy has a jaw-dropping, 21 touchdown catches over the past two seasons. Tight end Ja'Tavion Sanders finished second on the team in receptions and touchdown catches in 2022. Neyor is back fully healthy too.
Whittington feels that's more than enough firepower for Texas to make tremendous strides, and they're all hungry. The former four-star prospect strongly believes there's strength in numbers, especially leaders. Whittington also knows that it all comes down to chemistry on the gridiron, and that takes more than just preparation.
"The ultimate goal is to be trusted by the guys you're playing with, so you're playing with these guys you want to be trusted by," he said. "I think the urgency of being as perfect as you can be is as high as it has ever been."
Ewers is feeling more comfortable in the offense, and the big boys up front are ready to maul defenders. The gunslinger will have plenty of bodies to spread the wealth around. With running backs Bijan Robinson and Roschon Johnson now in the NFL, the passing game will likely be the focal point of the offense early on.
Whittington is proud to be part of a competitive wide receiver room. They're all a close-knit group, and hold each other accountable. In Whittington's mind that's a sign of a great team when players take coaching from their teammates. With 17 starts under his belt, Whittington knows he brings value to the offense in terms of route-running, blocking and catching passes.
Texas fell one game short of playing for a Big 12 Championship last season. Whittington doesn't want to be on the outside looking in again, so he's constantly pushing his teammates to stay motivated. Which is why a potent aerial attack from the offense is going to help with that.
"We never want to be in that position where we're depending on someone to lose so we can get in, we want to hold our own fate, in our own hands and do what we have to do."