Matt Campbell praising Jon Heacock for Cyclones' defensive domination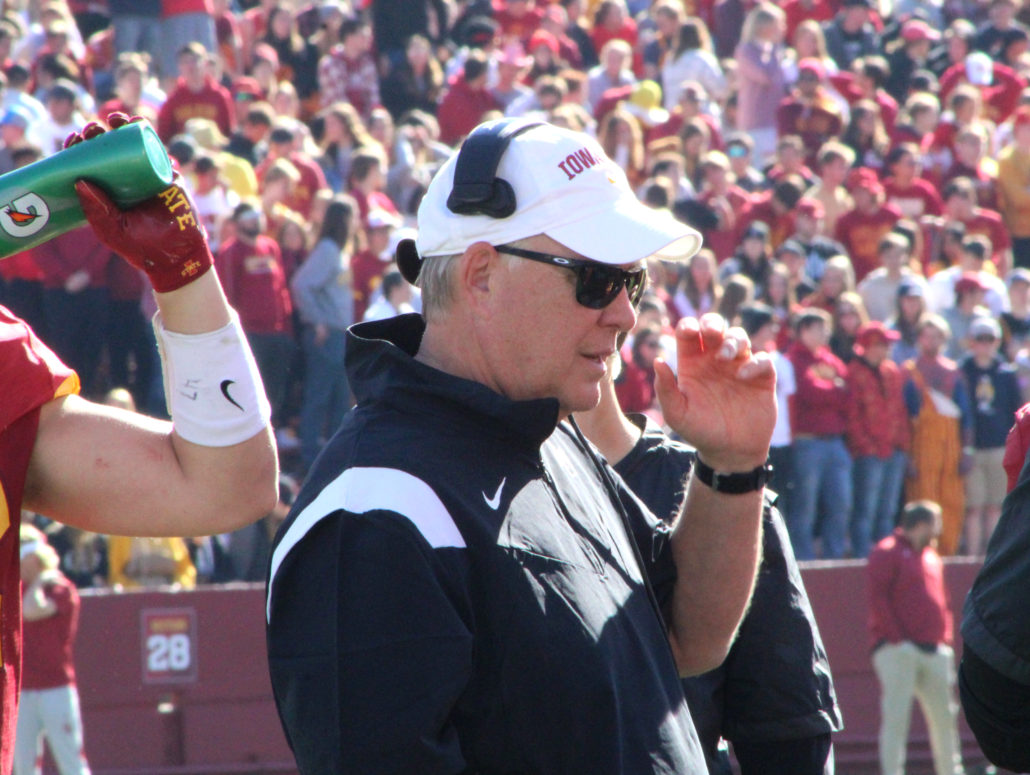 ARLINGTON, Texas — Matt Campbell is approaching his eighth season at Iowa State, and has kept one assistant by his side for the entire tenure.
In today's game there's not much loyalty or longevity among staff members. However, Jon Heacock epitomizes both, considering he's been Campbell's Defensive Coordinator since his head coaching days at Toledo. Heacock is also the Big 12's longest-tenured assistant, and was a head coach at Youngstown State for nine seasons.
Although Campbell is 46-44 with the Cyclones, a lot of his victories can be attributed to Heacock's defense. After all, the 63-year old annually fields one of the nation's best units. It's no mystery that Heacock's defense has been the backbone of Iowa State's success. And the numbers don't lie.
In each of the past five seasons Heacock's defense has finished in the top-20 nationally in total yards allowed. Not to mention Iowa State led the Big 12, and ranked second in the FBS in total defense last year. The impressive part about Heacock's success, is the fact that the Cyclones don't lure in four and five-star prospects like other programs.
Heacock is a natural at developing underrated prospects and turning them into All-Big 12 caliber defenders. Campbell is grateful for Heacock's mentorship throughout his career, plus his impact on the players and the program.
"For me, trust is so critical in this journey, especially in college football, and it's a time in that relationships, continuity and trust, it's hard to find that," Campbell said.
Normally when a Coordinator has a lot of success over a period of time, it draws the interest of other FBS programs in search of a head coach. Heacock has stayed put in Ames though. And that's mind-boggling, because Heacock posted a 60-44 record at Youngstown State. That means he's likely not a big fan of change, or driven by money, and is comfortable in familiar surroundings.
Iowa State has had three defenders drafted over the last two years. Campbell recognizes that's a testament of Heacock's defensive prowess, and it's something he deeply appreciates.
"I think what's been so rewarding is to watch the success we've been able to have on defense and him get the credit for it," he said. "Because I do, I think Jon is one of the great coaches in college football."
A lackluster offense last year is what kept the Cyclones from extending their streak of winning seasons. Heacock has a system set in place that works and is effective against high-flying offenses in the Big 12. So Campbell knows if he can field an offense with a pulse, Heacock's defense will take care of the rest.
"How we do what we do on defense is what's made us really special, and it starts with his leadership," the 43-year old coach said. "I think it's his humility to be a great listener to myself and our assistant coaches, to have input, to have courage enough to stand up and lead the right way."
There's no denying that the Big 12 is trending towards being a defensive conference again. That has a lot to do with Heacock being a staple in the league for years. The opposition has been forced to evolve in order to compete against his scheme. He has already cemented his legacy in Cyclone lore.
As long as Heacock is patrolling the sidelines, Iowa State's defense will continue to be tenacious. His influence and value means that much to the program. Which is why Campbell is giving credit where credit is due. And he believes the best is yet to come for the defensive guru.
"I know we wouldn't be where we're at at Iowa State, and I certainly wouldn't be where I'm at without his guidance, his relationship, and certainly his love for our players and our coaches."