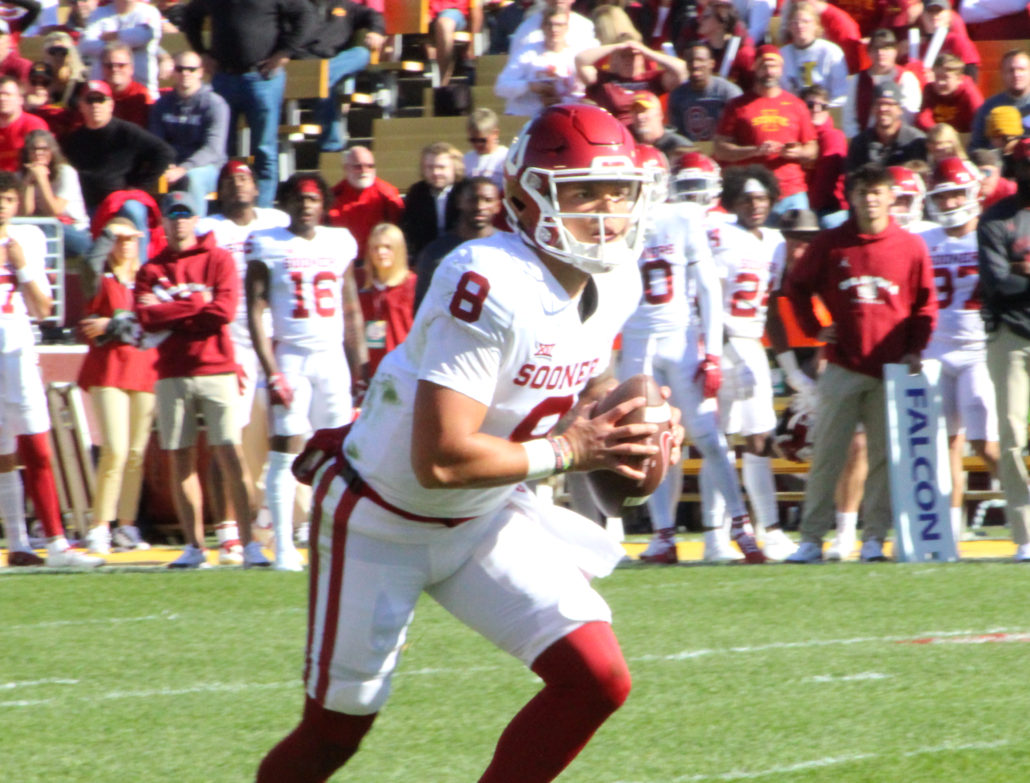 ARLINGTON, Texas — When the former UCF quarterback transferred to Oklahoma it created a huge buzz nationally.
That's because Dillon Gabriel led the nation in passing yards per game as a Knight in 2020, and the fans want to see him accomplish something phenomenal like that as a Sooner. There's no denying Gabriel's first season with Oklahoma was solid.
Not to mention his 3,169 passing yards ranked second in the conference, and he was named the Big 12's Offensive Newcomer of the Year.
However, the fans expected more out of Gabriel, and he wanted more out of himself. There were several plays that he left on the field. So the gunslinger went back to the drawing board during the offseason, and became a sponge. Gabriel soaked up all of the football knowledge Offensive Coordinator Jeff Lebby was able to provide him over the past six months.
During that process the two became closer and were able to bond more with film study. In Gabriel's mind, that's when he noticed the little things, and was able to critique mistakes that were made.
"In the film room and how much we've been able to grow, talking through either the games or practices, spending a lot of time, not just watching it once, but maybe twice," Gabriel said. "Looking at it from a different perspective, rather it's protection, coverages, I think just in the film room we've been able to bounce a lot off one another, and learn a bunch."
Gabriel has also been listening to the input from his teammates, particularly his blockers and pass catchers. Oklahoma averaged 32.8 points per game last season, but it was 39.1 the year prior. So Gabriel understands the offense must find the endzone more often in his second season behind center.
After all, Lebby's offense put up video game numbers when he called the plays for Ole Miss. He also helped Matt Corral become a third-round NFL Draft pick. Lebby and Gabriel have history and familiarity from their days at UCF together. So Oklahoma fans are anticipating everything to come full circle for the offense this fall.
Although the Sooners lost 1,000-yard receiver Marvin Mims to the NFL, there's plenty of talent for Gabriel to operate with. Everyone wants to Lebby to increase Gabriel's arm strength, so he can have better accuracy on the deep balls. The Hawaii native must also do a better job of protecting his body. It forced him to miss the Red River Rivalry, a game he dreamed of playing in as a child.
As of now he's just trying to control what he can, which is building chemistry with his receivers, going through his progressions in the pocket and taking full command of the huddle. That's what going to make Lebby trust him more, and open up the playbook.
Oklahoma's offense averaged 474 yards per game, which was the best in the Big 12. Still, Gabriel feels the unit is capable of more this fall. He's more of a leader now too, who takes accountability and accepts responsibility. Everyone has had time to gel with each other, so the offense should make strides. And Gabriel credits it all to the relationship he's built with Lebby.
"It has helped a lot having a healthy amount of communication between us."