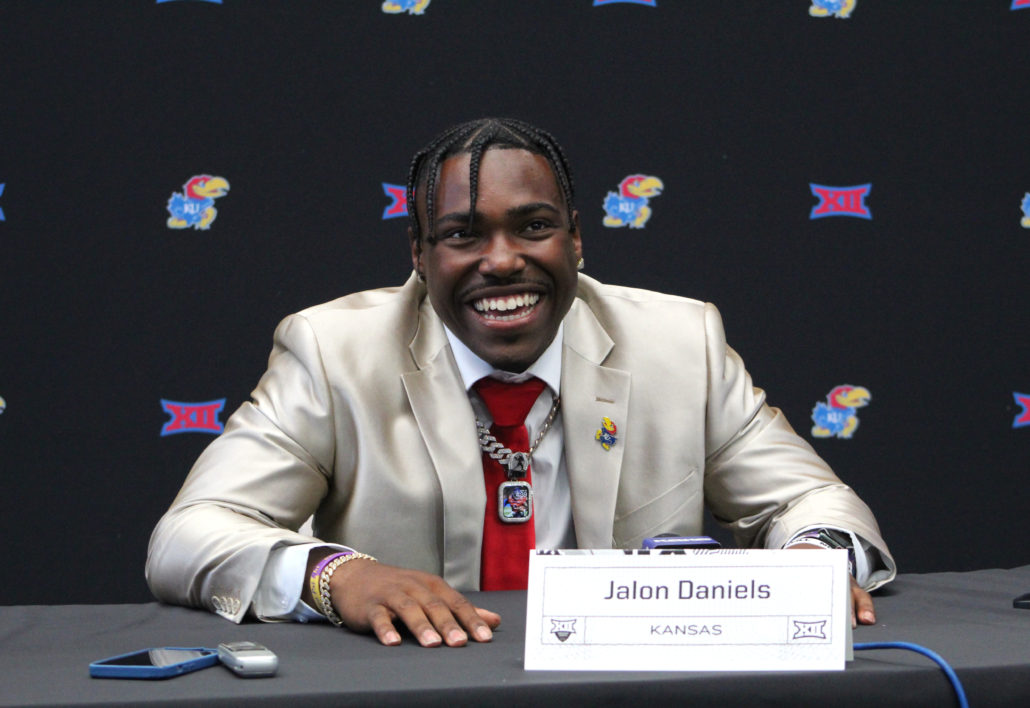 ARLINGTON, Texas — Last week the Kansas quarterback set a new milestone with the program.
Jalon Daniels became the first-ever Jayhawk to be named the Big 12's preseason Offensive Player of the Year. And rightfully so, considering his journey up to this point. After all, Daniels helped the Jayhawks reach bowl eligibility for the first time since 2008.
Kansas got off to a hot start, and won its' first five games because of Daniels. Not to mention he threw for 983 yards and scored 15 total touchdowns during that span. However, after Daniels got injured against TCU, he missed the following four conference games, and Kansas struggled down the stretch.
The former three-star prospect left a lasting impression in the bowl game against Arkansas though. Daniels threw for a school-record, 544 yards against the Razorbacks, and capped off his campaign with second-team, All-Big 12 honors.
Now he's the big man on campus, and there's a buzz surrounding Jayhawk football that hasn't been there in the last 15 years. Still, Daniels understands Kansas is finally receiving some credibility, and there's a ton of responsibility that's been placed on his shoulders because of that.
"Pressure is a privilege, if you have pressure that means things are expected of you," Daniels said. "Things weren't expected of me two years ago, so now that I have those expectations, that's good for us as a program."
The Californian feels he's light years ahead of where he was as a wide-eyed true freshman. Daniels can remember vividly his first start against TCU. He didn't know how to read defenses and struggled with his progression. That's why he gives credit to Coach Lance Leipold and his staff for molding him into the caliber of player that he is today.
"When Coach Leipold got here he put a big emphasis on being a progression-based offense," he said. "That helped me tremendously, because now I can say my pre-snap picture has changed the most since my freshman year."
Daniels feels confident in all of his throws. So if one of his passes get picked off, he's fine with it just as long as he tackles the defender. The six-foot 215-pounder is trying to take better care of his body this time around. Daniels understands his value to the team, so he's willing to do all the little things for his brothers.
It hurt Daniels tremendously when he was sidelined with an injury last year. He had to watch the Jayhawks struggle without him. That's why he's eating healthier, and being smarter with the football. Sliding and running out of bounds to avoid unnecessary contact will be vital.
"Coach Leipold put a big emphasis on trying to make me bulletproof, rather it be physically or mentally," the 20-year old said. "In order for me to be able to put my team and myself in the best position, I have to make these little sacrifices now, so I can go out on the field and perform at my best abilities."
Kansas was picked ninth in the Big 12 preseason media poll last week. Daniels didn't find that ranking disrespectful because he knows there's a lot of unfinished business on the field. That's why he's pushing himself daily, and being a leader for his teammates. He's perfectly fine with being the face of the program. Regardless, there's a bullseye on his back now because of the preseason recognition, and he doesn't want to disappoint.
"I look at it as alright the world is finally noticing what you're doing, so now go out there and do it some more."