Chris Klieman preparing to unleash DJ Giddens on the entire Big 12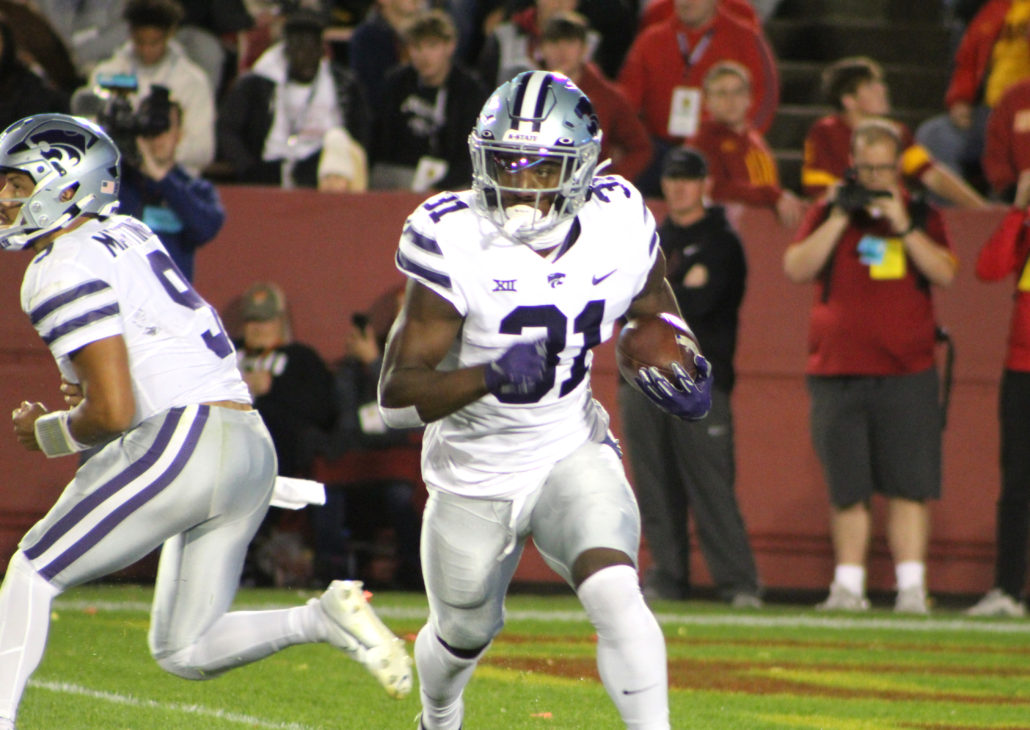 ARLINGTON, Texas — Last season the Kansas State rusher got his feet wet as Deuce Vaughn's backup.
Despite being used sparingly, DJ Giddens made the most out of his carries and finished third on the team in rushing yards. With Vaughn now in the NFL, Coach Chris Klieman is expecting Giddens to carry the torch. And judging from his promising redshirt campaign in 2022, Giddens is more than capable of handling  the job.
After all, he rushed for 57 yards and a touchdown in the opening victory over South Dakota. Giddens also generated a rushing score in wins over Missouri, Oklahoma State, Baylor, West Virginia and Kansas. Not to mention his 78 yards on the ground against the Mountaineers were a season-high.
Giddens finished strong and scored a touchdown in four of the last five games of the regular season. And that type of production is why Klieman is high on the running back heading into fall camp.
"DJ Giddens, I think is a rising star," Klieman said. "He played sparingly behind Deuce because you didn't want to take Deuce off the field very often, but when he did he was very productive and had a couple of good games for us."
Giddens won't be handling the workload alone though. Florida State transfer Treshaun Ward will also be in the mix. He rushed for 628 yards and seven touchdowns in 2022. Klieman believes Giddens and Ward will be a dynamic duo in the backfield. They're both talented enough to keep opposing defenses honest, and the pressure of off Will Howard.
"I'm excited to see what a number of those guys can do, but those are two guys, DJ Giddens and Treshaun Ward, that we believe can split some of the load, carry some of the load that Deuce has," he said. "And those guys just need to be themselves."
Giddens, who's a former two-star prospect, has a punishing running style, and is never afraid of contact. Ward was limited in the spring because of an injury, but Klieman anticipates he's going to be fully healthy in time for fall camp. Giddens took advantage during Ward's absence and has kept Klieman's full attention ever since.
The Wildcats averaged 208.3 rushing yards per game last season, which ranked second in the conference and 15th nationally. Klieman knows Kansas State's rushing attack played a big part in the team's success and Big 12 Title run. And in order for the reigning Big 12 Champs to maintain that production this fall, they're going to need a solid rotation of rushers to keep everyone fresh.
Quarterback Adrian Martinez was very effective as a runner last year, but Klieman doesn't want Howard getting banged up from carrying the ball more than he has to. Giddens has the potential to be a workhorse if needed. Which is why Klieman appreciates a running back that gets stronger with every carry, blocks efficiently, catch passes out of the backfield and doesn't fumble the ball.
Having those qualities is what's going to carry Giddens far this upcoming season. Klieman can't wait to see all of his running backs on the gridiron. The 55-year old feels Running Back Coach Brian Anderson does a marvelous job of getting the ball-carriers mentally and physically prepared. So he's not expecting the Wildcats' productive ground game to miss a beat in 2023.
"We're excited about our running back room, and Coach Brian Anderson does a great job with those guys."