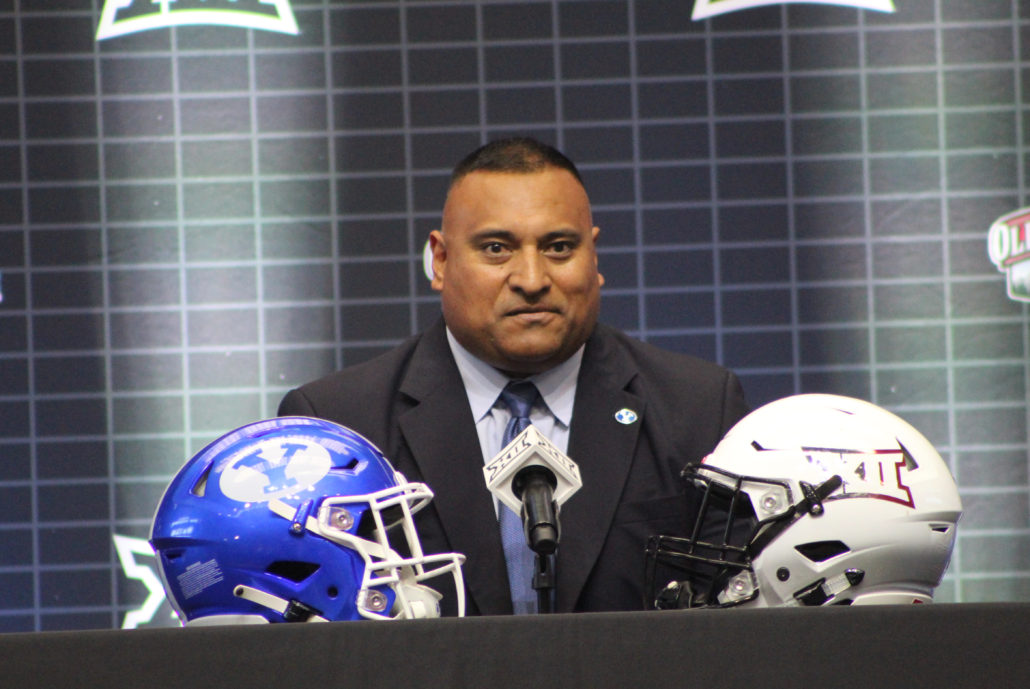 ARLINGTON, Texas — The 47-year old is approaching his eighth season of leading his alma mater, but this time around the stakes are higher.
That's because BYU is no longer operating as an Independent. For the first time in program history the Cougars will be part of a Power Five conference. Kalani Sitake is thrilled about the move and wants to make a splash in the league. After all, he has stockpiled a 56-34 record at BYU, including six winning campaigns over the past seven years.
Not to mention Sitake has generated two double-digit win seasons, and his squad has finished in the AP top-20 twice during that span. So there's no denying BYU brings added value to the Big 12 in his mind.
"This is something that we've been dreaming of for a while, speaking as a fan," Sitake said. "Now that we've been given this platform I'm excited for the opportunities that we have."
The Cougars have momentum heading into the conference, considering they're riding a four-game winning streak. Sitake is 1-2 against Big 12 opponents as BYU's coach, so the familiarity should help with the transition. The Cougars also landed a gem out of the transfer portal last December in quarterback Kedon Slovis. He's been a starter at USC and Pittsburgh, so his Power Five experience is priceless.
BYU is a respected program, a well-known brand, with a National Championship under its' belt. If any of the four new members can make an immediate impact in the Big 12, the Cougars can. Which is why Sitake wants to make a statement.
"Now that we're here, there's a high sense of urgency for us to get ready to go, and I feel really good about the progress that we've made as a team in the last couple years," he said. "There's some really cool lessons that we've been able to learn about our skills, but also the deficiencies that we probably have meeting some of those Power Five teams that we've played in the past five years."
Sitake understands that being in a Power Five conference is going to change his approach with recruiting. Proximity wise, the Cougars are the closest Big 12 team to the state California, which is annually full of highly-touted prospects. Not to mention LaVell Edwards Stadium is an underrated venue, that packs nearly 65,000 fans. So it's beneficial that BYU hosts Texas Tech, Iowa State and Oklahoma.
There's no denying that being an Independent made the Cougars a versatile team. BYU has played teams from the Big Ten, Pac-12 and the almighty SEC. Adapting hasn't been a problem for Sitake, but he knows the Big 12 will bring new challenges that's going to force him to adjust. Still, he strongly believes his players and staff are ready for whatever comes their way.
"This isn't going to be easy, and my goal is to get us to perform at our best 12 times."