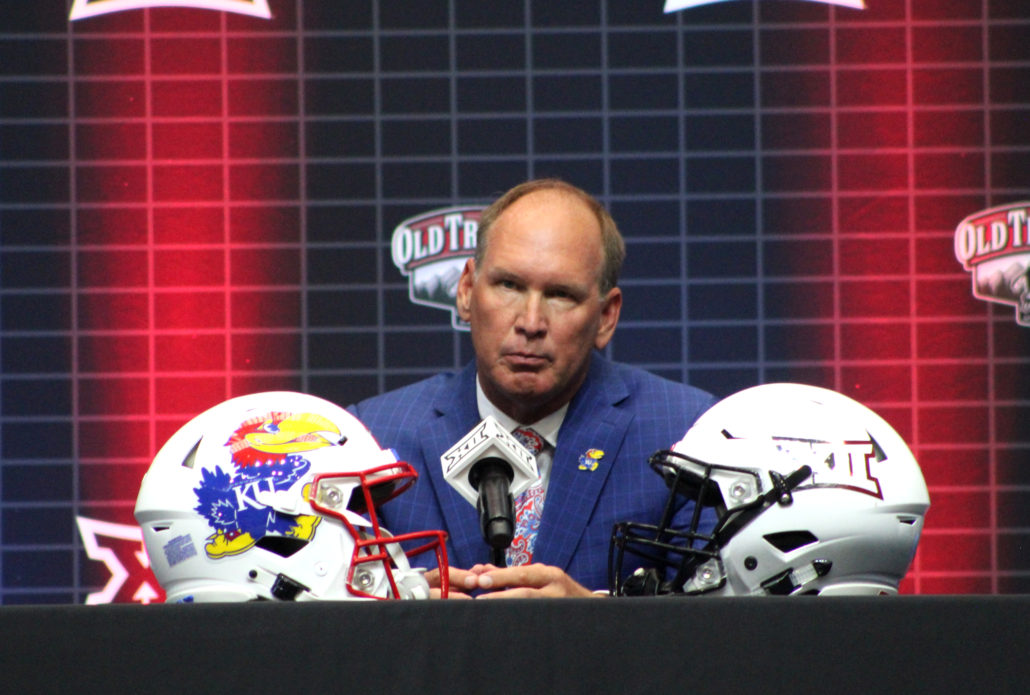 ARLINGTON, Texas — Last season he did the unthinkable in his second year on the job, and led Kansas to its' first bowl game since 2008.
The Jayhawks went through four head coaches with horrible tenures before Lance Leipold arrived in Lawrence. The 59-year old improved the program's record from 2-10 in 2021, to 6-7 last year, and that speaks volumes. After all, Kansas won its' first five games in 2022, including a 2-0 start in Big 12 play.
Although the Jayhawks lost seven of their final eight games, the College Football world witnessed major improvement. The program went from being the laughing stock of the league to contenders.
"Last year was an exciting year for us to take a big step forward as a program, getting off to a good start, getting bowl eligible for the first time in over a decade, battling back in a highly competitive bowl game," Leipold said. "It showed the resiliency of our team, and we're excited to take another step this year using that end of the season towards motivation, of course, to get us to be the consistent bowl team we want to be and find a way to turn that into victory."
Unfortunately, the Leipold's squad won't be sneaking up on anyone this time around. Quarterback Jalon Daniels was named the preseason Big 12 Offensive Player of the Year, and the team was picked to finish ninth in last week's media poll. Which is why Leipold understands that expectations are going to be higher for this fall, and he doesn't want to disappoint.
There's several key pieces returning on both sides of the ball. Not to mention Leipold has one of the best Offensive Coordinators in the league. So there's plenty of reason for optimism in Leipold's eyes. The foundation has been cemented, the players have bought in, and the fans are engaged. Bottom line, Leipold is confident that the program has arrived, and he's embracing everything that comes with the territory.
"I just think finally we've been able to build some routine and trust," he said.  "We've gone through a lot of transition and I think the daily process of getting better and really holistic development has been a key for us as a program."
There's a buzz around campus that hasn't been there for quite some time. And Leipold wants his players to embrace it and stay in the moment. Recruiting is picking up because the Jayhawks have been receiving exposure. It's all going to go a long way on the gridiron. The players still have to do their part and take care of business on the field though. And Leipold is confident that his team will get to the promised land, as long as Daniels stays healthy.
"Our locker room and leadership from our upperclassmen and people I think have allowed us to take that step."