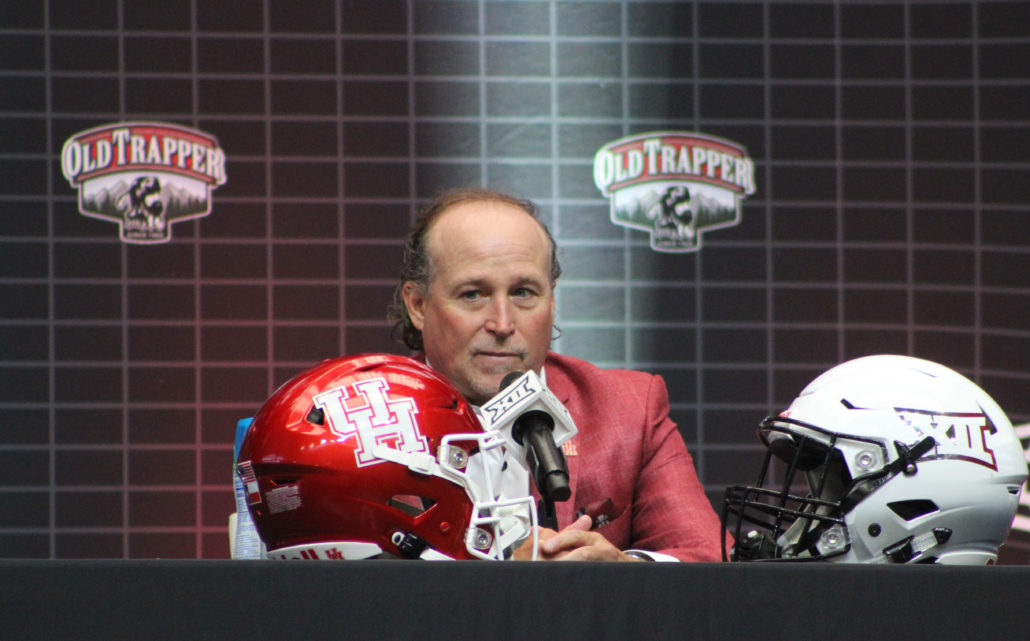 ARLINGTON, Texas — It's no mystery that the city of Houston is one of the most fertile recruiting grounds in all of College Football.
Several Power Five teams from across the country annually invade the area for prospects. However, that's where Houston Coach Dana Holgorsen is trying to draw the line. Now that the Cougars are in the Big 12, the program looks like an attractive destination for recruits.
After all, the high schoolers from the Houston area can stay home and still compete in the Power Five. Not only does Holgorsen feels that it's a game-changer for his program, but he knows the Cougars can now lure in a plethora of studs from the area. That doesn't mean he's downplaying the challenges of competing against 64 other Power Five schools for players in his own backyard.
"The one advantage that you have at Houston is it's the most centrally located city, one of them, in the United States," Holgorsen said. "The good news is we have six million people that we have to choose from, and the bad news is every other school in the country is coming to Houston, as well."
The only five-star prospect from the Houston area that signed and played for the program was Ed Oliver, and that was back in 2016. Holgorsen is expecting that to become more of the norm as the Cougars get adjusted in their new conference.
It helps that Holgorsen is very familiar with the Big 12, considering he was an assistant at Texas Tech, an Offensive Coordinator at Oklahoma State, and the head coach at West Virginia. So Holgorsen knows the style of play in the league, and the types of athletes he's going to need to succeed. The 52-year old coach wants to establish a border around the Houston area, and create his own pipeline.
"We have 13 other schools in the Big 12 that are awesome institutions and have great advantages in each of their own way, but there's four other Power Five conferences out there that all come to Houston," he said. "I think that's going to happen more when it comes to being able to talk Power Five and talk Big 12."
Three of the four players that attended Big 12 Media Days with Holgorsen were from the Houston area. That's a statement in itself in Holgorsen's eyes, knowing that the city was well-represented at the annual event. Having the Cougars and the Big 12 in the same conversation is a big boost in credibility, and Holgorsen plans on seizing on the opportunity.
"It's certainly going to help, but by no means is it going to be a slam dunk just because we're now in the Big 12."