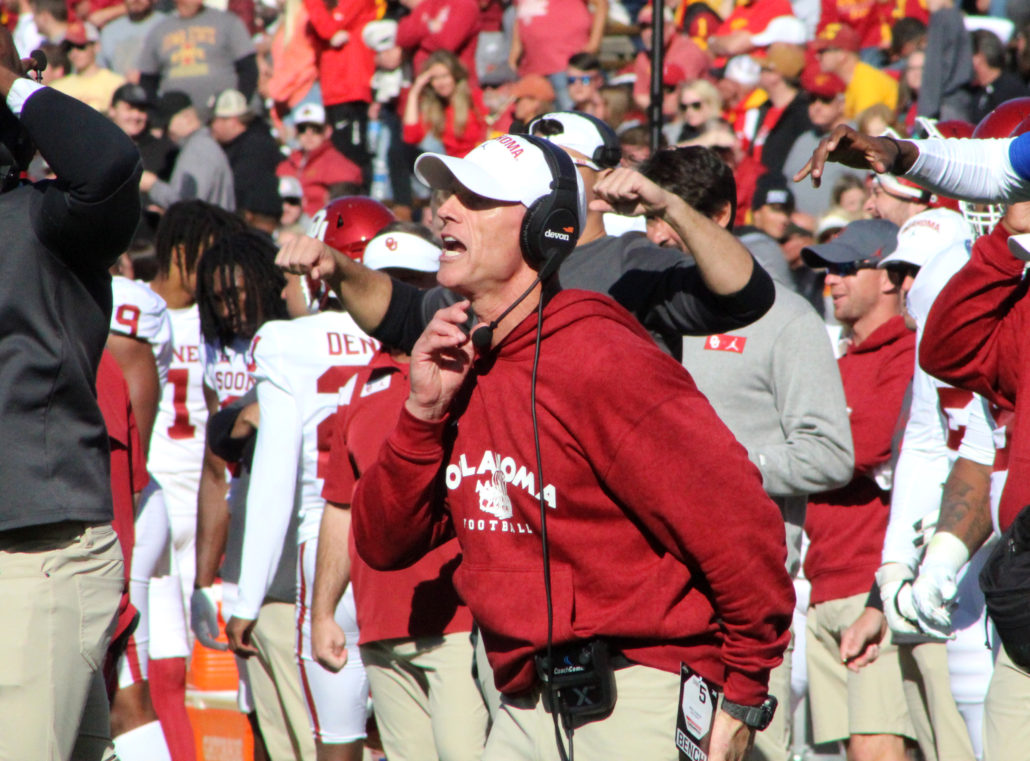 ARLINGTON, Texas — The Sooners had one of the worst defenses in the Power Five last season, and now their coach has made it his top priority to field a better unit this fall.
Brent Venables' first year on the job was very rough to say the least. After all, Oklahoma suffered a losing campaign for the first time since 1998. The team averaged 32.8 points per game, which is more than enough to win in the Big 12. However, Oklahoma's defense was a liability, and opposing offenses exploited those weaknesses.
It was a head-scratcher to many Sooner fans as to why the defense was worse under Ted Roof than the unit was under Alex Grinch. Some blame it on the fact that Lincoln Riley left the cupboard bare. While other believe the issues were Venables' lack of head coaching experience.
Regardless, Venables had to go back to the drawing board and pick up all of the pieces over the past six months. From film study, to getting the players into better shape, Venables has a new mindset for the defense this time around, and is determined to sharpen all of the glaring issues with the unit.
"Obviously playing good defense is keeping people out of the endzone, and so improving in the areas where we can improve," Venables said. "You do that lots of different ways, whether it's scheme, it's players, it's development, it's teaching, it's practicing."
Prior to last season, Roof had no Big 12 experience, so there was some growing pains in terms of adjusting. Oklahoma does have talent on its' defense though. As a matter of fact the Sooners have an All-Big 12 caliber player at every level of their defense, including edge rusher Ethan Downs, and linebacker Danny Stutsman. So in Venables' mind there's no reason why Oklahoma should finish 122nd in the FBS in total defense again.
"We haven't been good on defense for a long time, but everywhere I've been it's been a rebuilding process to some degree," he said. "We've got a lot of work to do, but I've got a lot of faith in both our players, our staff, and certainly how we do what we do, and our developmental processes."
The Big 12 is filled with high-flying offenses. Not to mention parity is at an all-time high in the league, so Venables understands that he has a slim margin for error. However, with a defense that's more disciplined, faster and physical, he's confident his unit will make tremendous strides.
Oklahoma's defense will need to make a statement early on though, because opposing teams will smell blood in the water if the unit struggles and fails to gain confidence in non-conference play.
"I believe we'll be better because of the returning experience," the 52-year old coach said. "We'll be better fundamentally, we'll be better aggressiveness, we'll be better with our timing and our precision and our physicality as a result of somereturning experience."
Venables knows teams around the league are going to have it out for the Sooners, and would love nothing more than to send them to the SEC on a sour note. It added more fuel to the fire after the preseason Big 12 media poll had Oklahoma picked to finish third this fall. That means everyone still respects the brand and expects the Sooners to bounce back. Now it's up to Venables to use his bright defensive mind and iron out all of the wrinkles.
"The competitive depth will lead to better competitive stamina."