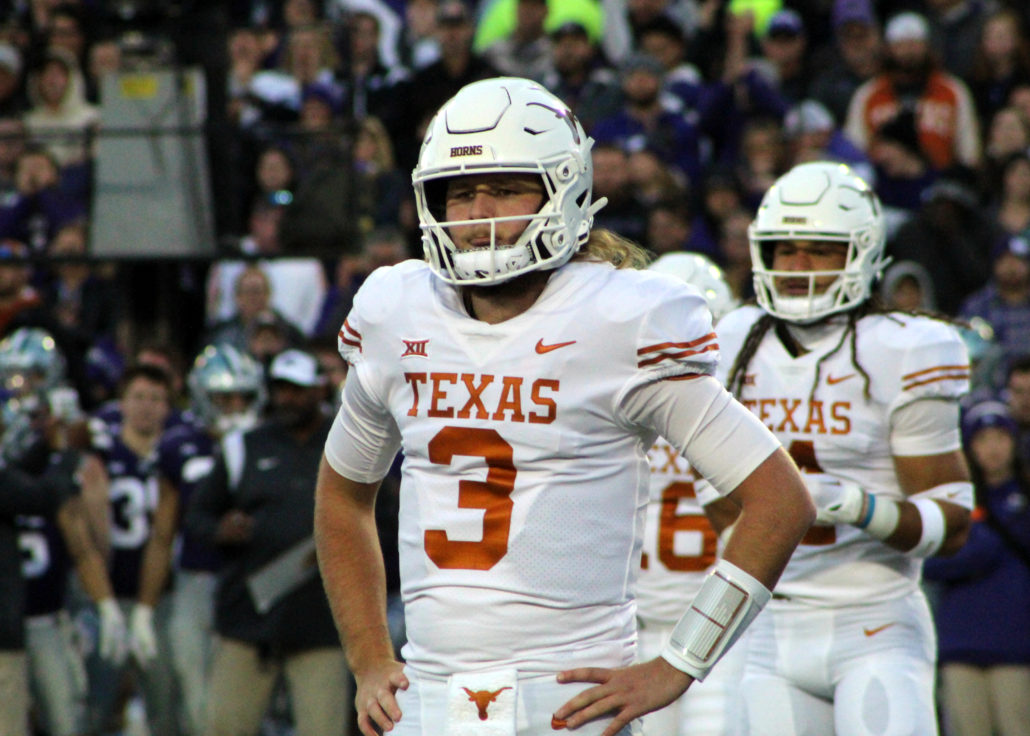 ARLINGTON, Texas — It's no mystery that the Texas quarterback struggled to live up to his five-star billing last season.
Quinn Ewers arrived on campus with a ton of hype after he left Ohio State. He even had dangerous weapons in his arsenal last year, including the Doak Walker Award winner and a two-time, All-Big 12 wideout. Still, it wasn't enough to get the Longhorns back to the promised land. Ewers even took the shoulder of the blame for the teams' shortcomings.
Coach Steve Sarkisian believes Ewers used it all as motivation throughout the offseason. Now the third-year coach can't wait for Ewers to silence all of his critics this fall.
"What he (Ewers) did coming into this off-season is continued just to pour into what does he need to do to be the best quarterback for the University of Texas," Sarkisian said. "The result of that is we've seen his body composition change, his level of maturity change, and we've seen him really dialing in and understanding schematically what we're trying to do offensively change."
Normally 2,177 passing yards, 15 touchdowns and six interceptions would be acceptable at other Big 12 programs. However, that production wasn't enough for Texas. Longhorn fans want to see Ewers take complete command of the offense, and make others around him better.
Former Texas gunslingers Vince Young, Colt McCoy and Sam Ehlinger all showed major improvement in their second year as the starter. So it's a no-brainer that Longhorn fans are expecting the light bulb to be on bright for Ewers' second season behind center.
Sarkisian has witnessed Ewers' growth throughout spring ball. From his arm strength, to his chemistry with his receivers, Sarkisian has been in awe of his quarterback's maturation process. He's even counting on Ewers to mentor freshman phenom Arch Manning.
In order for the Longhorns to be officially back, it's going to take a lot of effort on Ewers' part. And Sarkisian expects him to deliver the goods. The 20-year old has become more of a leader also. He understands the expectations that comes with the territory of being a Longhorn quarterback.
Most importantly, Ewers will have to respond when adversity comes knocking at the door. And that's likely to happen when Texas navigates through the Big 12 meat grinder.
"We've seen him from a moral standpoint speaking up in team meetings, speaking up on the field, from a work ethic standpoint," he said. "I think he's earned the respect of his teammates throughout this time and throughout this process."
Sarkisian wants his quarterback to change the narrative of the Longhorns being underachievers. A bullseye has already been placed on Sarkisian's squad after they were picked atop the Big 12 preseason media poll. And that's a head-scratcher, considering Texas hasn't won a conference title since 2009.
So if Ewers has improved as Sarkisian claims, then Texas should be contenders, and make a serious run at the Big 12 Title. And that's going to make the 2023 season a highly-anticipated one in Austin.
"I expect our team to play aggressive, tough, fast, physical, and smart football every Saturday."