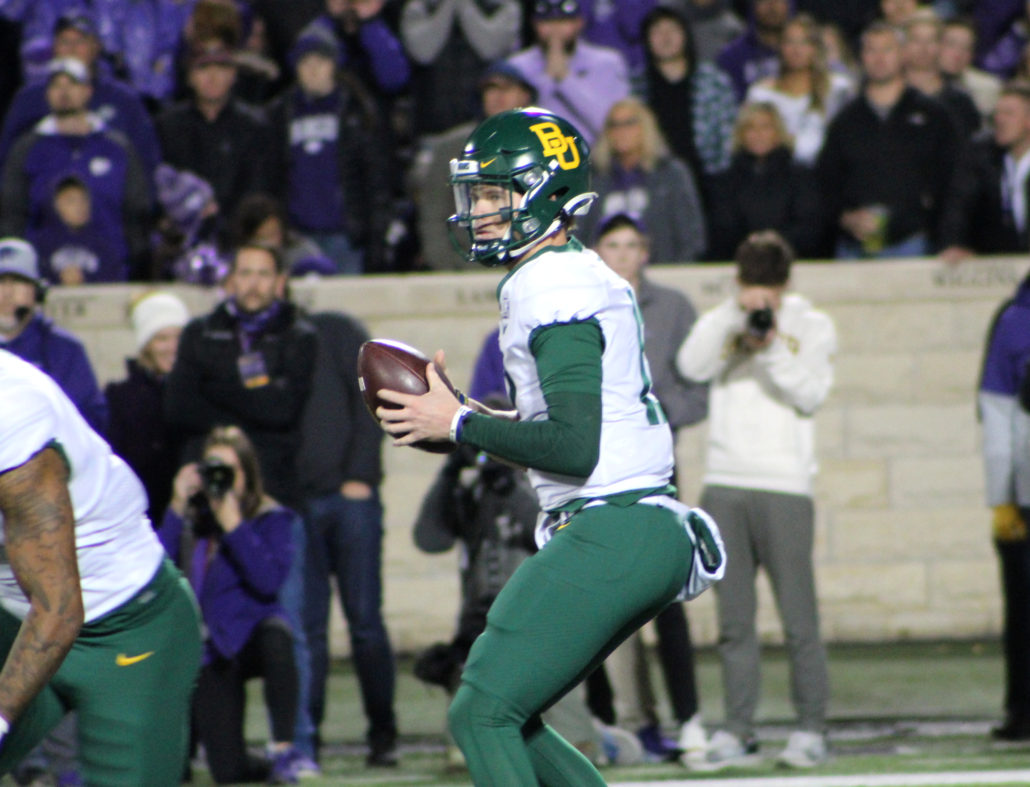 ARLINGTON, Texas — The quarterback led Baylor to a victory in the Big 12 Championship Game two years ago, but suffered a rollercoaster campaign as a full-time starter last season.
There's no denying that Blake Shapen has the arm, mobility and leadership to be one of the top signal-callers in the conference, but he has to remain consistent. No one understands that more than his Coach Dave Aranda. After all, Aranda witnessed the hype build up around Shapen after the Bears conquered the Big 12 in 2021.
Despite his success, Shapen's flame fizzled last season after he struggled down the stretch of the Big 12 gauntlet. The gunslinger looked promising after he threw for 1,444 yards, 11 touchdowns and three interceptions through the first six games. However, Shapen passed for 1,158 yards, five touchdowns and seven interceptions over Baylor's final six games of the regular season. And that raised a level of concern for the fans.
Still, Aranda believes Shapen was humbled by his production. Which is why Aranda is expecting Shapen to bounce back in a major way this fall.
"Big fan of his (Shapen), the team sees that and the guys see that, and they want to work hard for him," Aranda said. "His growth off the field as a leader, and just in terms of just doing all the things has been really good to see, and so I'm expecting big things and I know he is, too."
The Louisiana native is building chemistry with his receivers, and accepting accountability. Aranda is confident that will translate to more success on the gridiron. Baylor fans want to see the quarterback who threw for three touchdowns and no interceptions in the victory at Iowa State. No doubt he needs to take better care of the football after throwing two interceptions apiece in three different conference games.
Aranda is well aware of the growing pains, and expects there to be a learning curve, but wants Shapen to see the light at the end of the tunnel.
"There's been a lot of work into it, I think when you're in a pit, to climb your way out of the pit and come out stronger because of it I think is one of the beautiful things in our sport," he said. "I want to see him rewarded for that."
That means persevering and responding to adversity in positive way. It's going to be a daily grind for the offense in order to get back to the promised land. Still, with solid coaching, and a great supporting cast, Aranda knows the sky's the limit to what Shapen can accomplish in 2023.
Right now Aranda's focus has been on getting Shapen's confidence back to where it needs to be. Great quarterbacks make others around them better, and Shapen has the potential to silence all of his critics this fall. And Aranda can't wait to see how it all plays out for his talented gunslinger.
"Very proud of Blake."