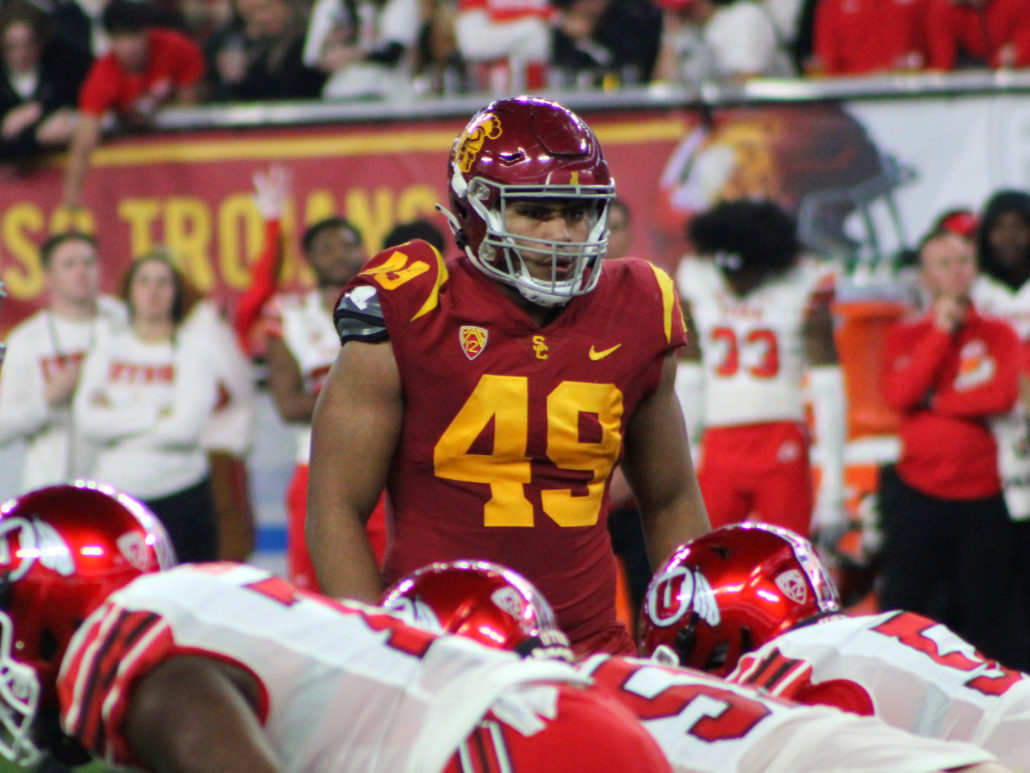 USC's All-American edge rusher became the first defender the Los Angeles Chargers selected in the 2023 NFL Draft Friday night.
Although Tuli Tuipulotu was one of four Trojans drafted in this year's class, he clearly has the biggest upside. After all, he's brawn, productive and always around the ball because of his instincts.
The 20-year old only played three seasons with USC, but made himself a household name in the Pac-12. Tuipulotu racked up a jaw-dropping, 116, tackles off the edge, including 32 for loss and 21 sacks during that span. Last season he led the Power Five in tackles for loss per game, and the entire FBS in sacks.
There's a reason why he was named the Pac-12 Defensive Player of the Year in 2022. Tuipulotu is also a two-time, first-team, All-Pac-12 performer, which is a huge accomplishment for a former three-star prospect. He received a 6.38 prospect grade, which means Tuipulotu is projected to be a multi-year starter in the NFL.
So there's no denying that the Chargers got a steal when they snatched him up with the 54th overall pick. Tuipulotu was one of three defenders the franchise drafted this year. Washington State's Daiyan Henley, who was also a first-team, All-Pac-12 performer, got selected by the Chargers in round three, and Boise State's Scott Matlock in the sixth round.
Tuipulotu will join a defensive line that already includes two pro bowlers in Joey Bosa and Khalil Mack. Still, he brings more credibility to the unit, and should make everyone better. Now USC has had a defensive lineman drafted in each of the last three years, so Tuipulotu continued a streak for the program.
No doubt the Chargers are getting an individual who wreaks havoc off the edge. Tuipulotu is a natural at bringing down ball carriers in the backfield and making quarterbacks eat grass. The Californian often required multiple blockers and it still wasn't enough to stop him.
It's no mystery that USC was atrocious on defense last season. However, Tuipulotu was one of the few bright spots on the unit. He's a defender that has to be located by the quarterback before every play because he's so disruptive and has a non-stop motor. It's obvious the Chargers are getting defensive for 2023, and Tuipulotu should be able to make an immediate impact.
Draft analysts criticize that he's not as athletically gifted as some of the other elite edge rushers in the draft, but they can't deny that Tuipulotu is a gamer.