Ranking the Pac-12's best quarterbacks of 2023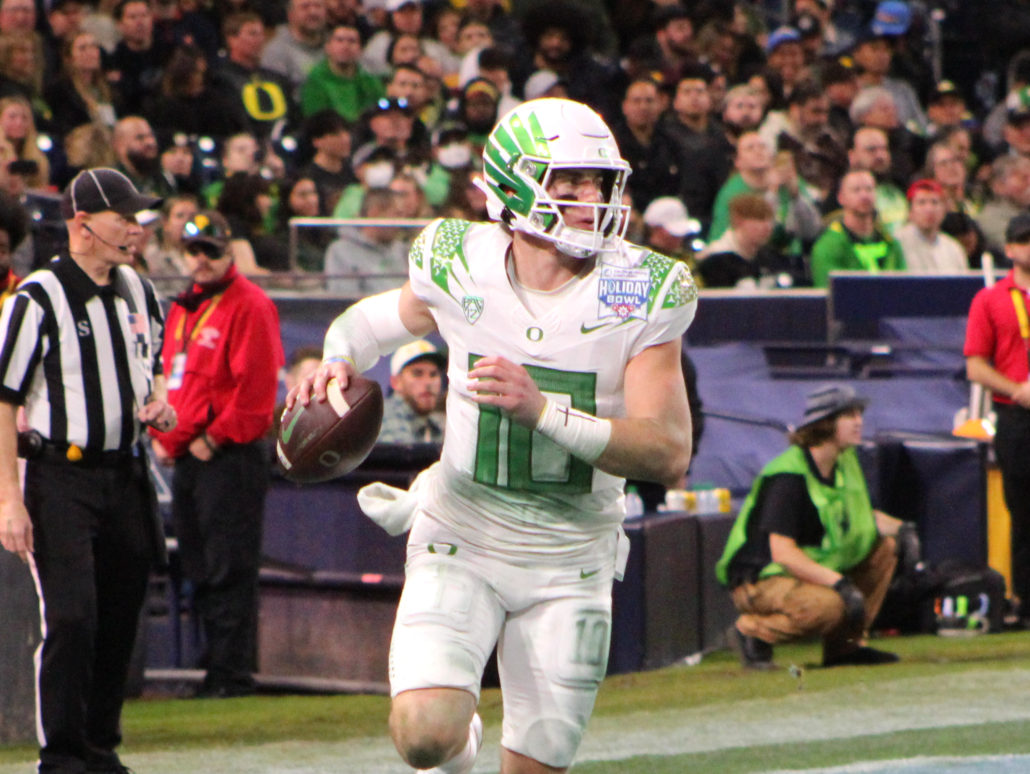 It's no mystery that the conference hasn't had a team in the Playoffs since 2016.
However, the Pac-12 will boast the best collection of quarterbacks of any Power Five conference this upcoming season, including the reigning Heisman winner. Offensive shootouts in conference play will be on the horizon with so much firepower behind center.
So if there was ever a right time for the Pac-12 to reach postseason glory and end the Playoff drought, the time is now.
12. Fernando Mendoza, California: The former three-star prospect took zero meaningful snaps as a true freshman last season. However, Mendoza looked promising over the spring as he battled with Sam Jackson. The Miami native completed nine of his 15 passes for 127 yards and two touchdowns in the Golden Bears' spring game. Meanwhile the 24-year old Jackson completed eight of his 11 passes for 88 yards in the event. Jackson played for TCU in 2022, and threw for 63 yards, to go along with two rushing scores. The Chicago native has the edge over Mendoza in experience, but the quarterback battle between the two will extend well into fall camp, and Justin Wilcox's future depends on it.
11. Ari Patu, Stanford: The Californian is in a battle with five other quarterbacks for that No. 1 spot on the Farm. Patu has the most experience with the Cardinal though, and registered a touchdown pass against Colgate and Oregon last season. Ashton Daniels only attempted six passes in 2022. Stanford landed former Syracuse gunslinger Justin Lamson from the transfer portal Monday. Although Lamson sat out all of last season, he looked impressive throughout the spring with the Orange, and brings value to Troy Taylor's offense. The competition will continue through fall camp though. So Taylor needs someone to emerge for an offense that finished 92nd nationally in yards per game last year.
10. Ethan Garbers, UCLA: The California native appears to be the front-runner to replace record-setting quarterback Dorian Thompson-Robinson. Garbers has experience in Chip Kelly's scheme, considering he threw for 294 yards and scored four total touchdowns in 2022. He passed for a season-high, 164 yards, an interception and added two rushing scores against Alabama State. The six-foot-three, 210-pounder recorded a touchdown pass against Colorado and Bowling Green. Garbers competed with true freshman Dante Moore over the spring. Moore is a former five-star prospect with tremendous upside. So it's only going to help UCLA's offense if he continues to push Garbers.
9. Trenton Bourguet, Arizona State: Although he only played in seven games last season, Bourguet threw for 1,490 yards, and led the Sun Devils in touchdown tosses. He passed for three touchdowns apiece against Washington, Colorado, UCLA and Arizona. Bourguet's 435 yards through the air against the Buffaloes were a season-high. However, Notre Dame transfer Drew Pyne is also in the mix to be Arizona State's starter. The 22-year old threw for 22 scores and six interceptions in 2022. Pyne also finished 20th nationally in passing efficiency, and 35th in completion percentage. Bourget threw a touchdown on the first drive of the spring game, and Pyne hit Jalin Conyers for a 58-yard score.
8. Cameron Ward, Washington State: Last year he had a solid campaign in his first season with the Cougars. Ward threw for 2,232 yards, 23 touchdowns and led the team to a bowl game. The Texas native ranked sixth in the Pac-12, and 35th in the FBS in passing yards per game. Ward finished 78th nationally in passing efficiency though. His four touchdown tosses in the win over Colorado State were a season-high. Ward threw for over 300 yards against Oregon, California, Oregon State and Washington. The 20-year old picked up where he left off in the spring game. Ward completed 12 of his 16 passes for 259 yards and a score. The Cougars should have a potent aerial attack this fall.
7. DJ Uiagalelei, Oregon State: The former five-star prospect threw for 5,681 yards, 36 touchdowns and 17 interceptions over the past three seasons at Clemson. Uiagalelei ranked 63rd in the FBS in passing efficiency, and 65th in completion percentage in 2022. He's in competition with Ben Gulbranson for the starting job, and both gunslingers combined for 66 passing yards in the Beavers' spring game. Aidan Chiles is in the mix too. The former four-star prospect completed 13 of his 23 passes for 153 yards, a touchdown and an interception in the event. Still, the 22-year old Uiagalelei has enough experience, leadership and production under his belt for a smooth transition to the Pac-12.
6. Shedeur Sanders, Colorado: The 21-year old is coming to the Pac-12 with a lot of hype behind his name. After all, Sanders led Jackson State to a 23-3 record over the past two seasons. He was 16-0 in SWAC play, and captured two conference titles during that span. His 6,983 passing yards and 40 touchdown tosses proves he can do damage with his arm. Sanders is a great decision maker also, and was only picked off seven times as a Tiger. The six-foot-two, 215-pounder picked up where he left off in the Buffaloes' spring game. Sanders completed 16 of his 19 passes for 234 yards, two touchdowns, and added a rushing score in the snow. If Colorado can protect Sanders, he'll generate the numbers.
5. Jayden de Laura, Arizona: The Hawaii native was the Pac-12's Freshman Offensive Player of the Year in 2021 at Washington State. de Laura had a solid campaign in his first season with the Wildcats in 2022. He ranked third in the conference, and eighth nationally in passing yards per game. However, de Laura finished sixth in the league and 38th in the FBS in passing efficiency. The former four-star prospect threw for a season-high, 484 yards in the victory over Colorado. The 21-year old ended up with 3,685 passing yards, which is the third-most in a single season for a Wildcat. de Laura was sharp in the spring game too, and completed all six of his passes, for 79 yards and a score in the first half.
4. Michael Penix Jr., Washington: The 23-year old torched defenses during his first campaign in the league last season. Penix led the entire FBS in passing yards per game. Not only did his 4,651 passing yards rank first in the Power Five, but it set a single-season record for a Washington gunslinger. Penix even set a single-game school record with 516 passing yards in the victory over Arizona. The Florida native also threw for 485 yards in the Apple Cup. However, he finished 26th nationally in passing efficiency, and 27th in completion percentage. Penix still led the Huskies to 11 wins, which were the most in the program since 2016. For his heroics, Penix earned second-team, All-Pac-12 honors.
3. Cam Rising, Utah: The 24-year old has led the Utes to back-to-back Pac-12 Titles, and Rose Bowl appearances. Rising threw for 3,034 yards, and scored 32 total touchdowns in 2022, which ranked third in a single-season for a Utah gunslinger. He's currently seventh in the program with 5,572 passing yards, and needs 3,410 this fall to become the Utes' all-time leader. Rising needs 24 touchdown tosses to become the school's No. 1 career leader. However, he's still recovering from a torn ACL that he suffered in the Rose Bowl against Penn State. In his absence, redshirt freshman Brandon Rose looked promising. He completed 19 of his 24 passes for 233 yards and a touchdown in the spring game.
2. Bo Nix, Oregon: The former five-star prospect set the Pac-12 on fire last season with his heroics. Nix stockpiled 4,104 yards of total offense, which was the third most in a single season at Oregon. The Alabama native's 3,593 passing yards and 29 touchdown tosses each ranked 15th nationally. Nix led the Power Five, and ranked second in the FBS in completion percentage. Not to mention he finished second in the Pac-12 in passing efficiency. Despite all of Nix's production, he didn't receive no All-Pac-12 consideration, which should add more fuel to the fire this fall. He threw for 193 yards and a touchdown in the spring game. Ty Thompson pushed Nix, with 274 passing yards and two scores.
1. Caleb Williams, USC: The former five-star prospect threw for 1,912 yards and 21 touchdowns at Oklahoma in 2021. Williams followed that up with a magnificent campaign during his first year with the Trojans. He broke school records with 4,537 passing yards and 42 touchdown tosses, which ranked first in the nation. The Washington D.C. native also finished first in the league in passing efficiency. Williams led the Trojans to an 11-1 campaign during the regular season. The 21-year old threw for 470 yards against UCLA, and 462 against Tulane. Williams captured the Heisman, Maxwell, and was a first-team, AP All-American. He also threw a 10-yard touchdown in USC's spring game.