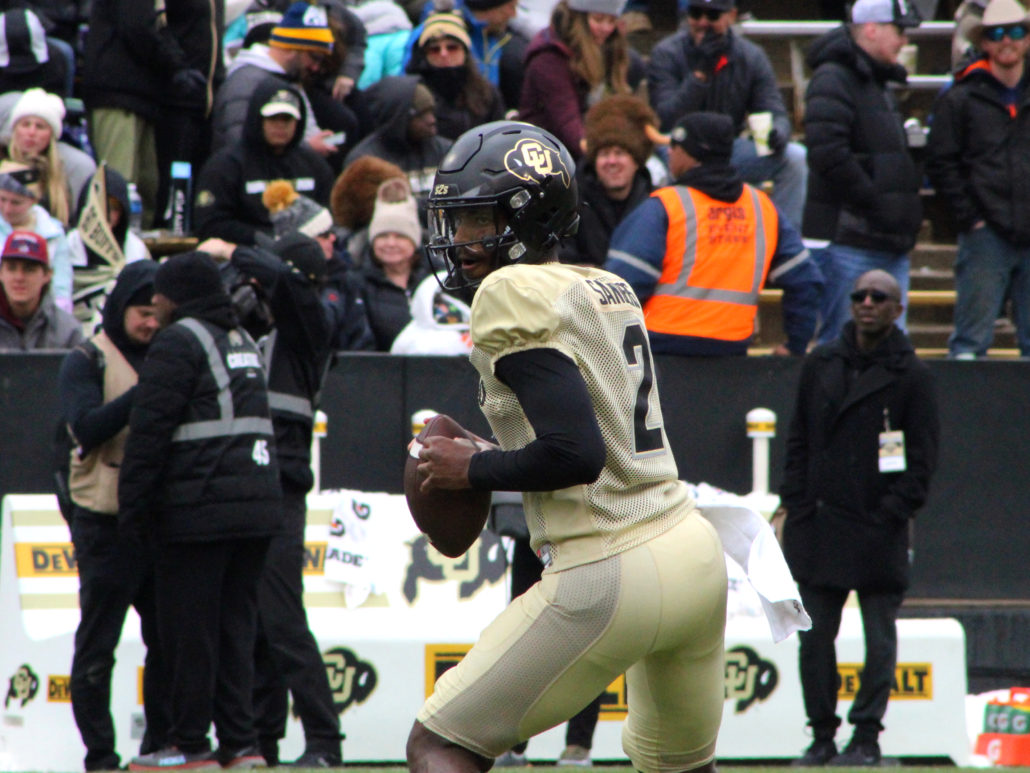 BOULDER, Co. — There's no denying that Colorado's new quarterback stole the show at the Black and Gold Game last Saturday.
Shedeur Sanders wowed the sold out crowd at Folsom Field with his strong arm and athleticism. Although he never played in heavy snow before, the inclement weather couldn't stop the gunslinger from having a stellar outing. He threw frozen ropes over the middle to receivers, took command in the huddle and made others around him better.
The fans in attendance enjoyed all of his heroics, and he never got rattled at any moment.
"We were putting ourselves through the atmosphere and the game-like situations each and every day going in practice," Sanders said. "So now when everybody else is able to see what we do at practice, it's a show, but we just approach practice like every day is a game so mentally, we were already locked in, and we knew okay, it's going to be a lot of people."
Legendary Colorado quarterback Kordell Stewart was in the building watching the signal-caller, and Sanders even caught the Hall of Famer's attention with a couple of  his throws. Sanders had amazing accuracy and completed 16 of his 19 passes, for 234 yards and two touchdowns. The six-foot-two, 215-pounder also scrambled for a score.
Sanders connected with wideout Montana Lemonious-Craig for a jaw-dropping, 98-yard touchdown in the first quarter. The Dallas native also threw a touchdown to former five-star prospect Travis Hunter, who he played with at Jackson State.
His spring performance was a testament to the work he put in over the past two seasons with the Tigers. After all, Sanders won back-to-back SWAC Titles, and broke single-season school records for pass attempts and touchdown tosses during that span.
Everyone has witnessed Sanders' maturation process since he landed in Boulder, and the best is yet to come. He's trusting his receivers, feels the offense is trending up and everything appears to be going ahead of schedule. In return it's building more confidence in Sanders as the Buffaloes approaches the summer.
"For me, I know what's going to make Travis play his best, I know how to make Montana play his best," he said. "But now we know exactly what we want and I'm able to really step up and lead us in the right direction."
In all honesty, Colorado has had horrible quarterback play since Steven Montez left. So finally having a game-changer behind center should do wonders for the offense. The Pac-12 will have a plethora of elite quarterbacks this fall, including the reigning Heisman winner. Still, Sanders adds more quality depth to a conference that hasn't made the Playoffs since 2016.
He'll have a bullseye on his jersey because of his name and the hype he arrived on campus with. After Saturday's showcase, it's obvious Sanders isn't backing down from the big stage. He has momentum, knowing that it's only the beginning of his journey.
"Now, I know what I want, back then I was younger, so I didn't," the 21-year old said. "I was nervous, I was out there playing, and I didn't understand what I wanted, so I had to learn a lot, but I have a couple years under my belt now, so I know exactly what I want and I know how to get the best out of guys, like each receiver is different."
Now that spring ball is over, Sanders can build on his mechanics, and extend his knowledge of the playbook over the next three months. It's no mystery that he's the golden boy of the offense and has a ton of responsibility on his shoulders. The former four-star prospect will never forget his debut in front of the Buffalo faithful, and wants to be the new face of the program.
"I'm just excited that everybody stepped up and everybody had a great time."