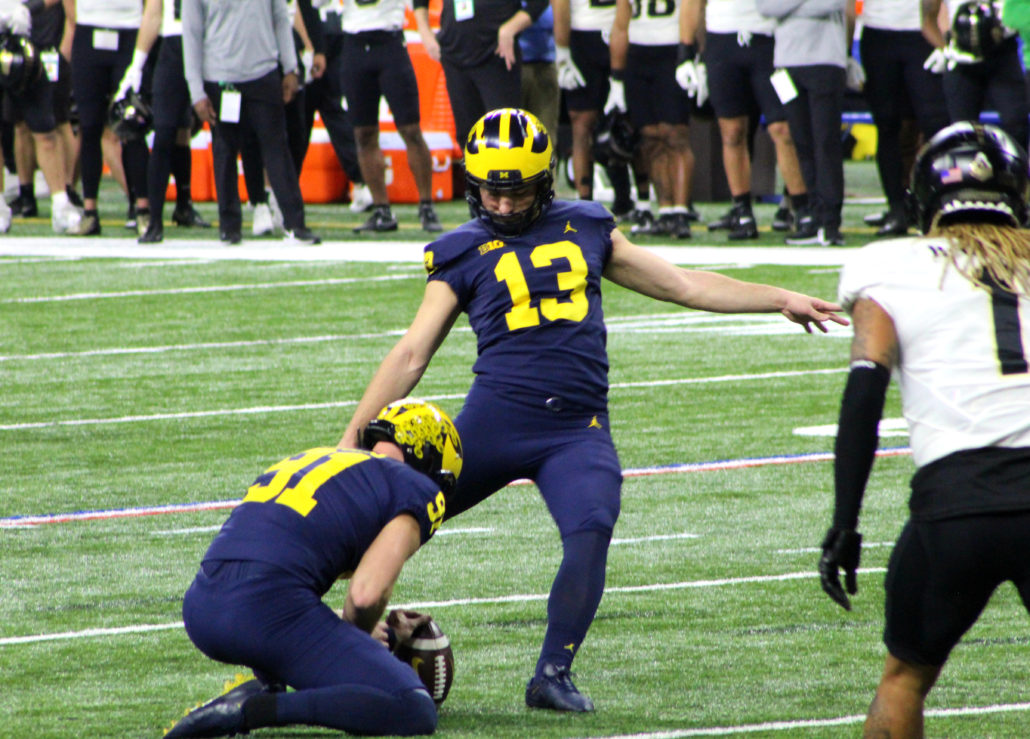 The Wolverines' All-American kicker cemented his legacy after he got snatched up in the third round Friday night.
The San Francisco 49ers had no picks in the first two rounds. However, the franchise selected Jake Moody 99th overall on day two of the event. Which shouldn't come as a surprise, considering he was so clutch at Michigan. Clearly San Francisco's General Manager John Lynch did his homework on Moody.
After all, he's a two-time, Big Ten Kicker of the Year recipient, who's the Wolverines' career leader in made field goals. The 23-year old led the conference, and finished second in the FBS in field goals per game. His 29 field goals in 2022 set a record for the most in a single-season at Michigan. Not to mention he won the Lou Groza Award in 2021.
Moody's five field goals in the victory over Michigan State set a school single-game record. That's astonishing for a player who had no stars behind his name out of high school. And for his heroics he earned second-team, AP All-American honors.
Michigan is the winningest program in College football, but has only had four kickers drafted prior to Moody. Regardless, none of them went as high as Moody. Not only did Moody become the school's fifth overall that got selected, but he was the Wolverines' first since Hayden Epstein got picked by the Jacksonville Jaguars in 2002.
Moody has a strong and accurate leg. The guy was never afraid of the big moment, and always delivered when his number was called. Now he's going to a franchise that was one win away from clinching a berth in the Super Bowl last season.
No doubt there's going to be a lot of pressure and responsibility on Moody to continue his success at the next level. Kickers have a very slim margin for error. Still, it's nothing new to Moody because that's what he's been doing his entire time as a student-athlete. He'll also join former teammate and wideout Ronnie Bell, who the 49ers drafted in the seventh round.
The Bay area fans should expect a lot of points from the Michigan native. Moody always has ice water in his veins, and feeds off the energy of the crowd. Having those types of attributes should bode well for the kicker at the next level. And he's sure to make Michigan fans proud throughout his professional career.