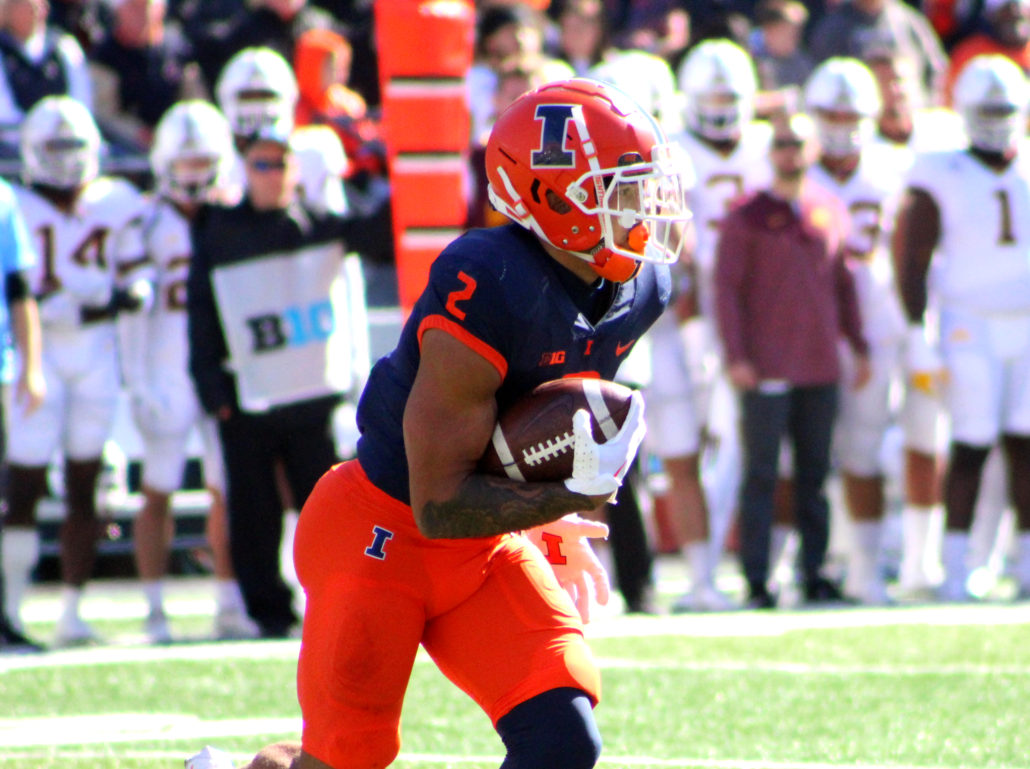 The two-time All-Big Ten rusher became the last Illinois player to be selected in the 2023 NFL Draft.
The Cincinnati Bengals snatched up Chase Brown in round five and 163rd overall. It was a big deal because it made him the first Fighting Illini running back drafted since Mike LeShoure accomplished that feat in 2011.
Brown was one  four Illinois' players in this year's draft class, which included his twin brother Sydney, who went in the third round to the Philadelphia Eagles. Not to mention it was the most by the program since 2013. It was a head-scratcher to many fans that Brown fell to a day three pick.
After all, he received a 6.12 prospect grade. That means Brown was projected as a good backup, with the potential to be a starter. There's no denying that the Canadian had a stellar career in Champaign. Brown rushed for 3,206 yards in his career, which ranks second all-time at Illinois. He's the first Illinois back-to-back 1,000-yard rusher since Robert Holcombe. Brown fell 55 yards short of breaking the school's single-season rushing record.
On top of that he led the Big Ten in carries, and finished third in the FBS in rushing yards per game. The former three-star prospect has some soft hands too. Brown caught 41 passes out of the backfield for 382 yards for three scores over the past two seasons.
He was impressive at the Senior Bowl. Brown also had a great performance at the NFL Scouting Combine. The five-foot-nine, 209-pounder is built like an action figure, with 10-inch hands, and 31-inch arms. Brown had a 40-inch vertical, ran a 4.43 40-yard dash time and did 25 reps on the bench press.
The 22-year old could probably compete on the television show Ninja Warrior with his athletic prowess. Brown brings a lot of value to the Bengals, and could be a nice one-two punch in the backfield with Joe Mixon. He'll be playing with one of the best quarterbacks in the game in Joe Burrow. Coach Zac Taylor has one of the best offensive minds in the pros, so he'll find several ways to utilize Brown.
Still, the running back will have to work his way into the rotation, just like he did as an underclassmen at Illinois. With Brown's work ethic, dieting and competitive spirit, he can be very successful at the next level. Durability is always an issue with running backs because of their short life span in the NFL. However, Brown has workhorse tendencies, and gets stronger with every carry. That should bode well for the talented rusher in the pros.