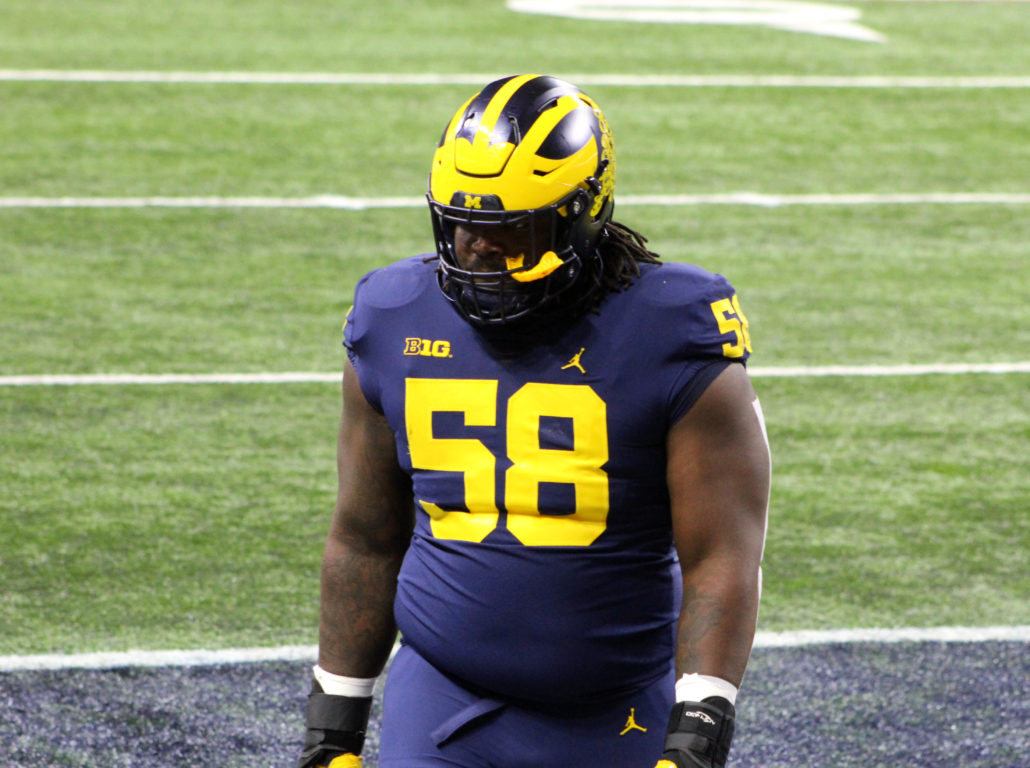 The Wolverine defensive tackle was selected 26th overall to America's Team Thursday night.
Not only was it a big accomplishment for Mazi Smith, but it set another milestone for the blue blood program. It's no mystery that Jim Harbaugh continues to put defenders in the NFL at a high rate. As a matter of fact, Smith became the fourth Michigan defender drafted in the first round over the past three years, that includes three defensive linemen.
The former four-star prospect joined the elite company of Kwity Paye, Aidan Hutchinson and Daxton Hill as Wolverine first-rounders. The Dallas Cowboys don't often select defensive tackles in the first round, and Smith became their first since Russell Maryland accomplished that feat in 1991.
That's because Smith is a flat-out beast in the trenches. The six-foot-three, 323-pounder is a true example of a space-eating, hole-clogging monster, that's strong as a bull too. He often required multiple blockers and it still wasn't enough to stop him from getting his hands on ball carriers.
Over the past two seasons he has generated a jaw-dropping, 85 tackles from the interior. The Michigan native helped the Wolverines win back-to-back Big Ten Titles, and two-straight Playoff appearances during that span. One of his best performances came against Maryland, when he tallied eight tackles, including five solo and one for loss.
The only physical drill he participated in at the Scouting Combine was the bench press, and Smith threw up 225 pounds 32 times. Smith received a 6.34 prospect grade, which means he's projected to be a starter in his rookie season. There's no denying he would've been drafted higher if it wasn't for his misdemeanor conviction last season. Smith pleaded guilty to a weapons charge, and received probation this past December.
The NFL is cracking down on criminal charges, and Georgia's Jalen Carter watched his draft stock slip because of it. However, stipulations to Smith's probation was joining the HYTA program. It stands for Holmes Youthful Trainee Act, and allows young adults to avoid a criminal record if they successfully complete all of the conditions.
So basically Smith gets to turn over a new leaf at the next level. He'll anchor the front of a defense that includes pro bowlers DeMarcus Lawrence, Micah Parsons and Trevon Diggs. Still, Smith brings instant credibility to the Cowboys' defense, and should make an immediate impact.
Smith's success is a testament to the foundation Harbaugh has cemented in Ann Arbor. And as long as he's patrolling the sidelines of his alma mater, the NFL should annually expect more star defensive linemen like Smith for years to come.