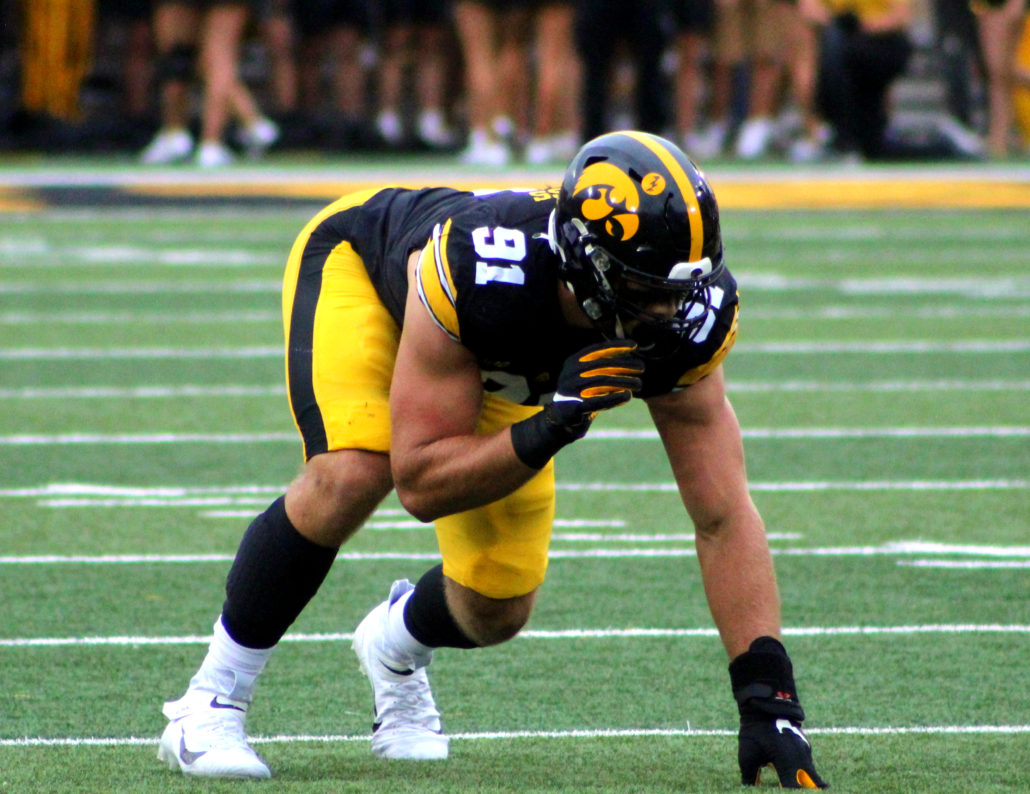 It's been 12 years since an Iowa defensive lineman was selected in the first round of the NFL Draft.
However, that drought ended Thursday evening when the Green Bay Packers selected Hawkeye edge rusher Lukas Van Ness 13th overall.
It's mind-boggling that Van Ness wasn't even a starter for the Hawkeyes this past season. Iowa's coaching staff molded the former three-star prospect into an All-Big Ten performer. Van Ness is the latest testament to Coach Kirk Ferentz doing more with less.
After all, Van Ness was a flat-out monster off the edge for the past two seasons. The numbers don't lie, and he generated 70 tackles, including 19 for loss and 13 sacks during that span. Van Ness is relentless, disruptive and physical, which are all qualities that the NFL loves in edge rushers.
The 21-year old helped Iowa finish second in the FBS in total defense last year. Van Ness was a natural at bringing down ball carriers and making quarterbacks eat grass. The Illinois native received a 6.40 prospect grade from the NFL, which means Van Ness is projected to be a solid starter within two years.
His results at the NFL Combine a few weeks ago were definitely encouraging. The six-foot-five, 272-pounder ran a 4.58 40-yard dash, with a 31 inch vertical and recorded 17 reps in the bench press. The Packers brought him in to make an immediate impact, and to play alongside Rashad Gary.
Being a kid from the Midwest, that's used to the cold weather during the season, and the blue-collar style of play in the Big Ten, made Van Ness an ideal prospect for the Packers. Now the nation finally recognizes the Hawkeyes' pipeline of putting quality defenders in the NFL.
Van Ness also had a teammate go in the first round in linebacker Jack Campbell. The Butkus Award winner was selected five picks after Van Ness to the Detroit Lions. Not to mention Iowa has never had two defenders selected in the first round in the same year. So Van Ness is now part of history, and has helped set a major milestone in the program.
No doubt he has made Hawkeye Nation proud with his heroics and accomplishments on the gridiron. Not only are the Packers getting a high-caliber football player, but they're also receiving an individual with a high character grade.
Van Ness was respected in the locker room because of his work ethic, leadership and production. Packer fans are anticipating those qualities to carry over to the next level.
Hawkeye fans know if he plays like he did in Iowa City, the sky's the limit to what Van Ness could accomplish in his rookie campaign.