Ranking the Big Ten's best quarterbacks of 2023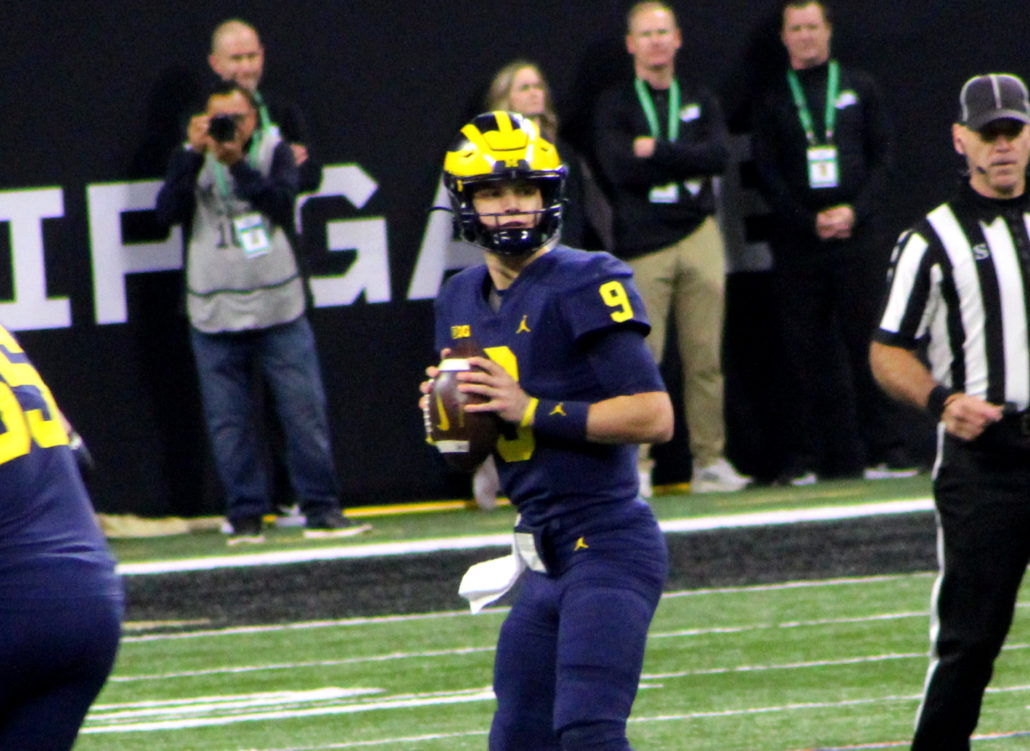 It's the conference that's synonymous with great coaching and physicality, so gunslingers have a very slim margin for error.
There will be some familiar faces in the league and some new ones this upcoming season. Some quarterbacks are trying to build off the success they generated in 2022. While others are looking to make themselves a household name in the conference.
Regardless of the matter, the Big Ten is one of the best Power Five conferences, and had two teams in the Playoffs last season. So there's no denying the bar has been set high for this year's group to reach this fall.
14. Brendan Sorsby, Indiana: The Texas native is in an intense battle with Tayven Jackson to be the Hoosiers' starter this fall. Nothing was settled in spring ball. Both Sorsby and Jackson are pretty green in terms of experience. Sorsby made one appearance for Indiana against Penn State, and completed three of his eight passes for eight yards and an interception. However, Sorsby threw a touchdown to EJ Williams in Indiana's spring game. Jackson is a former four-star prospect, who played at Tennessee in 2022. The Indiana native only appeared in three games for the Volunteers, and attempted four passes. The Hoosiers haven't had steady quarterback play for the past two seasons.
13. Noah Kim, Michigan State: Payton Thorne raised several eyebrows after he entered the transfer portal nearly three weeks after the spring game. After all, he passed for 6,493 yards, 49 touchdowns and 24 interceptions with the Spartans. However, Kim is fourth-year junior, who threw for 172 yards and three touchdowns in 2022. The Virginia native generated a touchdown pass in the victory over Akron. Kim completed six of his seven passes for 70 yards and a touchdown against Minnesota. Not to mention he completed six of his 10 passes for 82 yards and a score against Ohio State. Kim battled redshirt freshman Katin Houser throughout the spring. Houser only attempted two passes last year.
12. Evan Simon, Rutgers: The Scarlet Knights threw 11 touchdowns and 14 interceptions last season, so there must be improvement at the quarterback position. Offensive Coordinator Kirk Ciarrocca is playing musical chairs with Simon and Gavin Wimsatt as the spring game approaches. Simon had some solid outings in 2022, and threw for 151 yards and two touchdowns against Wagner. He recorded a season-high, 300 passing yards against Iowa. However, he was picked off three times against Nebraska. Wimsatt threw for a season-high, 236 yards and two touchdowns against Michigan State. He struggled too, with an interception in five different games, including three against Michigan.
11. Luke Altmyer, Illinois: The Mississippi native has spent the past two seasons at Ole Miss. Altmyer completed 28 of his  54 passes for 317 yards, three touchdowns and three interceptions during that span. His only significant action in 2022 came in the victory over Central Arkansas. Altmyer threw for a season-high, 90 yards, and scored three total touchdowns. The former four-star prospect separated himself from the rest of the competition over the spring. Altmyer's experience in the almighty SEC appears to be paying off on the gridiron. Coach Bret Bielema is going to need Altmyer to have a smooth transition to the Big Ten. Having wideout Isaiah Williams in his arsenal should help that.
10. Ryan Hilinski, Northwestern: The Californian battled with Brendan Sullivan and Jack Lausch throughout spring ball. However, Hilinski has the most experience of the three. Over the past two seasons with the Wildcats, Hilinski has passed for 2,622 yards, nine touchdowns and 11 interceptions. Last year he threw for 314 yards and two scores in the opening victory over Nebraska. Hilinski recorded a season-high, 435 passing yards and two touchdown tosses against Duke. Sullivan started a few games, but had some bright spots. He threw for a 114 yards and a score against Wisconsin. Sullivan had a season-high, 159 passing yards at Iowa. Lausch attempted eight passes in 2022.
9. Athan Kaliakmanis, Minnesota: The former four-star prospect started several games for the Golden Gophers in Tanner Morgan's absence last season. Kaliakmanis gained valuable experience and had some solid outings. He has a strong arm, and surprising mobility, but needs to work on his accuracy. A light bulb turned on for Kaliakmanis down the stretch, and he stepped his game up. The Illinois native threw for a season-high, 319 yards and two touchdowns in the victory at Wisconsin. Kaliakmanis followed that up, and completed seven of his nine passes for 80 yards in the bowl win over Syracuse. Not to mention Kaliakmanis rushed for an eight-yard touchdown in Minnesota's spring game.
8. Tanner Mordecai, Wisconsin: The Texas native played the past two seasons at SMU, and left as the program's all-time leader in passing touchdowns. Mordecai threw for 7,152 yards during that span. Last year he set a school record with nine touchdown tosses in the victory over Houston. Mordecai was also a Davey O'Brien Award semifinalist. The former four-star prospect arrived in Madison with a lot of hype because of his production and leadership. However, he was very inaccurate in the Badgers' spring game, and was picked off four times. Mordecai threw seven interceptions over the final two practices. Nick Evers, and Braedyn Locke are in the mix also, so nothing is set in stone.
7. Jeff Sims, Nebraska: The Florida native was a three-year starter at Georgia Tech. During that span Sims threw for 3,464 yards 30 touchdowns and 23 interceptions. Sims also rushed for 1,152 yards and 11 scores. He looked impressive in the Red and White Game. The former four-star prospect completed nine of his 13 passes for 139 yards, and had a rushing score. Sims made a statement in his highly-anticipated debut. So much so that Casey Thompson entered the transfer portal less than a week after the spring game. That means Sims has a firm hold on the No. 1 spot as the Huskers approach the summer. Now Sims has to learn the playbook and build more chemistry with his pass-catchers.
6. Drew Allar, Penn State: The Ohio native had a promising true freshman campaign with the Nittany Lions last season. Allar threw for two touchdowns apiece in victories over Ohio and Indiana. He also rushed for a touchdown in the win over Rutgers. Allar competed with Beau Pribula over the spring. However, Allar was sharper than Pribula in the Blue and White Game. The former four-star prospect completed 19 of his 30 passes for 202 yards. Allar's 28-yard touchdown strike to Omari Evans was the only one of the game. Not to mention he completed eight passes of 15-plus yards in every quarter. Meanwhile Pribula, who redshirted last year, was picked off over the middle to end the event.
5. Cade McNamara, Iowa: The 22-year old led Michigan to a Big Ten Title and a Playoff berth in 2021. During that season McNamara threw for 2,576 yards, 15 touchdowns and six interceptions. He passed for 136 yards and a touchdown in last year's opener against Colorado State. However, McNamara's production decreased over the next two games. After he suffered a knee injury against Connecticut, McNamara lost his job to J.J. McCarthy. Although Brian Ferentz will be McNamara's third Offensive Coordinator in the past three years, he still brings leadership and a championship mentality to Iowa City. The gunslinger was somewhat limited throughout the Hawkeyes' spring.
4. Hudson Card, Purdue: The former four-star prospect started several games over the past two seasons at Texas. Card threw for 590 yards, five touchdowns and an interception in 2021. Last year he played musical chairs with Quinn Ewers, and most of his production came in the first five games. However, Card still ended up with 928 passing yards, six touchdowns and an interception. He completed 14 of his 22 passes for 158 yards against Alabama. The Texas native threw for 277 yards, two touchdowns an an interception at Texas Tech. Card passed for 303 yards and three touchdowns against West Virginia, which were both season-highs. He was also impressive throughout spring ball.
3. Kyle McCord, Ohio State: The former five-star prospect was C.J. Stroud's backup for the past two seasons. McCord passed for 606 yards, three touchdowns and two interceptions during that span. Although the Buckeyes are operating under a new Offensive Coordinator, the quarterbacks will be throwing to the best wide receiver tandem in the nation. McCord put together a solid performance in the spring game. Not to mention he completed 18 of his 34 passes for 184 yards. McCord connected with Kylon Grayes for a 37-yard touchdown. Tristan Gebbia threw for 127 yards and a score. Devin Brown will also be in the mix, but didn't play in the spring game due to a broken finger.
2. Taulia Tagovailoa, Maryland: The 23-year old is the Terrapins' career leader in passing yards and touchdown tosses. Tagovailoa threw for 3,860 yards in 2021, which was a single-season record for the program. The Hawaii native tied a single-season school record with 26 touchdown passes that year. Not to mention Tagovailoa averaged 250.6 yards per game in 2022, which ranked third in the Big Ten, and 34th in the FBS. The cherry on top for Tagovailoa was capping off the season with second-team, All-Big Ten honors. Recording back-to-back 3,000-yard campaigns in the Big Ten is nothing short of phenomenal. As long as Tagovailoa is with the Terrapins, they'll continue to be a contender.
1. J.J. McCarthy, Michigan: The Illinois native led the Wolverines to a perfect regular season, a Big Ten Title and a Playoff berth in 2022. McCarthy's 2,719 passing yards and 22 touchdown tosses were the most by a Michigan quarterback since 2019. He threw for three touchdowns apiece in victories over Hawaii, Indiana, Ohio State and Purdue. The former five-star prospect passed for a season-high, 343 yards in the Playoff semifinals against TCU. Not to mention McCarthy earned second-team, All-Big Ten honors for his heroics. The 20-year old generated a solid outing in the Maize and Blue spring game, and completed seven of his 10 passes for 85 yards, a touchdown and an interception.