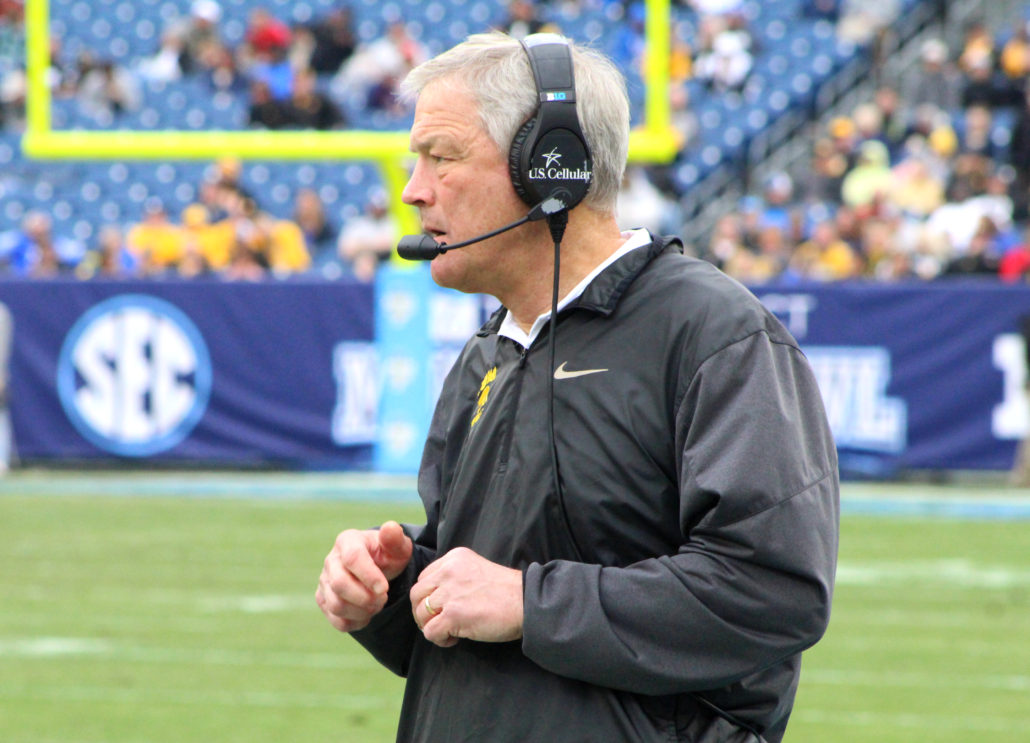 IOWA CITY, Ia. — Although Iowa concluded spring ball with a final scrimmage Saturday, Coach Kirk Ferentz left with some concern regarding his running backs.
It's no mystery that the Hawkeyes were abysmal at running the ball last season. As a matter of fact, Iowa ranked dead last in the Big Ten, and 124th nationally in rushing offense. Which is why Ferentz paid close attention to his backfield throughout the spring.
Kaleb Johnson, Leshon Williams, Jazian Patterson and  Terrell Washington all battled for carries over the past few weeks, and Ferentz appreciates the skill set that each one brings to the table.
Johnson led the team in yards on the ground, and rushing touchdowns in 2022. Williams rushed for 412 yards. Not to mention 23 of Patterson's 47 rushing yards came in the bowl victory over Kentucky.
Ferentz witnessed growth from each back, and feels the unit will be a strength on offense moving forward. Even the true freshman Washington has turned heads with his atleticism.
"I think it's a healthy room right now, and hopefully there's room to keep getting better," Ferentz said. "I think they're all pretty young players, and it's exciting actually."
However, the rushers are only going to go as far as the big boys up front can take them. Iowa's offensive line was a liability last year, and couldn't consistently open holes. The Hawkeyes rushing attack suffered because of it, and averaged a mere 2.92 yards per carry as a team.
That can't happen again if Ferentz plans on taking a step forward with his team in 2023. In order to survive in the physical Big Ten, a team must have an effective ground game. It controls the clock, keeps the defense from keying in on the quarterback and sets up the play-action pass. Catching balls out of the backfield will be vital after Johnson, Williams and Patterson only combined for 16 receptions last season.
Ferentz understands there are certain areas each rusher must work on in order for the Hawkeyes to be effective at the point of attack again. Johnson has stayed on Ferentz's radar because of his tremendous upside, but still needs to iron out some wrinkles.
"He (Johnson) didn't understand what he was doing half the time, he's got a lot more to really benefit from," he said. "A good skill set, learn how to use that, block a little bit better."
Williams only averaged 3.6 yards per carry, so Ferentz wants him to keep working on his lower body strength. Regardless, Ferentz thought he had a decent campaign, and was encouraged by his strong spring.
As for Patterson, Ferentz feels he's going to be in the rotation if he can keep up his hard work.
"Jaz has really done a nice job, too, he impressed us last year," the 67-year old coach said. "That run he made in the bowl game I thought was really good, and we're seeing more of that, too."
In Ferentz's eyes, the backfield still has a long way to go, but there's still a lot of time to get better before fall camp. Everyone is young, and learning along the way. So there's going to be a process.
"I think the last couple weeks we're seeing things, sometimes just little things, on film, but things that maybe give you some indication that the players are catching on from something maybe they weren't doing well two weeks before or even one week before that."