Ranking the Big 12's best coaches of 2023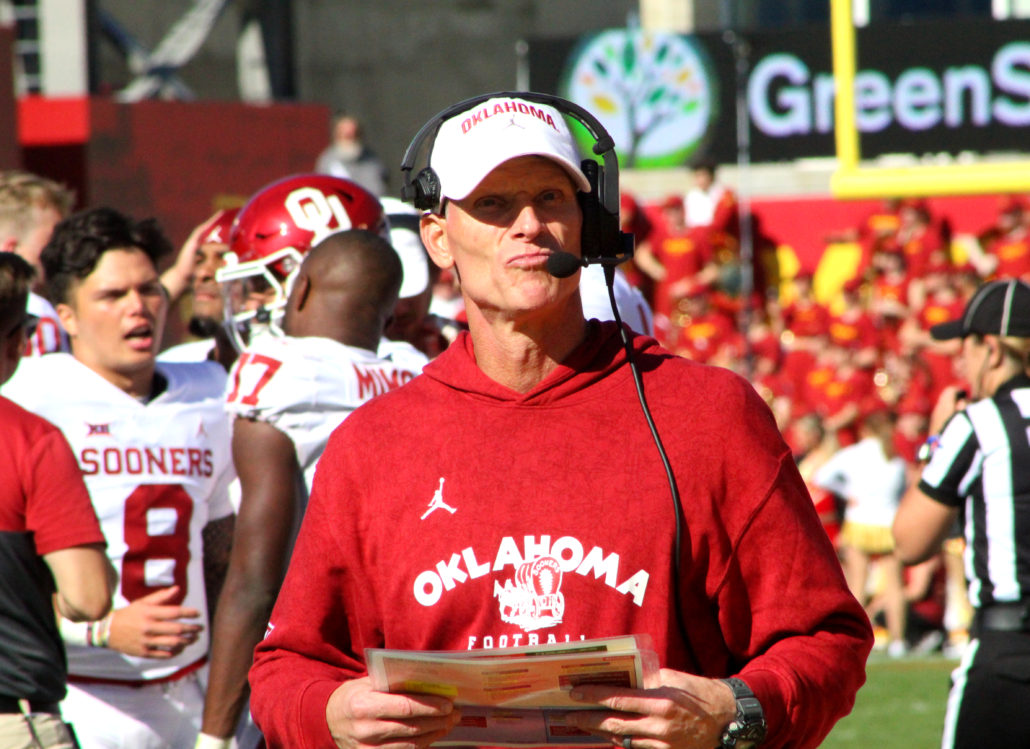 It's a new and improved conference.
The addition of three AAC teams and BYU means four new coaches to the Big 12. With the same amount of teams as the ACC, Big Ten and SEC, the strength of schedule will be there for a coach to have an argument about a Playoff berth, if his team finishes with one or no losses.
This will be the last season that traditional powerhouses Oklahoma and Texas will be in the conference too. And the parity in the league is at an all-time high, which should make for some of the best football in 2023.
14. Neal Brown, West Virginia: Although he won 31 games and a Sun Belt Title in three seasons at Troy, his tenure in Morgantown has been disappointing thus far. Brown is 22-25 approaching his fifth campaign with the program. Not to mention he hasn't fared well against conference foes, and generated a 14-21 record in Big 12 play. Brown has yet to post a winning season at West Virginia. The Mountaineers lost four of their final six games last year. The experiment with quarterback J.T. Daniels didn't pan out well, and West Virginia finished eighth in the Big 12, and 56th nationally in total offense. The Mountaineers ranked 98th in the FBS in total defense. So Brown has his hands full for 2023.
13. Brent Venables, Oklahoma: The former Kansas State linebacker was an assistant for his alma mater before he became a Defensive Coordinator for Oklahoma for 13 seasons. Venable helped the Sooners win a National Championship, and several Big 12 Titles before he left for the same position with Clemson. He spent 10 seasons with the Tigers, and helped them win six ACC Titles and two National Championships. 2022 was Venables first season as a head coach, and the Sooners were one of the biggest underachievers. Oklahoma finished with a losing campaign for the first time since 1998. The Sooners were shutout in the Red River Rivalry. Venables has lost four of his last five games.
12. Joey McGuire, Texas Tech: The 51-year old is a former standout high school coach. Last year McGuire exceeded expectations during his first season with the Red Raiders. He recorded an 8-5 campaign, and Texas Tech finished with a winning record in Big 12 play for the first time since 2009. The Red Raiders also went 6-1 at Jones AT&T Stadium. The cherry on top to Texas Tech's overachieving season was beating Ole Miss in the bowl game. It was the Red Raiders' second-straight bowl victory over a team from the almighty SEC. Texas Tech also ranked second in the Big 12 and 22nd nationally in total offense. This fall McGuire needs to prove that his 2022 success was no fluke to Red Raider Nation.
11. Scott Satterfield, Cincinnati: The 50-year old has posted winning tenures at Appalachian State and Louisville. Satterfield won 47 games, including three bowls, and three Sun Belt Titles in five seasons with the Mountaineers. He registered a 25-24 record over the past four seasons with the Cardinals. Satterfield went 16-18 overall in ACC play. However, he won four of his final five ACC tilts to end his tenure at Louisville. His great offensive mind helped quarterback Malik Cunningham finish No. 1 in school history in touchdowns responsible for. Now Satterfield is taking over a successful Bearcat program. The Big 12 will be uncharted waters for both Satterfield and Cincinnati this fall.
10. Matt Campbell, Iowa State: Besides the hiccup last season, he has turned the Cyclones into a perennial contender in the Big 12. Campbell won 34 games in four seasons as Toledo's coach. The Ohio native has been with Iowa State since 2016, and has registered a 46-42 record during that span. Not to mention he's 32-32 against Big 12 opponents. Campbell won the Fiesta Bowl over Oregon in 2020. However, the Cyclones struggled last year, and only won one Big 12 game, which was their lowest mark since 2014. Campbell is trying to get the program back on the winning track, but will need more production from the backfield, and better blocking from the big boys up front.
9. Steve Sarkisian, Texas: The 49-year old coached the quarterbacks under Pete Carroll when USC won a National Title in 2003. Sarkisian had head coaching gigs at Washington and USC. He revived the Huskies from the Tyrone Willingham era, and won 34 games in five seasons, including two bowls. Sarkisian coached 18 games with the Trojans and registered a 12-6 record. Over the past two seasons with the Longhorns, he's gone 13-12, including a 9-9 mark in Big 12 play. Having no Bijan Robinson or Roschon Johnson this time around hurts. After all, the duo combined for 2,134 yards on the ground and 23 rushing touchdowns in 2022. So he'll need more out of quarterback Quinn Ewers.
8. Dana Holgorsen, Houston: The 51-year old has one of the best offensive minds in the country. Holgorsen is very familiar with the Big 12, considering he spent time as an Offensive Coordinator at Texas Tech and Oklahoma State, and a head coach at West Virginia. He won 61 games, including 51 as a Big 12 coach with the Mountaineers. Holgorsen has spent the past four seasons with the Cougars, and registered a 27-20 record during that span. The Iowa native led Houston to 12 victories in 2021, which were the most in the program since 2015. Holgorsen has won six of his last eight games overall. He's a quarterback guru, and helped Clayton Tune finish second in school history in touchdown passes.
7. Dave Aranda, Baylor: It's no mystery that he has one of the best defensive minds in today's game. Aranda was a Defensive Coordinator in the Big Ten and the SEC before he became the head coach of Baylor. He's approaching his fourth season with the Bears, and has a 20-16 record. Not to mention Aranda won a Big 12 Title in 2021, and was named the league's Coach of the Year. However, the Californian is 14-14 against Big 12 opponents. Baylor ended 2022 on a four-game losing streak. Solid defense has been Aranda's bread and butter, but the Bears ranked 58th in yards allowed per game last season. Baylor also needs better quarterback play, after throwing 19 touchdowns and 11 interceptions in 2022.
6. Kalani Sitake, BYU: The former Cougar fullback was a Defensive Coordinator in the Pac-12 for five seasons, before he landed a head coaching job with his alma mater. Sitake has been at BYU since 2016, and has stockpiled a 56-34 record. Not to mention he has generated two double-digit win seasons, and the Cougars have finished in the AP top-20 twice during that span. Sitake won four of his first five contests last year, and ended 2022 on a four-game win streak. The 47-year old is 1-2 against Big 12 opponents as BYU's coach. 2023 is going to be Sitake's most intriguing season yet of leading the Cougars. After all, BYU has been an Independent since 2011, and now its' in the Power Five.
6. Gus Malzahn, UCF: The Texas native was Auburn's Offensive Coordinator in 2010 when the program won an SEC Title and a National Championship. Malzahn was a head coach with the Tigers for eight seasons, and recorded 68 victories. He also won an SEC Title and made an appearance in the BCS National Championship Game in 2013. Malzahn has spent the past two seasons at UCF. The 57-year old is 18-9 with the Knights, and 11-6 against AAC foes. Not to mention UCF made an appearance in the AAC Championship Game in 2022. The middle of Florida is a recruiting hotbed, so Malzahn should be able to field some of the best talent in the Big 12, now  that the Knights are in the league.
4. Lance Leipold, Kansas: The 58-year old's coaching resume dates back to the late 1980's. Leipold spent several years as an assistant in Division II. He was also a head coach for eight seasons in Division III. Leipold led Buffalo for six seasons, and stockpiled a 37-33 record, and won two bowl games. It only took Leipold two seasons to get Kansas back to the postseason for the first time since 2008. The Jayhawks won their first five games last year. Leipold's bright offensive mind was on full display. Kansas ranked third in the Big 12 in total offense, and 21st nationally in points per game. With quarterback Jalon Daniels back, and an underrated defense, Leipold could be fielding his best team yet in 2023.
3. Sonny Dykes, TCU: His coaching resume dates back to the mid 1990's, and includes high school and the Juco ranks. Dykes is a protege' of the late Mike Leach. The Texas native was a head coach at Louisiana Tech, California and SMU before he landed at TCU. Dykes won 22 games in three years with the Bulldogs. He posted 19 victories in five seasons with the Golden Bears. Dykes recorded 30 wins in four seasons with the Mustangs. What he accomplished last season with the Horned Frogs was remarkable. Dykes led the team to their first-ever berth in the Playoffs, and an appearance in the National Championship Game. It's the closest a Big 12 coach has come to winning it all since Mack Brown's Longhorns in 2009.
2. Mike Gundy, Oklahoma State: The former Cowboy quarterback is the longest-tenured coach in the Big 12. Gundy been leading his alma mater since 2005. He's 156-75 overall with the Pokes, including a jaw-dropping, 95-62 mark against Big 12 opponents. However, he has only won one conference title after all of this time. Regardless, Gundy is known for being a quarterback whisperer, which is why Mason Rudolph, Brandon Weeden and Spencer Sanders broke several school passing records in their career. Gundy has posted 17-straight winning seasons. It's discouraging that the Pokes lost five of their last six games to end 2022, but Gundy always bounces back with a strong campaign.
1. Chris Klieman, Kansas State: The Iowa native won a jaw-dropping, four FCS Titles at North Dakota State over the last decade. Klieman has been with Kansas State for the past four seasons. The 55-year old has registered a 30-20 record during that span, including a 21-16 mark against Big 12 foes. Last year Klieman led the Wildcats to their first conference title since 2012. Not to mention he's won five of his last six Big 12 games overall. Now Klieman is tied with two other coaches in the league with a Big 12 Title. The scary part for the rest of the teams around the league is the fact that Klieman could be potentially fielding his best team yet this fall. Kansas State has never won back-to-back Big 12 Titles.