Matt Campbell feeling positive about direction of Cyclones' quarterback room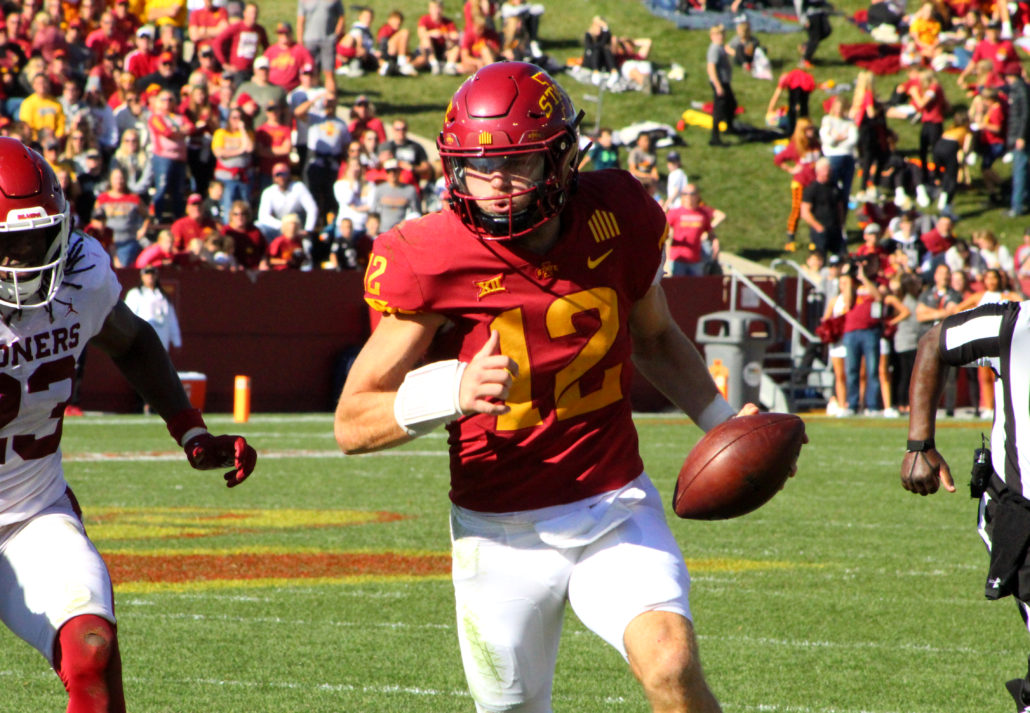 AMES, Ia. — Last season Iowa State's offense found life after Brock Purdy extremely difficult.
It's no mystery that the Cyclones threw 15 interceptions, which was the second-worst in the Big 12. The offense was so bad that Matt Campbell parted ways with Offensive Coordinator Tom Manning, and promoted Nate Scheelhaase to the same position.
Scheelhaase has worked extensively with the quarterbacks this spring, and the group basically started over from scratch. Spring ball will conclude with a scrimmage Saturday afternoon at Jack Trice Stadium, and Campbell will be paying close attention to his three signal-callers.
Hunter Dekkers, Rocco Becht and JJ Kohl have battled throughout the spring. However, neither player has separated himself from the rest of the pack. Which is why Campbell believes the competition has been beneficial for all parties involved in terms of growth.
"We haven't done a whole lot on offense, I think we've been really trying to be purposeful with what's our process, and how we do all of those things to be successful," Campbell said. "Rather it's how we call a play, how we get to the line of scrimmage, how we work on snap counts and the growth of situational football."
Dekkers was last year's starter. The Iowa native threw for 3,044 yards, which was fourth-best in the program for a single season. His 19 touchdown tosses tied for third-best in a single season. Still, Dekkers was picked off 14 times. Not to mention he ranked 82nd nationally in passing efficiency.
It helps that Becht and Kohl have been pushing Dekkers in practice over the past two weeks. The two are still green as far as experience goes though. Becht only attempted 15 passes in 2022, meanwhile Kohl played in one game, and generated four completions.
That's why Iowa State fans are eager to see improvement from the trio. In Campbell's eyes, they've all looked promising up to this point.
"I think all three of those guys have really handled the how to really well, and I think they've grown in that aspect of it," he said. "Obviously if we're going to be successful it starts with their understanding of all situations that come with playing quarterback."
In order for the Cyclones to take that next step on offense, they're going to need better blocking from the big boys up front. Iowa State allowed 2.17 sacks per game last season, which ranked 75th in the FBS. Campbell is going to need more production from the running backs to keep the pressure off his gunslingers. After all, the Cyclones finished dead last in the Big 12, and 119th nationally in rushing offense.
Campbell must also find more weapons for the aerial attack, with first-team AP All-American wideout Xavier Hutchinson off to the NFL. Regardless of the matter, Campbell is encouraged by the maturation process of his quarterbacks. Despite the learning curve, everything appears to be trending in up.
"I think all three guys have had positive moments, all three guys have played well," the 43-year old said. "At times guys have made some mistakes, but they've been able to learn from it, so I think it's been positive for all three."
All eyes will be on them Saturday afternoon, so Dekkers, Becht and Kohl will each have a chance to take advantage of the spotlight. Schalleesee has impressed Campbell with his impact on the quarterback room and everything is going ahead of schedule.
"I really think our staff has done a great job at starting back at square one, and building it forward."