Austin Moore building off his stellar season with a strong spring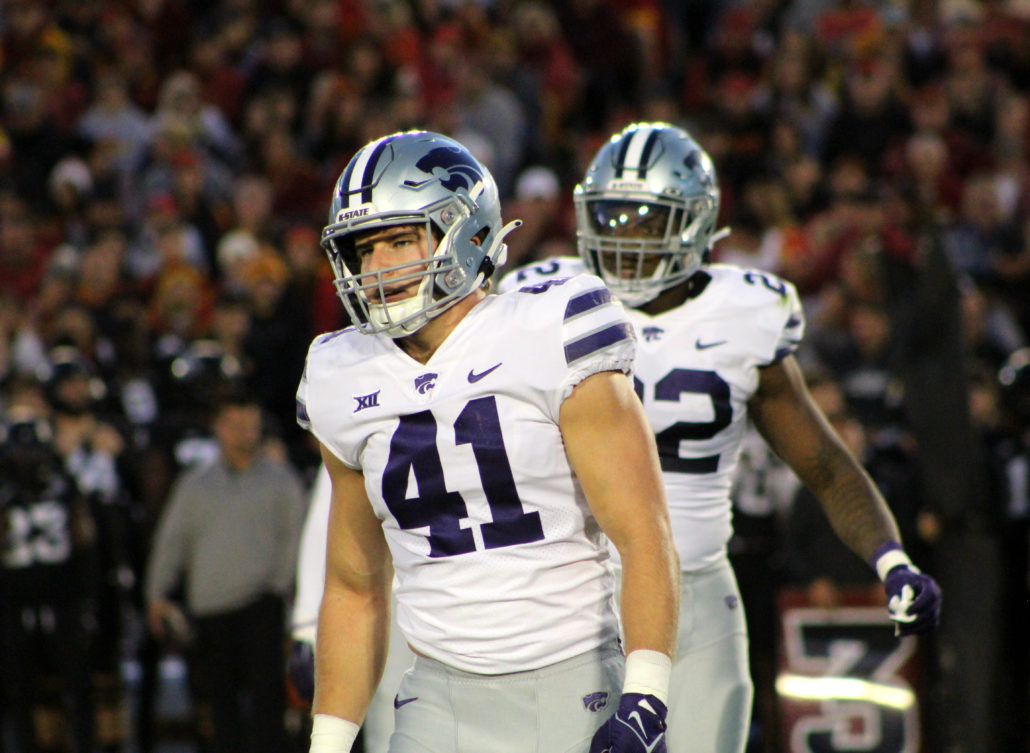 MANHATTAN, Kan. — The linebacker led the reigning Big 12 Champs in stops, and ranked second on the team in tackles for loss last season.
Although Austin Moore didn't earn All-Big 12 recognition for his heroics, he still made his presence felt throughout the conference. His instincts and physicality allows him to make plays all over the field. Not to mention Moore's tenacity and athleticism makes him a natural at bringing down ball carries in the backfield.
Throughout spring ball the senior has been sharpening his skills, and guiding the younger defenders. Moore is basically the quarterback of the defense, and embraces his role with his teammates. So far, everything has looked promising in his eyes. Guys are flying around the ball, and they're not afraid to get their knees dirty. Moore appreciates that the youngsters are welcoming the blue-collar approach, and believes it's going to benefit all parties involved down the road.
"Obviously with the young guys there's been huge strides with all of them," Moore said. "Just from learning the defense, and then learning to cut it loose by not trying to think so much every time."
Former three-star linebacker Austin Romaine caught Moore's attention in practice. The true freshman continues to impress Moore, and he believes Romaine is just cracking the surface of his potential. With All-Big 12 defenders Felix Anudike-Uzomah and Julius Brents off to the NFL, Moore knows the defense is going to need some studs to emerge. And the Kansas native wants to take initiative on everything.
"Outside of football stuff I feel like I'm trying to step up as a leader," he said. "Trying to take guys under my wing, show them the way, show them how we practice and what it means to be at K State."
With Khalil Duke and Daniel Green back in action with Moore, the linebacker group has the potential to be the best in the conference. After all, the trio combined for 189 tackles, including 18.5 for loss and 6.5 sacks last year. Even Assistant Head Coach Van Malone emphasized how the unit has a high ceiling for the fall.
"The mainstays of Austin Moore and Daniel Green, Desmond Purnell, those guys, they continually provide us leadership," Malone said. "And really from a whole defensive standpoint, Austin and Daniel – those guys have shown to be the guys we would say are the leaders right now."
Moore is looking to elevate his game in all areas as the Wildcats approach their final days of spring practice. That's because he understands there's more to playing defense than just tackling. An elite linebacker has to be the tone setter, while the rest of the defense builds off his energy. Moore checks all of the boxes, so now he's ironing out the rest of the wrinkles.
"I've been trying to focus a lot on my man coverage and my blitzing," the 22-year old said.
The six-foot-one, 219-pounder had no stars behind his name out of school. However, after his nine-tackle performance against TCU, and his eight stops apiece against Baylor and Kansas, Moore has become one of the most feared linebackers in the Big 12. And he can't wait to show Kansas State fans that his 2022 campaign was just a taste of what he can accomplish this fall.
"I feel like there's progress made every single day."