Ranking the Pac-12's best coaches of 2023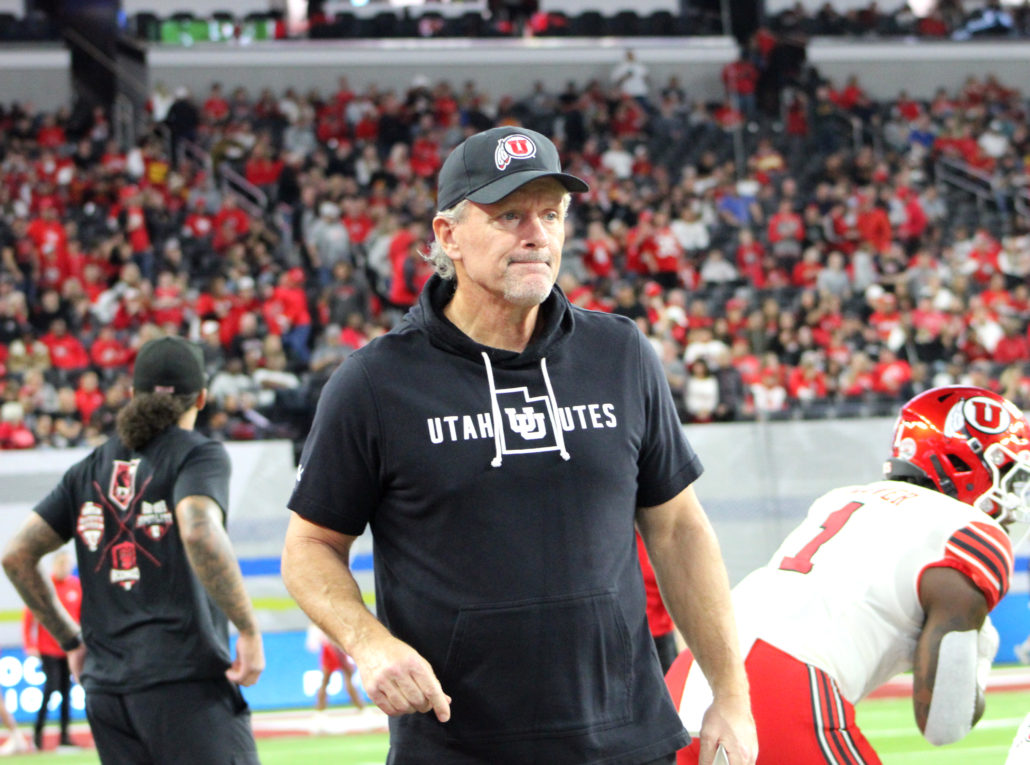 The conference added three new faces during the offseason, and is full of quality coaches.
The Pac-12 will have the greatest collection of quarterbacks this fall, and it'll likely be the league's best chance at ending a six-year Playoff drought before realignment in 2024. At this point it seems like the Pac-12 Title runs through Salt Lake City, but with all of the parity in the conference, several teams should be in contention come November.
No doubt all eyes will be on the Pac-12 in 2023, and these 12 coaches are going to make sure it stays shining while in the spotlight.
12. Kenny Dillingham, Arizona State: The 32-year old is the youngest coach in the Pac-12. Dillingham was an Offensive Coordinator in the AAC, ACC, SEC and Pac-12 before he landed his first head coaching gig at his alma mater. In 2018 Memphis ranked fourth in the country in total offense when Dillingham called the plays. Auburn ranked third in the SEC in scoring offense in 2019 with Dillingham. His two-year stint at Florida State was average. However, Dillingham set the Pac-12 on fire last year at Oregon. The Ducks ranked sixth in the FBS in total offense, and 10th in points per game. Meanwhile Arizona State finished 67th in the FBS in total offense. So Dillingham and the Sun Devils are a match made in Heaven.
11. Troy Taylor, Stanford: The Californian invaded the Pac-12 from the FCS ranks. Taylor had a highly-successful tenure at Sacramento State. He coached the Hornets for three seasons, and stockpiled a 30-8 record. Not to mention Taylor led Sacramento State to three-straight Big Sky Titles during that span. Taylor was also a three-time Big Sky Coach of the Year, and went undefeated in conference play over the past two seasons. The 55-year old brings a winning mentality to a program that has suffered through three losing seasons over the last four years. It helps that Taylor is an offensive-minded coach. After all, Stanford ranked 10th in the Pac-12, and 92nd in the FBS in total offense in 2022.
10. Jedd Fisch, Arizona: He improved the Wildcats in many areas, especially on offense in his second season. Fisch increased Arizona's win total from one in 2021, to five last year. The Wildcats averaged 461.9 yards per game in 2022, compared to 355.9 the year prior. Fisch even increased Arizona's points per game from 17.2 to 30.1. The New Jersey native has a great track history with quarterbacks, and Jayden de Laura put together some promising performances. It's encouraging that the Wildcats have won two of their last three conference games. Although Fisch is 4-14 in Pac-12 play up to this point, he'll be fielding his best team yet this fall. Arizona should be able to end a five-year bowl drought.
9. Justin Wilcox, California: The 46-year old is approaching his seventh season with the Golden Bears, making him the second-longest tenured coach in the Pac-12. Wilcox has stockpiled a 30-36 record during the span, including a 17-32 mark in Pac-12 play. The Oregon native is coming off three-straight losing seasons. Not to mention California has lost seven of its' last eight games overall. The Golden Bears have averaged under 24 points per game over the past five years with Wilcox at the helms. That has to change if Wilcox has any hopes of getting California back to a bowl game. The offense took a hit when Jack Plummer transferred to Louisville after he threw for 3,095 yards and 21 touchdowns last year.
8. Jake Dickert, Washington State: He went 3-3 as the Cougars' interim in 2021, which was good enough for him to be retained. Dickert exceeded expectations after he led Washington State to a winning campaign in his first full season as coach last year. The 39-year old is 7-6 overall in Pac-12 play, including a 3-1 mark over the last four conference tilts. It's mind-boggling that he was able to accomplish those feats, considering the Cougars took a step back offensively and defensively in 2022. Washington State ranked 86th nationally in total defense, and 94th in total offense. The Pac-12 will be much better in 2023. So in order for Dickert's success to continue, those numbers must improve.
7. Deion "Coach Prime" Sanders, Colorado: The Hall of Famer spent the past three seasons at Jackson State, and registered a 27-6 record. Coach Prime put the Tigers on the map, and racked up 23 of those victories over the past two years. He also went 16-0 in conference play during that span. The 55-year old has made tremendous moves since he landed in Boulder. Coach Prime is bringing a winning mentality, and changing the culture of a program that's coming off six-straight losing seasons. Colorado's roster has been revamped as well as the coaching staff. Coach Prime is assembling a team built for success, with some key recruits, and a talented transfer class for immediate results.
6. Dan Lanning, Oregon: Last season he exceeded expectations in year one, and racked up 10 wins. It was a feat Lanning's predecessors Willie Taggart and Mario Cristobal couldn't accomplish in their debut campaigns with Oregon. Not to mention Lanning won his first six conference games. Quarterback Bo Nix was instrumental in Lanning's immediate success. After all, the Ducks averaged 31.4 points per game in 2021, but improved to 38.8 last year. Oregon also went from being 50th in the FBS in total offense, to sixth in 2022. Although Lanning lost Offensive Coordinator Kenny Dillingham, the Ducks should be just as lethal on that side of the ball with the returning production.
5. Kalen DeBoer, Washington: The 48-year old is coming off a fabulous campaign with the Huskies. DeBoer registered 11 victories last season, which were the most in the program since 2016. Washington also ended 2022 on a seven-game winning streak, and finished eighth in the final AP Poll. The Huskies were lethal on offense, thanks to quarterback Michael Penix Jr., and a dynamic duo at wide receiver. Washington ranked 114th in the FBS in total offense in 2021, and improved to second last year. Not to mention DeBoer was able to keep Offensive Coordinator Ryan Grubb, who's an underrated quarterback guru. Now Washington fans can't wait to see what DeBoer can do for an encore.
4. Chip Kelly, UCLA: The New Hampshire native won 46 games in four seasons with Oregon, which included three conference titles, and an appearance in the National Championship Game. Kelly has stockpiled 27 victories over the past five seasons with the Bruins. He's 22-21 in Pac-12 play during that span, including a 12-6 mark over the past two years. Kelly's offense took flight in 2022. Not only did the Bruins finish fourth in the FBS in total offense, but they were eighth nationally in points per game. However, quarterback Dorian Thompson-Robinson, who's UCLA's all-time leader in touchdown tosses, is gone, as well as two-time 1,000-yard rusher Zach Charbonnet. So Kelly has a rebuilding job for 2023.
3. Jonathan Smith, Oregon State: He has made his alma mater a contender in the Pac-12. The Beavers were coming off a 1-11 campaign when he took over in 2018. Now Oregon State is riding a big wave of momentum after registering its' first 10-win season since 2006. Smith has won seven of his past eight games overall, including four-straight. Although he's 26-31 at Oregon State, Smith is 17-13 over the past two seasons, including an 11-7 mark in Pac-12 play. The Beavers also earned their first bowl victory since 2013. The surge in the program's success is a testament to Smith's ability to adapt. Now Oregon State is receiving more buzz than it did in Mike Riley's glory days, thanks to Smith.
2. Lincoln Riley, USC: Very few coaches in today's game can say they coached three Heisman Trophy winners. Riley won 55 games, including four Big 12 Titles in five seasons at Oklahoma. The Sooners also earned three consecutive berths in the College Playoffs during that span. Riley had a strong debut in the Pac-12 last season. He registered an 11-1 campaign during the regular season, and led the Trojans to the Pac-12 Championship Game. Riley solidified he's the ultimate quarterback whisperer, and USC ranked third in the nation in total offense, and points per game. As phenomenal as the Trojans were on offense, their defense remained a liability, and Riley won't get them to the promised land until that improves.
1. Kyle Whittingham, Utah: The 63-year old is the longest-tenured coach in the conference, who has won back-to-back Pac-12 Titles. Whittingham rules the league with an iron fist, on top of being the Utes' all-time winningest coach. Not to mention he's 154-74 at Utah, with two Rose Bowl appearances. Whittingham is a jaw-dropping, 62-46 against Pac-12 opponents since the Utes been in the league. He's known for doing more with less the way he recruits underrated prospects, and molds them into All-Pac-12 performers, and NFL Draft picks. The Utes are going to be loaded again this fall. So if quarterback Cam Rising can be healthy by the start of the season, the Utes should have a legit shot at a three-peat.