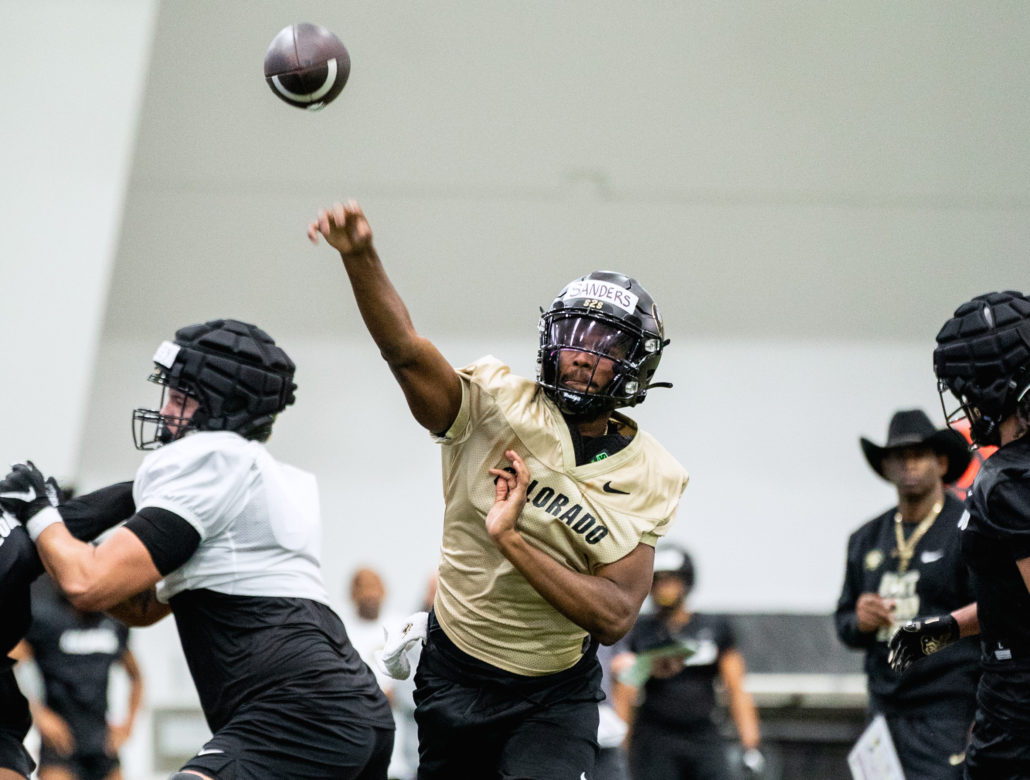 BOULDER, Co. — When your father is a Hall of Famer in College and the NFL, there's pressure that comes with the territory when living up to his name.
As challenging as that may sound, Shedeur Sanders hasn't encountered any problems emerging from his old man's shadow. After all, the quarterback was a four-star prospect out of high school, who made himself a household name over the past two seasons in the SWAC.
From breaking the program's single-season record in completions and touchdown tosses, to winning two conference titles, there's no denying Sanders accomplished some amazing feats at Jackson State. Although it's a huge jump going from the FCS to Power Five football, Sanders is expecting a smooth transition.
Colorado is days away from its' first spring game under Coach Prime, and Sanders plans on wowing the sold out crowd at Folsom Field. Which is why he's been working hard everyday in practice, and pushing himself to the limit. Mistakes will be made, and there'll be a learning curve, but Sanders top priority is getting everyone involved. Regardless, Sanders is all about adapting. Not to mention he's been enjoying his time in Boulder.
"It hasn't really been much of a change honestly, football is football," Sanders said. "Just my focus on football has been more serious here because you got to understand learning a new offense, going into a new system, playing with different guys, getting comfortable with everybody and having to change a lot of the mindsets around here with what the expectations are."
The Dallas native finally got the chance to meet mascot Ralphie up close and personal, and was terrified. He was at a restaurant the other day, and noticed a newspaper on the wall with his picture on it. It was a friendly reminder that the entire town believes in him, and appreciates the level of excitement he's bringing back to the Buffaloes. So Sanders doesn't want to disappoint the 55,000-plus fans that'll be in attendance Saturday afternoon. Not to mention the millions of people across the country that'll be watching on national television.
"We just take it as a normal practice, like we're going out there for practice, that's what the coaches been preaching to us," he said. "Treat practice like it's a game, be mentally focused, and stay focused throughout."
The six-foot-two, 215-pounder been building on his chemistry with wideout Travis Hunter. The two always seem to be on the same page, thanks to their familiarity with each other. Sanders believes it's beneficial to his maturation process that Hunter plays on both sides of the ball.
"He (Hunter) is a great db, so he knows what a db is thinking, and I do too," the 21-year old said. "So it's just an IQ level that we both have when we get on the field, and just get in sync."
Great signal-callers makes others around them better, and fans are expecting the two to connect and provide plenty of highlights. It's no mystery that Colorado's offense was abysmal last season. The Buffaloes ranked dead last in the Pac-12, and 128th in the FBS in total offense. So the speed and athleticism Sanders and Hunter bring to the rest of the unit will be like night and day.
Offensive Coordinator Sean Lewis has everyone paying attention to detail, especially Sanders with his footwork and mechanics. And the gunslinger can't wait to see it all pay off on the gridiron Saturday.
"Offensively I know we're going to be ready, now defensively I don't think they're going to be ready for us, but we're definitely going to give a show."