Phillip Brooks working on perfecting his craft in sixth year with Wildcats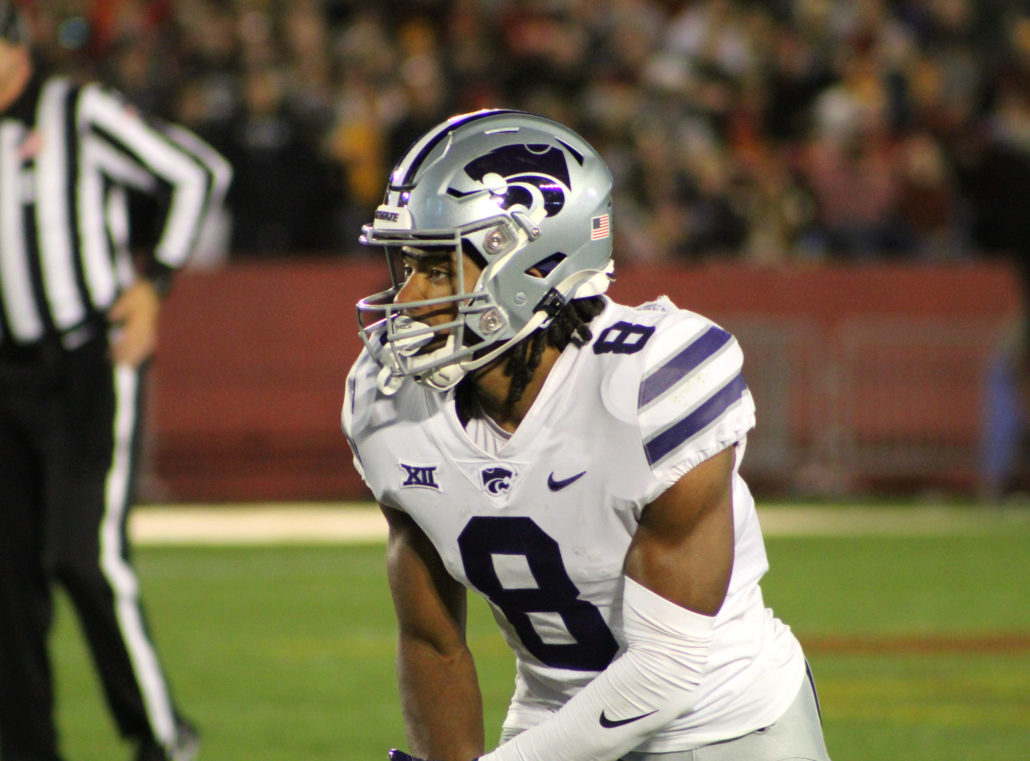 MANHATTAN, Kan. — The veteran wideout leads Kansas State in receptions, receiving yards and touchdown catches as the 2023 season approaches.
Phillip Brooks has been a Wildcat since 2018, and during that span he has established himself as a special teams demon with his return skills. His vision and explosiveness gives him the opportunity to return punts to the house anytime he touches the ball.
After all, Brooks earned second-team, All-Big 12 honors as a return specialist last season. Not to mention he has returned four punts for a touchdown in his career. It's mind-boggling that Brooks didn't have no stars behind his name out of high school. The Missouri native never thought special teams could change momentum in games until he arrived in Manhattan.
"When I first got here, I really didn't think too much about special teams, I was more focused on offense and defense, but this place opened my eyes up as that being the third factor in every game," Brooks said. "I feel like most games are decided and determined by that third factor of special teams."
However, Brooks is trying to become more of a threat as a receiver, and that's why he decided to return for a sixth season. Standing five-foot-eight, and weighing 170 pounds means he's probably not going to catch a lot of balls over the middle. Regardless, Brooks can still do damage out of the slot, on jet sweeps and take snaps out of the wildcat formation.
Brooks likely won't snag a bunch of balls out of the air over taller defensive backs, but that doesn't mean he's not deadly out in space, or in one-on-one matchups. There's a reason why he has 129 receptions, 1,538 receiving yards and nine touchdown catches in his career.
With Malik Knowles and Kade Warner no longer on the roster, Brooks is expecting to be the go-to receiver this fall. Kansas State was able to land former Iowa wide receiver Keagan Johnson from the transfer portal, so Brooks will have some help. Also tight end Ben Sinnott is a safety blanket, who tied for first on the team in touchdown receptions in 2022.
That's why Brooks is expecting Kansas State's aerial attack to take a step forward. So far everything has looked promising through spring ball. Brooks has a great bond with quarterback Will Howard, and he's confident the gunslinger will make the most out of his second full season behind center.
"We've built up chemistry over the years, you see how well he (Howard) did last year when he started playing," he said. "I feel like he's going to keep climbing as far as his potential and ability, so I'm excited to be around that, and hope to help with that."
Last season the two connected for touchdowns against Oklahoma State and Kansas. Brooks wants to have more performances like he did in the victory at Iowa State, when he generated a season-high, 119 receiving yards. There's no denying he has the speed and athleticism to stretch the field on defenses. Which is why Brooks has set certain goals for himself during his final campaign in purple and white. He believes there's still more for him to accomplish as a student athlete.
"Just where I'm at as far as wanting to go to the league, and finish up with school, trying to continue this culture of Big 12 Championships, and holding that standard," the 23-year old said. "So be part of something special like that."
The reigning Big 12 Champs are approaching their final days of spring practice, and Brooks continues to take pride in his work. His experience and production should help the offense go far this fall, and he's going to be guiding the younger receivers along the way.
Brooks understands the responsibility that comes with the territory of being one of the oldest players on the roster, and he's leading by example. Opposing teams around the Big 12 are well aware of his return skills, so they'll be kicking away from him. With that in mind, Brooks knows he'll have to find other ways to be effective on the gridiron.
"Knowing that I'm one of the best, I really don't think too much about that, I just play for the team."