Joe Klanderman reloading defense for another run at Big 12 Title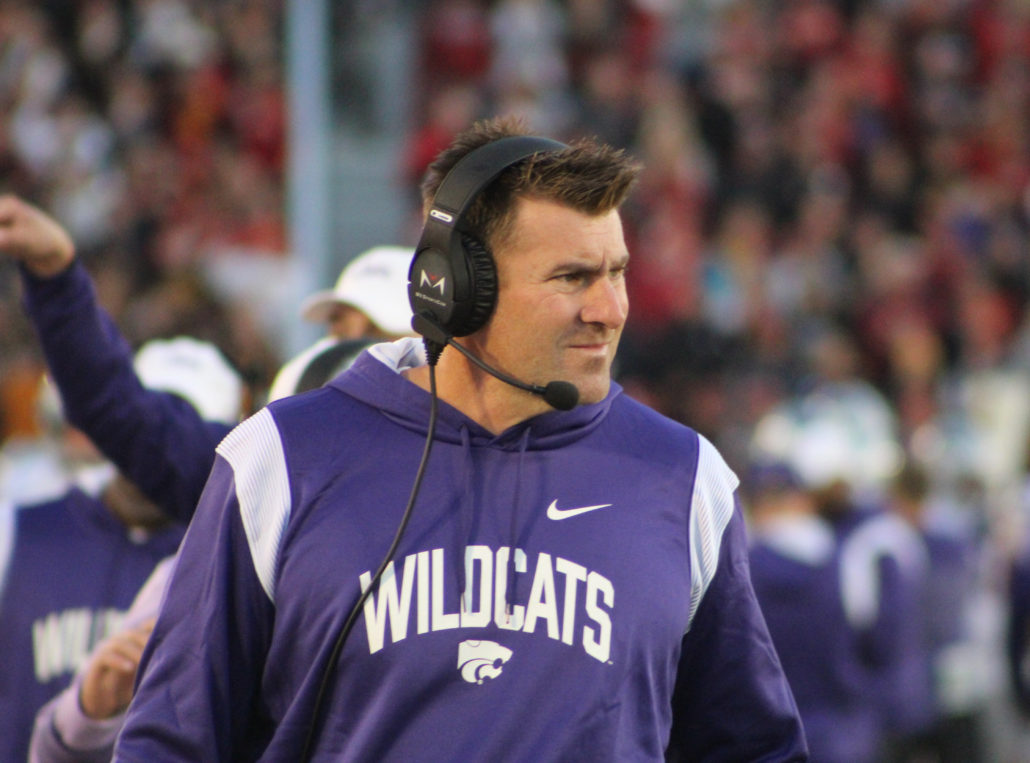 MANHATTAN, Kan. — The reigning Big 12 Champs are in their fourth week of spring practice, and everyone is bringing the intensity that Defensive Coordinator Joe Klanderman loves.
After all, Kansas State had one of the league's best defenses last season, and Klanderman is trying to build off that success. Unfortunately this time around the Wildcats will be without two stellar contributors from 2022. The league's Defensive Player of the Year Felix Anudike-Uzomah is off to the NFL, along with All-Big 12 cornerback Julius Brents.
Although Klanderman has to fill those huge voids, he believes this year's defense has the potential to be even better. That's because the Wildcats return a stud at every level of the unit, plus a plethora of players with enough experience, leadership and production to make the defense tenacious this fall.
The headliner is linebacker Austin Moore, who led the team in stops, and ranked second in tackles for loss in 2022. Safety Kobe Savage picked off three passes, and earned second-team, All-Big 12 honors. Veteran linebacker Daniel Green is nearly healthy, after playing through injuries last season. The cherry on top for Klanderman is having the versatile Khalil Duke back in the lineup, who ranked second on the team in sacks.
Establishing depth behind those defenders has been Klanderman's No. 1 priority this spring. The fact that Klanderman works extensively with the safeties, makes it even more vital. He felt that was an issue down the stretch last season. It's no mystery that navigating through the Big 12 gauntlet takes a physical toll on a team. So the last thing Klanderman wants to do is find out the hard way again.
"We can't run into situations and expect to be successful like we were a year ago at safety, where, honestly, the roof caved in a little bit on us with all the injuries that piled up there," Klanderman said. "We got to be extraordinarily thin at the end of the year, so hopefully we can get to the point where, at every position across the board, we're not running into that."
The Wildcats finished with solid numbers defensively in the conference, but nationally they were middle of the pack. Kansas State ranked third in the Big 12, but 29th nationally in scoring defense. Klanderman's bunch were also third against the pass conference-wise, but 64th nationally. That's where Kansas State fared in total yards allowed too.
So Klanderman knows there's a lot of room for improvement. The Wisconsin native is paying attention to detail, and watching as more leaders emerge. He's confident that the Wildcats have the best group of linebackers in the Big 12, and can't wait for them to make a statement this fall.
"Definitely, from an experience standpoint, from a knowledge and scheme standpoint, and I daresay from a leadership standpoint also," he said. "Those guys are just incredible, when we talk about the Austin Moores, the Daniel Greens, but then you take some of these young guys into the mix, too, that have just incredible ability."
Youngsters like Jake Clifton, Tobi Osunsanmi, and Desmond Purnell are defenders who've impressed Klanderman this spring. And he's expecting them all to take a step forward.
The Big 12 is constantly changing and will contain four new teams this fall. Each one brings a unique style of offense that'll keep Klanderman up at night, so he has no choice, but to keep evolving. If that means switching players to different positions, or tweaking the scheme at certain areas on the field, then he's all for it.
Just as long as Klanderman is putting everyone in the right place to be successful, the fans will be behind him every step of the way. Despite having Coach Chris Klieman's full support, there's still some pressure that comes with the territory. Epectations are higher, and Klanderman doesn't want to disappoint. As for his players, they need to embrace that next man up mentality, knowing anything can happen at any given moment. And Klanderman's recipe for success will remain the same throughout spring ball.
"We're trying to develop depth the best way as we can."