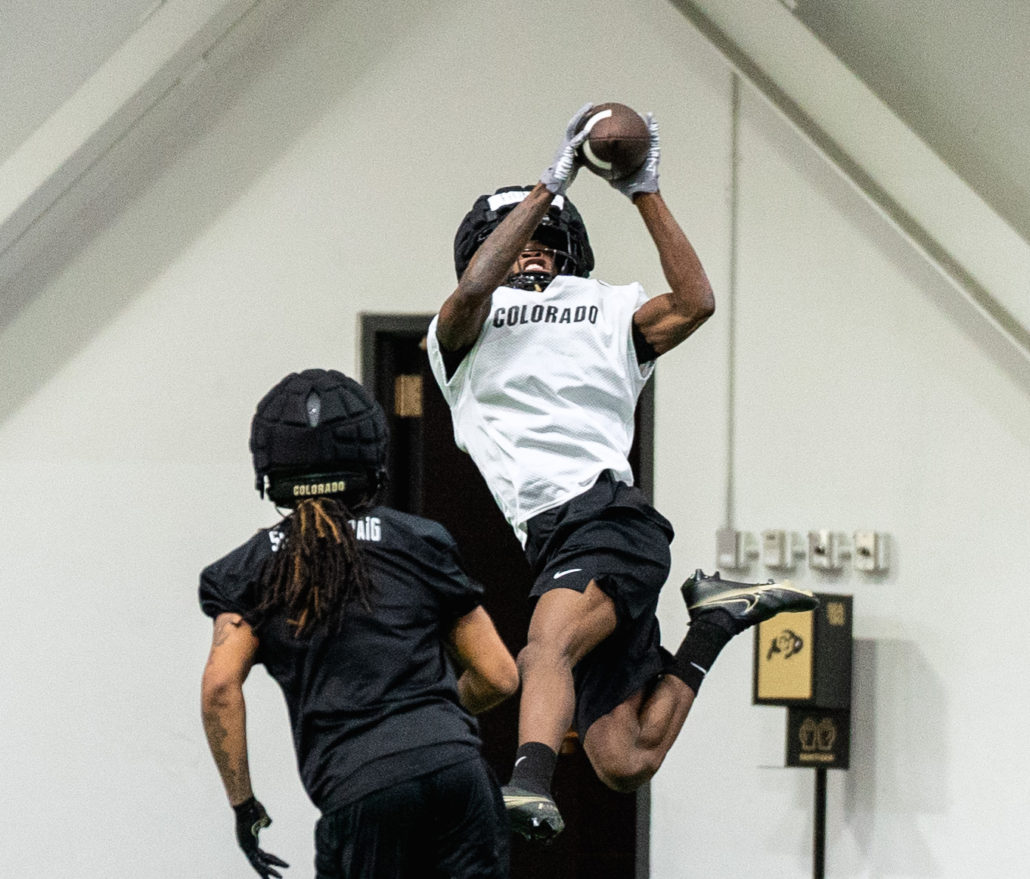 BOULDER, Co. — The former five-star prospect raised eyebrows across the nation when he flipped on Florida State and signed with Coach Prime at Jackson State.
It was unheard of for an athlete of Travis Hunter's caliber to renege on a Power Five program, and sign with an FCS school out of the SWAC. However, he had ambitions of being the type of player Coach Prime was in his heyday. Hunter wants to be the swiss army knife, who can excel on both sides of the ball.
His athletic prowess and versatility allows him to make acrobatic plays on the gridiron. Hunter's blazing speed, high vertical and natural instincts was his ammo throughout high school. He strongly believes that learning under Coach Prime will enhance his skills in every way imaginable.
It's unfortunate that his true freshman campaign didn't go according to plan last season. Hunter played played through injuries and was never fully healthy with the Tigers. Now he has a fresh start after following Coach Prime to Colorado. No doubt Hunter is ready to make an immediate impact with the Buffaloes.
So this spring has been extremely important to him in terms of detail, techniques and fundamentals. Hunter isn't concerned about the transition of jumping from the FCS ranks to Power Five football either.
"It's pretty much easy to me, coming out of high school and then to college, then going to another team is pretty much natural to me," Hunter said. "I just adapt as well as I can."
The intensity is high in practice, considering Colorado's spring game is two weeks away. Defense comes natural to Hunter, so he's focusing more on the offensive playbook. Blocking, route-running and gaining separation from defensive backs are areas that he wants to improve in. The six-foot-one, 165-pounder believes it'll go a long way with molding him into a complete receiver.
"I just want to be open more, get the ball on my hands more, attack more," he said. "Just be a nice threat all around, no matter if I'm going deep or if I'm running short routes."
Hunter loves using his athletic ability to make defenders look silly, which makes him a matchup nightmare. He wants to be just as effective when it comes to teaching his teammates. The Buffaloes have a young wide receiver room, so he's also taking a leadership role in spring ball.
Although the players have yet to get their jersey number, Hunter plans on rocking 12 on his uniform. It's sentimental to him because Hunter wore that number during his best season in high school.
Hunter understands that there's going to be some pressure on him to deliver on the hype this fall. And all eyes will be on him during the Black and Gold Game. Not to mention it's going to be a sold out crowd, and televised on ESPN. Still, Hunter is ready to make a statement, considering he's almost back fully healthy.
He's enjoying the national exposure Colorado has received over the past few months. The buzz is only going to increase as the Buffaloes inch closer to their season-opener against a team that smashed them by 25 points in 2022. The fact that TCU also made the Playoffs is what continues to motivate Hunter and his teammates throughout this spring.
"We look at every game like it's the best game we have to have, no matter what," the 19-year old said. "We got a lot of hype around us right now, so we got go in and attack everyday, we got to be practicing everyday like we're going against TCU right now."
Hunter can't wait to showcase his talents to the fans that are going to pack Folsom Field. He's an animal to cover out in space, and can stretch the defense, so everyone should be anticipating a few explosive plays on Hunter's behalf. His chemistry with quarterback Shedeur Sanders keeps improving too. Bottom line, Hunter is prepared to do whatever it takes to wow the crowd.
"I'm just going out there to compete, just go out there and dominate as much as I can."