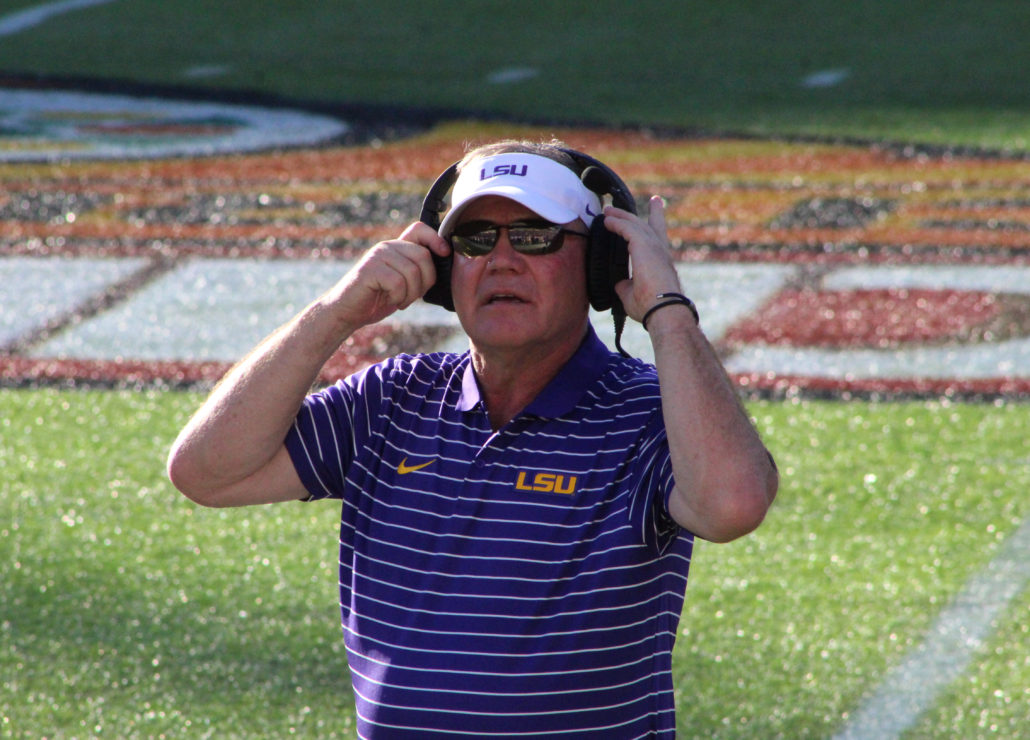 It's a job that takes patience, direction and wisdom to mold young boys into responsible men.
Head coaches have to be strategic recruiters, and win on the field in order to have the support from fans, which maintains longevity. Great responsibility comes with the territory. They have to make key hires and vital dismissals with their staff.  Not to mention coaches must know when it's the right time to start or bench a player.
In order to run a successful program coaches have to develop talent, and be great gameday motivators. These 20 individuals have created dynasties, and showed the rest of the College Football world why they're considered the best of the best with a headset.
20. Mark Stoops, Kentucky: The Ohio native comes from a family of coaches. Not to mention Stoops is the second-longest tenured coach in the almighty SEC. He has registered 66 wins with the Wildcats, including 40 over the past five seasons, and is 4-1 in bowl games during that span. Stoops is a natural at molding underrated talent into All-SEC performers. The 55-year old has also had 17 of his players drafted over the past six years, including two first-rounders. The impressive part is Stoops only had two top-25 recruiting classes over that time frame. His former quarterback Will Levis is projected to be a top-10 NFL Draft pick in late April. Stoops also has 28 SEC victories over the past seven years.
19. Kirk Ferentz, Iowa: The 67-year old is the longest-tenured coach in the FBS, who's approaching his 25th season with the Hawkeyes. Not to mention Ferentz is Iowa's all-time winningest coach, with 186 victories under his belt. Ferentz has posted 10-straight winning seasons. He's also the king of doing more with less, considering the number of two and three-star prospects that he molded into All-Big Ten performers, and NFL Draft picks. Kinnick Stadium is always packed for home games, and Ferentz keeps a close-knit staff. Obviously the athletic department has been impressed with his longevity and success, which is why Ferentz signed a contract extension that runs through 2030.
18. Jamey Chadwell, Liberty: The 46-year old made Coastal Carolina one of the most feared Group of Five teams, with an amazing four-year tenure. During that span Chadwell led the Chanticleers to 36 victories, including two 11-win campaigns. Not to mention he won the Sun Belt in 2020, and was named the National Coach of the Year. Chadwell was also named the Sun Belt Coach of the Year. Quarterback Grayson McCall was Coastal Carolina's starter for the last three seasons of Chadwell's tenure. The gunslinger became the program's all-time leader with 78 touchdown passes. It was a head-scratcher that Chadwell accepted the Liberty job after being rumored for a couple of Power Five positions.
17. Sonny Dykes, TCU: The Texas native has a coaching resume that dates back three decades. Dykes is a former baseball player, who happens to be an architect when it comes to the x's and o's. He's all about the forward pass, and is one of Mike Leach's proteges. Dykes has had head coaching stints at Louisiana Tech, California and SMU before he landed at TCU. What he accomplished last season was nothing short of remarkable. Dykes took over a 5-7 team and made them one of the best of 2022. Not only did the Horned Frogs win 13 games for the second time in school history, but they also crashed the College Football Playoffs, beat Michigan and made it to the National Championship Game.
16. Lane Kiffin, Ole Miss: The Lincoln native has had a NFL head coaching stint with the Oakland Raiders. Kiffin was also a head coach at USC and Florida Atlantic. He learned from some of the best in the game after he worked alongside Nick Saban and Pete Carroll. Kiffin has also established himself as a quarterback whisperer through the years. The 47-year old coached the Trojans for three and a half seasons, and won 28 games. Kiffin won 27 games in three seasons with the Owls. Over the past three years he has held his own in the almighty SEC. Kiffin registered 23 victories at Ole Miss during that span, including 11 in 2021. That's why Auburn wanted to hire him.
15. Mike Gundy, Oklahoma State: The former Cowboy quarterback is the longest-tenured coach in the Big 12. Gundy has been patrolling the sidelines of his alma mater since 2005. Not to mention he has a 156-75 record with the Pokes, making him the winningest coach in program history. Gundy is also a jaw-dropping, 11-6 in bowl games. He's most known for his 'I'm a man, I'm 40' rant from two decades ago, but his longevity and consistency can't be ignored. The 55-year old has one of the best offensive minds in today's game. Gundy has even turned down other Power Five offers because of his loyalty. As long as he's in Stillwater, the Pokes will be a force to be reckoned with in the Big 12.
14. Chris Klieman, Kansas State: The 55-year old has a championship pedigree. Klieman won a jaw-dropping, four FCS Titles at North Dakota State over the last decade. He accepted the Kansas State job in 2019 and led the program to eight victories that year. All it took was four seasons for Klieman to win the Big 12 Title, which was the Wildcats' first since 2012. That's because Klieman has a great staff around him, especially in strength and conditioning. One of his best decisions was parting ways with Courtney Messingham, and promoting Collin Klein to Offensive Coordinator. Kansas State has won eight of its' last 11 games overall. Not to mention Klieman's teams are always physical and disciplined.
13. Jimbo Fisher, Texas A&M: He's one of five coaches on this list with a National Title under his belt. Fisher is a Nick Saban protege, who happens to be a great recruiter. The 55-year old revived Florida State after Bobby Bowden retired. Fisher won a jaw-dropping, 83 games in eight seasons with the Seminoles. Not to mention he led Florida State to three ACC Titles, coached a Heisman winner in quarterback Jameis Winston, and crashed the College football Playoffs. When he accepted the Texas A&M job it was the biggest contract in College football history at the time. Although he hasn't lived up to expectations, Fisher has won 38 games over the past five seasons with the Aggies.
12. Mack Brown, North Carolina: The 71-year old has a coaching resume that dates back to the mid 1970's. Brown's longevity in one of the world's most competitive sports solidifies he's a natural at evolving with the times. He has been a head coach at Appalachian State, North Carolina and Texas. Brown won 69 games, including three bowls during his first stint with the Tar Heels. However, he became a household name while with the Longhorns. Brown helped Ricky Williams win the Heisman, and snapped Nebraska's 47-home game winning streak in 1998. The Tennessee native had a decade of success with the Longhorns, winning a National Title, and back-to-back Rose Bowls.
11. James Franklin, Penn State: If a coach can win at Vanderbilt he can win anywhere. Franklin did just that when he coached the Commodores for three seasons. He stockpiled 25 victories during that span, and led Vanderbilt to bowl eligibility each year. Franklin took over a Penn State program that was still reeling from NCAA sanctions from the Joe Paterno era, and put it back on the map. Not to mention he won a Big Ten Title in year three. The 51-year old has registered four 11-win campaigns in Happy Valley. Franklin is also fresh off a Rose Bowl win, and continues to recruit like a monster. On top of all of his success, Franklin annually puts a plethora of Nittany Lions in the NFL.
10. Luke Fickell, Wisconsin: The 49-year old had a promising debut as Ohio State's interim in 2011, in which he led the team to six victories and a bowl game. However, Fickell made himself a household name during an amazing six-year tenure at Cincinnati. He led the Bearcats to a jaw-dropping, 53 victories over the last five seasons. Not to mention three of those years were double-digit win campaigns, including a 13-1 mark in 2021. That was also the season Cincinnati became the first Group of Five program to crash the College Football Playoffs, and Fickell was named the National Coach of the Year. The former Ohio State Buckeye was also the AAC Coach of the Year three times.
9. Ryan Day, Ohio State: The New Hampshire native got his feet wet as the Buckeyes' interim in 2018, and won three games. Day took over the job full time the following season, and has never looked back. He has led Ohio State to a jaw-dropping, 42 victories, including two Big Ten Titles over the past four seasons. Not to mention the Buckeyes have clinched two berths in the College Football Playoffs under his watch, and made an appearance in the National Title Game. Day has also assembled some star-studded recruiting classes too, which should keep the wheels rolling for years to come. The 44-year old is also 32-2 against Big Ten opponents. Losing two-straight to Michigan has been alarming.
8. Josh Heupel, Tennessee: The former Oklahoma quarterback is making his mark in the almighty SEC. Heupel knows what it takes to compete at a high level, considering he won a National Title as a player back in 2000. He has a brilliant offensive mind, and quarterbacks thrive in his system. Heupel won 28 games in three seasons at UCF. The 45-year old has spent the past two years with the Volunteers, and put the sleeping giant program back on the map. Heupel generated 18 victories, including one over Alabama in 2022 that ended a 15-game losing streak in the rivalry. His 11 wins last season were the most in the program since 2001. Now Tennessee is a threat to dethrone Georgia in the SEC East.
7. Lincoln Riley, USC: The 39-year old has one of the best offensive minds in today's game, and he's an excellent recruiter. It's no mystery Riley is a quarterback guru. After all, he has coached three Heisman-winning quarterbacks. Not to mention Riley won 55 games, including four Big 12 Titles in five seasons at Oklahoma. It's mind-boggling that the Sooners crashed the College Playoffs three-straight times during that span. Riley took his services to Los Angeles and made an immediate impact on the Pac-12 in 2022. The Trojans won 11 games for the first time since 2017, and quarterback Caleb Williams broke school single-season records with 4,537 passing yards, and 42 touchdown tosses.
6. Kyle Whittingham, Utah: He's one of the longest-tenured coaches in the FBS, who happens to rule the Pac-12 with an iron fist. Whittingham is a reason why the Utes had a smooth transition from the Mountain West to the Pac-12. His players are always well-coached, disciplined, physical and fundamentally sound. Utah has won back-to-back conference titles, and made two-straight Rose Bowl appearances. Whittingham has won a jaw-dropping 154 games with the Utes. The 63-year old is a natural at discovering and molding underrated prospects into All-Pac-12 performers, and NFL Draft picks. Whittingham also does extensive work on Special Teams, which has been an ingredient to his success.
5. Jim Harbaugh, Michigan: The Ohio native has been a head coach for two NFL franchises. Harbaugh did a remarkable job resurrecting Stanford from the cellar. He won 29 games in four seasons on the Farm, and led the San Francisco 49ers to a Super Bowl appearance. Harbaugh returned to his alma mater in 2015, and the rest been history. The 59-year old has won 74 games, including back-to-back Big Ten Titles over the past eight seasons with the Wolverines. Harbaugh has made two-straight Playoff appearances, and he's 53-17 against Big Ten opponents. The Wolverines are on a 12-game winning streak at home, which is currently tied for the second-longest in the country.
4. Brian Kelly, LSU: He has been one of the most successful coaches in the country over the past two decades, with a resume that dates back to the early 1980's. Kelly won two Division II National Championships at Grand Valley State, and led Central Michigan to a MAC Title in 2006. Not to mention he led Cincinnati to an undefeated regular season in 2009. Kelly revived Notre Dame, and won a jaw-dropping, 113 games in 12 seasons. The Fighting Irish played for a BCS National Championship, and made two Playoff appearances. Kelly left as Notre Dame's all-time winningest coach. The 61-year old made an immediate impact in the SEC last season, with a 10-3 campaign at LSU, and won the West.
3. Dabo Swinney, Clemson: The Alabama native started out as an interim, but quickly molded the Tigers into an ACC powerhouse. Swinney is the longest-tenured coach in the ACC, and rules the conference with an iron fist. He has won a jaw-dropping, 161 games at Clemson, including eight ACC Titles and two National Championships. The Tigers have also made six Playoff appearances under his watch. Swinney is also a recruiting monster, who molds his prospects into high NFL Draft picks. His quarterbacks Tajh Boyd, Deshaun Watson and Trevor Lawrence were All-ACC performers. Not to mention the Tigers are 40-1 over their last 41 games at Death Valley. Swinney is a rock star coach.
2. Nick Saban, Alabama: He's arguably the most successful College Football coach in history. Saban has won one National Title with LSU, and six with Alabama. The 71-year old has made the SEC what it is today, which is the premiere Power Five conference. Saban is a phenomenal recruiter, plus he takes embattled coaches under his wing and makes them better. The West Virginia native has coached three Heisman Trophy winners with the Crimson Tide. Not to mention Saban has won 194 games over the past 16 seasons with the blue blood program. Most importantly, Saban has won a jaw-dropping, eight SEC Titles, and had more players drafted than any other coach over the past 10 years.
1. Kirby Smart, Georgia: The 47-year old is a Nick Saban protege, who happens to be the cream of the crop in College Football right now. Smart has made the Bulldogs the No. 1 power in the sport. He recruits at a level that's unheard of, and his roster is full of four and five-star talent. Which is why Georgia simply reloads instead of rebuilding. Smart has led the Bulldogs to back-to-back National Titles over the past two seasons, with a 29-1 record during that span. The Georgia native has won two SEC Championships, and led the Bulldogs to three National Title Game appearances. Georgia is basically an NFL team playing College ball, and Smart is in the process of building one of the game's best dynasties.
Honorable Mention
Dave Clawson, Wake Forest: The 55-year old has won 59 games in nine seasons with the Demon Deacons. Clawson is also 5-2 in bowl games during that span. The New York native is one the most underrated coaches in the country.
Kalen DeBoer, Washington: If last season was any indication of what he can accomplish in Seattle, then the rest of the College football world better be very afraid. DeBoer has the Huskies primed for a run at the Pac-12 Title this fall.
Dan Lanning, Oregon: He exceeded expectations during his first season as a head coach. Lanning led the Ducks to a 10-win campaign, which included a victory in the Holiday Bowl. Now he returns a loaded squad for the 2023 season.
Matt Rhule, Nebraska: He made Temple relevant, and revived Baylor from the despicable Art Briles era. Not to mention Dave Aranda won the Big 12 with Rhule's players. Now he's focusing on making Nebraska elite again.
P.J. Fleck, Minnesota: It's all about rowing the boat. Fleck has won 32 games over the past four seasons with the Golden Gophers, including 11 in 2019, which was the most since 1904. He's also 4-0 in bowl games during that span.
Pat Narduzzi, Pittsburgh: He won the ACC in 2021. Narduzzi is an underrated coach in the ACC, who has consistently fielded competitive teams, and the Panthers are always a threat.
Dave Doeren, NC State: The Californian has won 72 games over the past 10 seasons with the Wolfpack. Doeren has only suffered two losing campaigns during that span. NC State has remained competitive throughout his tenure.