Ranking the Big Ten's best coaches of 2023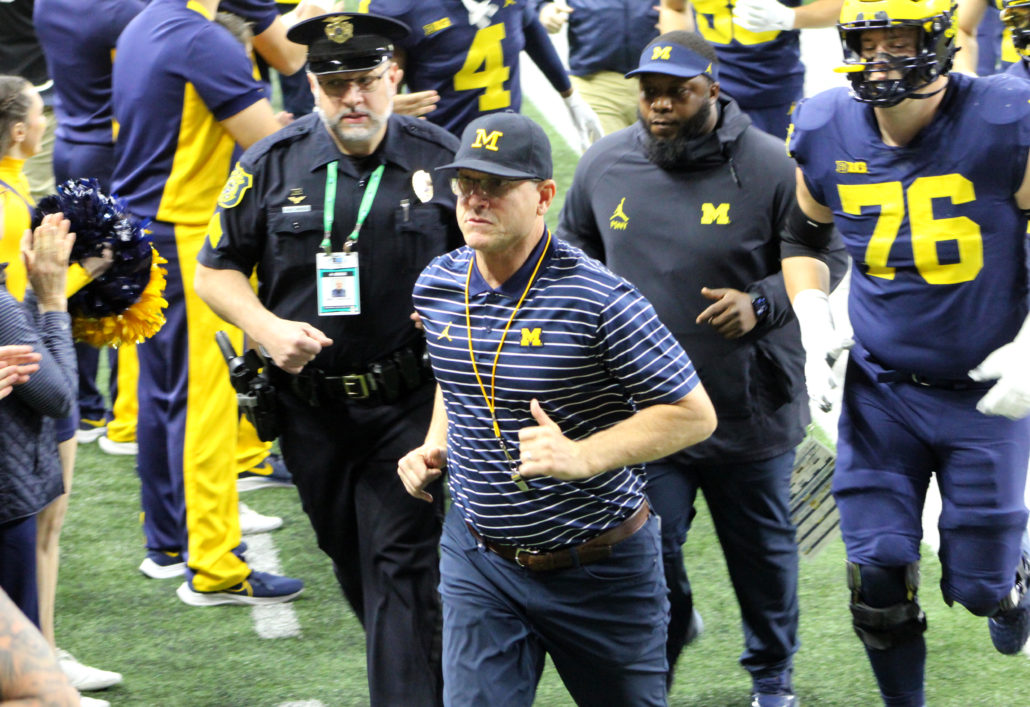 Last season the league put two teams in the Playoffs for the first time ever.
The Big Ten continues to be one of the best Power Five conferences, and is stacked from top to bottom with high-caliber coaches. Which is a reason why there's some parity in the Big Ten, especially in the West division. However, the conference had nine bowl eligible teams in 2022, and finished 5-4 in the postseason.
With the departure of two coaches, and three notable hires, the Big Ten appears to be set for years to come as College football approaches uncharted territory in the near future.
14. Ryan Walters, Purdue: Although he's the youngest coach in the Big Ten, he has one of the best defensive minds. Walters fielded one of the nation's best defenses at Illinois last season. Not to mention the Fighting Illini ranked first in the nation in scoring defense, and third in yards allowed. Now Walters is taking over a Boilermaker team that's rebuilding on offense. Purdue lost quarterback Aidan O'Connell, who had two years worth of starting experience. Also gone is Charlie Jones, who led the conference in receptions, along with All-Big Ten tight end Payne Durham. On top of that Purdue has a tough September, with Virginia Tech and Syracuse on the non-conference slate, and two Big Ten tilts.
13. Tom Allen, Indiana: He's approaching his seventh season with the Hoosiers, and has only registered two winning campaigns up to this point. Allen led Indiana to eight wins in 2019, which were the most in the program since 1993. However, over the past two years he has stockpiled 18 losses. The Hoosiers have lost eight of their last nine games overall. Not to mention Indiana ranked dead last in the Big Ten, and 119th in the FBS in total defense last season. In order for Allen to get the Hoosiers back to winning, the defense has to get light years better. Quarterback play must improve also, after Indiana threw 13 interceptions. No doubt 2023 will be a pivotal year for Allen.
12. Greg Schiano, Rutgers: The 56-year old is currently in his second stint of coaching the Scarlet Knights. Schiano is Rutgers' all-time winningest coach, with 80 victories under his belt. Not to mention he was an NFL head coach for two seasons. However, Schiano has posted three-straight losing campaigns since he's been back on the job. Although he led the Scarlet Knights to a bowl game in 2020, they earned that bid from academics and finished the year 5-8. Rutgers has lost eight of its' last nine games overall. On top of that the Scarlet Knights have lost five-straight Big Ten road contests. Although Rutgers hasn't had a winning season since 2014, Schiano has the program knocking at the door.
11. Pat Fitzgerald, Northwestern: The former Wildcat linebacker is the second-longest tenured coach in the Big Ten, who's approaching his 18th season with his alma mater. Fitzgerald ranks first in the program with 110 wins. Not to mention he has led Northwestern to two berths in the Big Ten Championship Game. The 48-year old has also won his last four bowl games. However, the Wildcats are currently riding an 11-game losing streak. Northwestern hasn't won a home game since October of 2021, and quarterback play has been extremely spotty since Peyton Ramsey left the building. With 20 losses over the past two years, Fitzgerald is in dire need of getting back on the winning track.
10. Matt Rhule, Nebraska: He's one of three new coaches in the Big Ten West, who's looking to revive a sleeping giant program. Rhule has a nice track history of making teams competitive again. After all, he led Temple to back-to-back 10-win campaigns during his last two seasons on the job. Not to mention Rhule stockpiled 18 victories over his last two seasons at Baylor. Although he was humbled as a NFL head coach, College ball suits Rhule better. The 48-year old is a natural at developing under the radar talent and molding them into studs. Rhule's biggest challenge will be changing the culture in Lincoln. However, with all of the resources and fan support, Rhule is bound to succeed.
9. Mel Tucker, Michigan State: The 51-year old is one of the highest-paid coaches in the Big Ten. Tucker has been a head coach for four seasons, but only has one winning campaign to show for it. He finished 5-7 in his only year with Colorado. Tucker led the Spartans to 11 victoires in 2021, including a New Year's Six Bowl win. However, he's 12-13 overall in Big Ten play, including a 7-10 mark against East opponents. Last season Michigan State ranked 97th nationally in total offense, and 101st in total defense, but Tucker still retained both Coordinators. Quarterback Payton Thorne regressed in 2022 also. The verdict is still out on whether or not Tucker is a great coach, so 2023 will be vital.
8. Bret Bielema, Illinois: He had a highly-successful seven-year tenure at Wisconsin, and led the program to 68 victories, including three Big Ten Titles. Bielema returned to the Big Ten in 2021, and made his mark again on the conference. The Illinois native led the Fighting Illini to an 8-4 campaign last season. Illinois even won seven of its' first eight games. Bielema has a track record of producing elite running backs, and Chase Brown was his latest product. He ranked third in the FBS in rushing yards per game last season. Losing Ryan Walters will have an impact on the defense, but the unit returns two of the best tackles in the country. So Bielema should keep be able to keep the wheels rolling.
7. Mike Locksley, Maryland: The 53-year old has turned the Terrapins into a contender in the Big Ten East. That's because Locksley is a Washington D.C. native, who knows how to recruit the fertile DMV area like no other . Locksley only won 10 games through his first three seasons on the job. However, he has registered a 15-11 mark over the past two years, including two bowl victories. Not to mention Maryland has gone unscathed in non-conference play during that span. Having quarterback Taulia Tagovailoa back for 2023 is huge. After all, Tagovailoa is the active career leader in passing yards and touchdown tosses. Which is why Locksley is primed for his best season yet in College Park.
6. P.J. Fleck, Minnesota: The Illinois native led Western Michigan to 13 wins in 2016, which were the most in school history. Fleck is continuing that success in Minneapolis, and has everyone rowing the boat. He led the Golden Gophers to 11 victories in 2019, which were the most in the program since 1904. Not to mention has won 39 games over the past five seasons, including four bowls. Fleck is also 24-19 in Big Ten play during that span, including a 16-13 mark against foes from the West. Minnesota ranked ninth in the FBS in total defense last year, and Fleck was able to retain Coordinator Joe Rossi. Fleck has won five of his last six games overall, and has plenty of momentum for the fall.
5. Kirk Ferentz, Iowa: The 67-year old is the longest-tenured coach in the FBS, who's approaching his 25th season in Iowa City. Ferentz is Iowa's all-time leader with 186 wins. He constantly molds underrated prospects into All-Big Ten performers, and NFL Draft picks. Time of possession, efficient special teams and tenacious defense has been his recipe for success, and the secret behind his longevity. Phil Parker is his right hand man, who happens to be the best Defensive Coordinator in the FBS. Ferentz has been criticized for nepotism with his son Brian, who calls the plays. Iowa's offense hit rock bottom in 2022, but a new quarterback, and additional weapons should improve those numbers.
4. Luke Fickell, Wisconsin: The 49-year old led Cincinnati to a jaw-dropping, 58 wins over the past six seasons, including two AAC Titles. Fickell accomplished a monumental feat when he clinched a Playoff berth in 2021. The Ohio native was also named the National Coach of the Year that season. It's mind-boggling that he's had 15 of his former players selected in the NFL Draft, with more to follow in a couple weeks. He's very familiar with the Big Ten too. Fickell led Ohio State to a bowl game as an interim coach, and was the co-Defensive Coordinator when it won a National Title in 2014. Fickell brings a championship mentality to Wisconsin, which was non-existent over the past few seasons.
3. James Franklin, Penn State: He accomplished the unthinkable when he led Vanderbilt to 24 wins in three seasons, which included two bowls. Although Bill O'Brien kept Penn State afloat after all of the NCAA sanctions, Franklin quickly turned the program back into a national power. The Pennsylvania native is 78-36 with the Nittany Lions over the past nine seasons. Not to mention Franklin has a Big Ten Title under his belt, and a Rose Bowl victory. He's also 50-30 against Big Ten opponents at Penn State. Franklin continues to recruit at a high level, win at a high level and puts a plethora of his players in the NFL every year. On top of that Franklin is 6-5 in career bowl games.
2. Ryan Day, Ohio State: The New Hampshire native has done a marvelous job leading the legendary program. In 2018 Day kept the Buckeyes unscathed in non-conference play as the teams' interim. He has won a jaw-dropping 42 games over the past four seasons, which included the Rose Bowl. Day also led Ohio State to two Big Ten Titles, three Playoff berths, and an appearance in the National Championship Game during that span. His offenses continue to generate video game numbers year after year. Not to mention Day is an impressive 32-2 against Big Ten opponents, but those two losses were against Michigan. Day should be as motivated as ever after he came up short in the semifinals.
1. Jim Harbaugh, Michigan: The former Wolverine quarterback has made his alma mater a national power again. There's no denying that Harbaugh rules the Big Ten with an iron fist. After all, he's 53-17 against conference foes during his time in Ann Arbor, and 21-1 over the past two seasons. The 59-year old has won back-to-back Big Ten Titles, and clinched two-straight berths into the Playoffs. Harbaugh's recipe for success has been a pounding ground game on offense, a stifling defense and efficient special teams. The Wolverines are always loaded on both sides of the lines. No wonder why Michigan has led the league in rushing over the past two years. Harbaugh returns a loaded team in 2023.