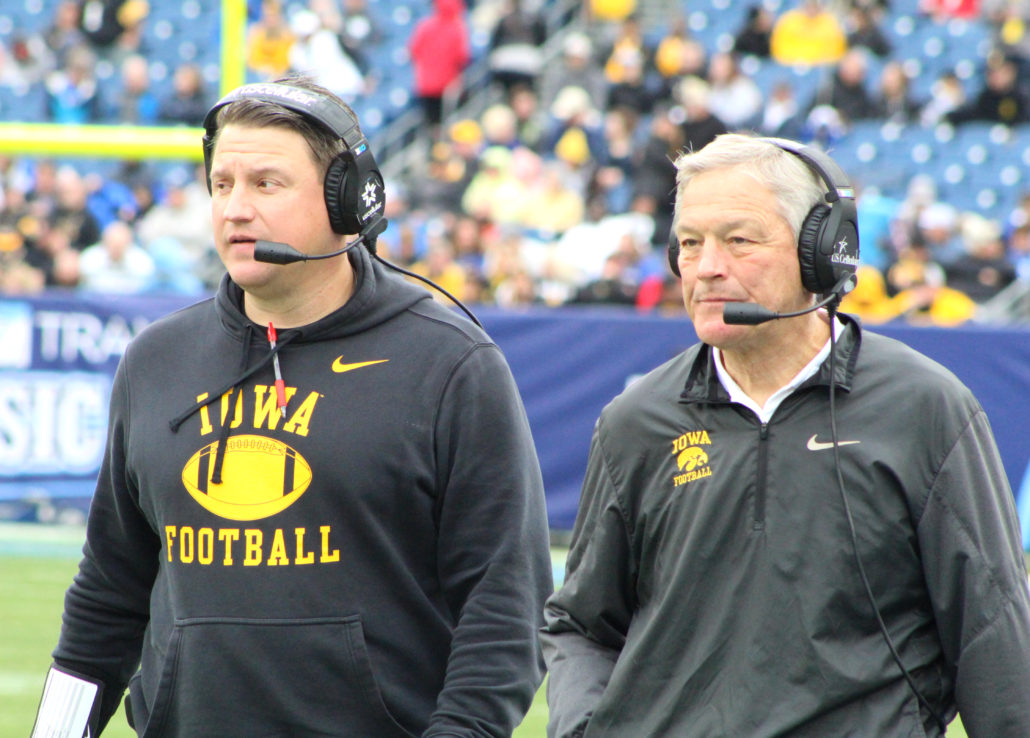 IOWA CITY, Ia. — It's no mystery that Iowa's embattled Offensive Coordinator was put under a microscope this past February.
Brian Ferentz received a newly-structured contract, that included a $50,000 pay cut and some reasonable goals to accomplish for the 2023 season. The Hawkeyes have to win at least seven games, and average at least 25 points per contest.
A lot of Iowa fans believe it's an ultimatum, considering the mediocre numbers from the offense under Ferentz's watch. Although he's a hometown kid, and a former Hawkeye who bleeds black and yellow, somehow Ferentz has become the villain during his time of calling the plays.
When he stepped to the podium Thursday afternoon, Ferentz was bombarded with questions about revisions to his contract. However, he kept his cool, remained focused and emphasized why he doesn't feel any pressure. After all, job security is a delicate matter in today's game.
"I'm going to approach my job the same way I've approached it for the last 11 seasons," Ferentz said. "My job is to help us win football games, we have a true method, we know how we win, we know who we are, and my job is to make sure we play to those strengths."
Regardless of the matter, the numbers don't lie, and Iowa's offense has been a liability throughout his reign. The Hawkeyes ranked 92nd in the FBS in total offense in 2018, 99th in 2019, 87th in 2020, 121st in 2021 and 130th last season. Iowa never scored over 33 points in 2022. Not to mention the Hawkeyes were held to single digits in three games.
Iowa's recipe for success has been time of possession, tenacious defense and field position. Ferentz's offense isn't designed for long drives, and explosive plays down the field. Now that former Michigan studs like quarterback Cade McNamara and tight end Erick All are on the roster, Ferentz can get more creative with his play-calling.
Something has to give though. If Ferentz fails to meet one of his two contract requirements, he won't be retained in 2024. Spring ball will conclude with a scrimmage at Kinnick Stadium Saturday. Ferentz has been encouraged by everything he's seen in practice up to this point.
"It's early, it's still April, so we're trying to hit the benchmarks that we need to hit, we're trying to make sure that we're seeing the progress that we need to see," he said. "But the reality is we have young players, that played a lot, and that experience can be real positive."
One of Iowa's glaring weaknesses last year was the offensive line. The big boys up front couldn't consistently open holes for the running backs, nor could they protect the quarterback. The Hawkeyes tied for 105th nationally in sacks allowed per game, and ranked 124th in rushing offense. McNamara is going to need time in the pocket to make plays.
The gunslinger is still recovering from surgery, so he's been somewhat limited in spring practice. McNamara is doing some individual workouts, and participating in 7-on-7 drills. Ferentz plans on giving McNamara some reps on Saturday, but wants to be smart with how he handles him. Above all, he appreciates the championship mentality the signal-caller brings to the table, and is already seeing his leadership.
"I think the guys in our room understand Cade is our starter, he many not have gotten all of the reps right now, but I can tell you from his actions on a daily basis since he's got here, he's established himself as that person," the 40-year old said. "He's a tough guy, he's physically tough, he's mentally tough, and more than that he's an ultimate competitive person."
It helps that All is having a smooth transition with the offense. Ferentz isn't surprised by that, because he was familiar with All's skill set after recruiting him heavily in high school. Having sixth-year wideout Nico Ragaini back should also help with the Hawkeyes' aerial attack. On top of that, Iowa's returning leading rusher Kaleb Johnson continues to impress Ferentz with his vision, durability and elusiveness.
Fans may very well be watching the offense with their arms crossed Saturday. Everyone wants to see improvement, and has zero tolerance for nepotism from Ferentz's father, who happens to be the longest-tenured coach in the FBS. No doubt every play that Ferentz runs during the final scrimmage will be scrutinized. Still, he doesn't feel like his back is against the wall. So regardless of how the upcoming season plays out, Ferentz is preparing to leave it all on the field for his alma mater.
"The reason that I'm at the University of Iowa, and the reason I coach here is because I care about this program, and I care about the people in this building, so if this is my last year being Offensive Coordinator at Iowa football, I'm at peace with that."