Collin Klein in awe of Will Howard's maturation process this spring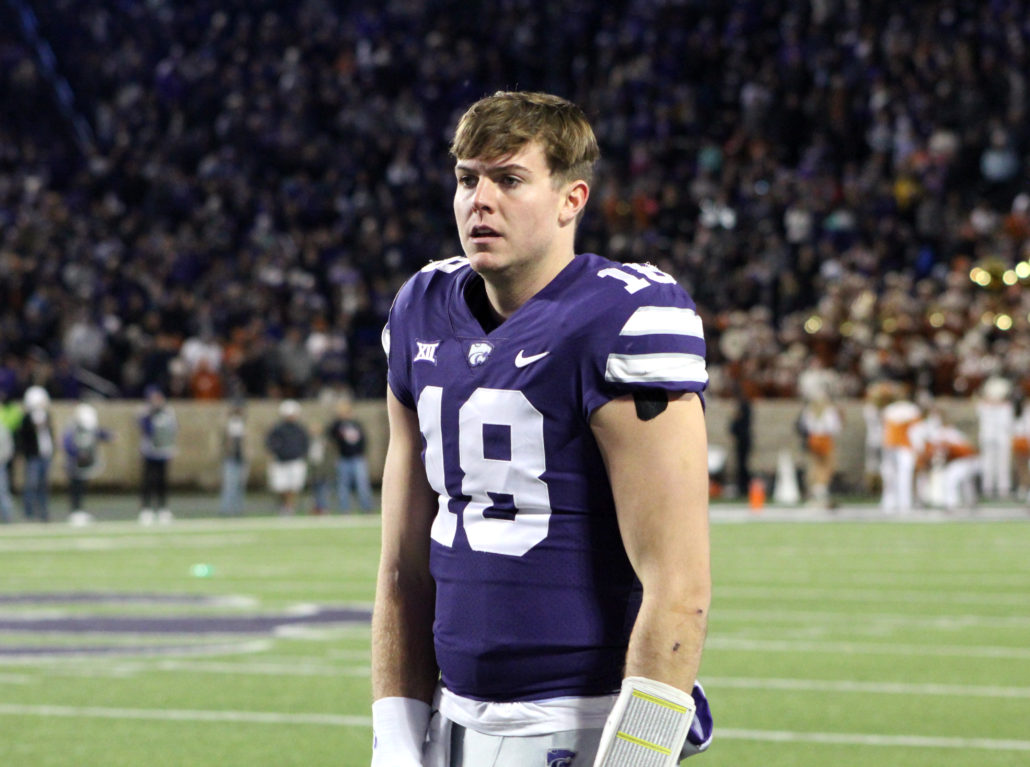 MANHATTAN, Kan. — It's his second spring as Offensive Coordinator with his alma mater, and he's been enjoying mentoring the quarterbacks.
After all, Collin Klein helped Kansas State capture its' first Big 12 Title since 2012 last season, as gunslinger Will Howard torched opposing secondaries down the stretch. With Adrian Martinez gone, Klein knows Howard has complete reigns of the offense, but he's also trying to build depth behind the signal-caller.
Kansas State finished with 21 touchdown tosses and six interceptions last year. With All-American rusher Deuce Vaughn and All-Big 12 wideout Malik Knowles off to the NFL, the offense will need more weapons to surface for Howard. Not to mention Kade Warner has left the building, along with his 46 receptions in 2022.
Regardless, Klein believes Howard is sharpening his skills as the Wildcats navigate through their fourth week of spring ball. Not only has Klein been impressed with Howard's ability to make others around him better, but he feels the quarterback has a high ceiling for the fall.
"Will does such a great job of mastering his craft in the game of football, and with the quarterback position, you could spend every minute, all day, every day watching tape, fundamental principles, drills, improvements and you'd still be busy," Klein said. "So, for him, just to continue to push the envelope of his own game, whether it's footwork, progression discipline or defensive recognition."
Howard raised several eyebrows after he took the Big 12 by storm. Over Kansas State's final eight games he passed for 1,633 yards, 15 touchdowns and four interceptions. The Pennsylvania native also generated three rushing scores during that span.
Backup Jake Rubley only took five pass attempts in 2022, but Klein has him in the mix to be the Wildcats' No. 2 option behind center. True freshman Avery Johnson is expected to be in the rotation this fall too. Klein's scheme features a lot of tempo, plus a consistent ground attack, and in return that opens up the play-action pass. With speedy wideout Phillip Brooks still around, he can do damage out of the slot, and on jet sweeps. That's going to keep defenses from keying in on Howard.
In Klein's eyes Howard has molded into a seasoned veteran. And that's light years ahead of where Howard was as a wide-eyed true freshman, that led the conference in interceptions in 2020. Still, Klein believes there's room for improvement, despite all of Howard's success last season.
"I think – not that he wasn't great at the line of scrimmage last year – but even just his comfort level this year compared to this time last year of being able to manage and run the offense," he said. "Whether it be little tweaks here or there or massive play changes or whatever, he's doing a fantastic job and just being able to push the envelope."
That type of knowledge and determination is what the Wildcats are going to need if they're planning on making another run at a Big 12 Title. There's no denying Howard has the experience, leadership and production to get Kansas State to the promised land again. However, Klein understands that it's harder to stay on top, considering the Wildcats are no longer the hunters, and are now the hunted.
The former Kansas State quarterback just wants to build on the success he generated with calling the plays last year. So having Howard in Klein's arsenal again, and other emerging leaders, there's no limit to what the offense can accomplish in 2023.
"There's a lot of a lot of players that we're excited to try, and as a coaching staff, push and again showcase all of their abilities to the best that we can to make us successful."