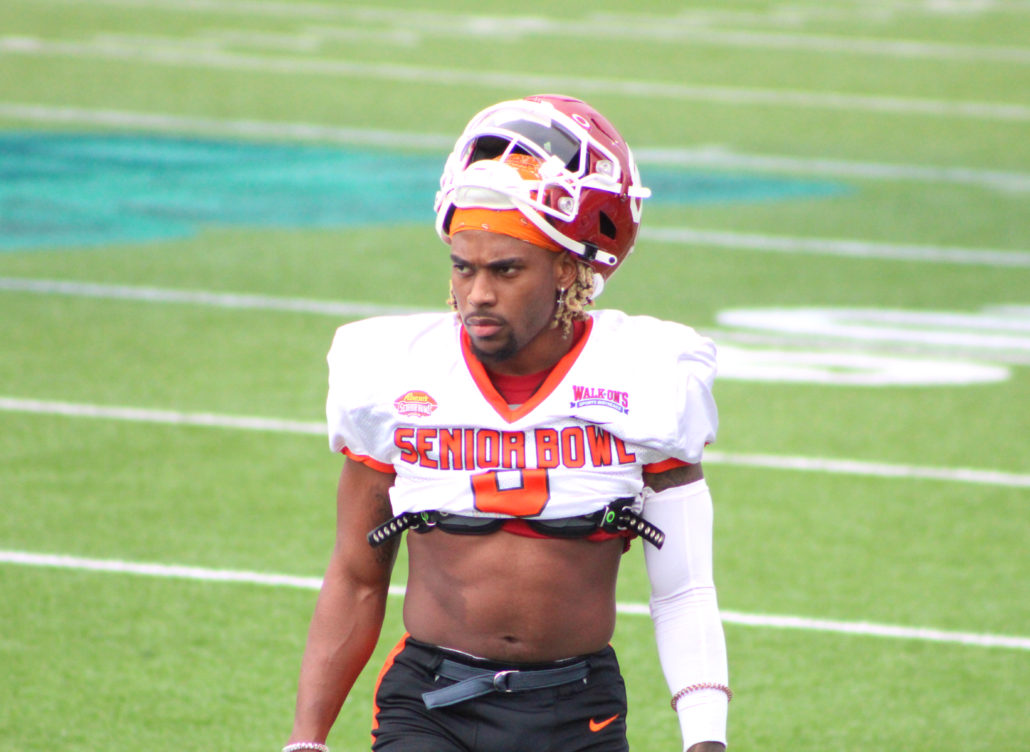 MOBILE, Ala. — The running back played in the SEC, Big 12, and participated in the Senior Bowl Saturday, but now he's one step closer to achieving his childhood dream.
Eric Gray understands that he's in a position very few individuals get to experience, knowing that the next 30 days of his life are going to be the most important ones to date. The Memphis native feels that he's an accomplished rusher. After all, he generated 1,366 yards on the ground at Oklahoma in 2022, which ranks ninth for a single-season in school history.
Not to mention Gray eclipsed the century mark in rushing eight times, including a 211-yard performance against West Virginia. Gray has soft hands too, with 56 receptions over the past two seasons. Although he opted out of the Sooners' bowl game to prepare for his NFL future, it turned out to be beneficial for him.
Gray had a solid week of practice leading up to the Senior Bowl, and carried the ball five times for 17 yards in the contest. The Memphis native also hauled in three passes. He's confident in his abilities, and expects to thrive with those skills at the next level.
"Being able to do it all really, being able to make people miss in space, being able to rush inside and outside zones, as well as catch the ball out of the backfield," Gray said.
He's not the biggest running back by any means. Gray only stands five-foot-nine, and weighs 210 pounds. His hands, arm length and wingspan were also on the smaller side. However, Gray doesn't look at his physical attributes as a disadvantage. He actually packs some power behind his frame, and has enough speed to outrun defensive backs.
Regardless, he's well aware that the NFL is going to be a bigger challenge, and he'll have to improve certain areas of his game to be successful.
"You're going into a bigger and better league in the NFL, not a deficiency, but definitely technique and pass blocking," he said. "Just getting better each day and increasing in that area, and I can definitely do it."
There's no denying Gray has come a long way from his days as a Volunteer and Sooner, and learned so much from each program. That's because he played for three different head coaches in Jeremy Pruitt, Lincoln Riley and Brent Venables. Gray learned how to adjust on the fly from those three coaches, and that has prepared him for the new schemes of x's and o's he'll operate under at the next level.
Gray's journey up to this point has been all about perseverance, patience and hard work, especially at Oklahoma, but he won't change his time as a student-athlete for anyone.
"When I first got there it started slow, but I knew that if I kept persevering, and doing everything I could, that it would pay off," the 23-year old said. "This year I watched it all pay off, nearly 1,400 yards, so it definitely was a great year, and one I wanted to have."
Up next for the talented rusher is the NFL Scouting Combine, which will take at the beginning of March. As for now, Gray is going to continue his training and quest for NFL glory.