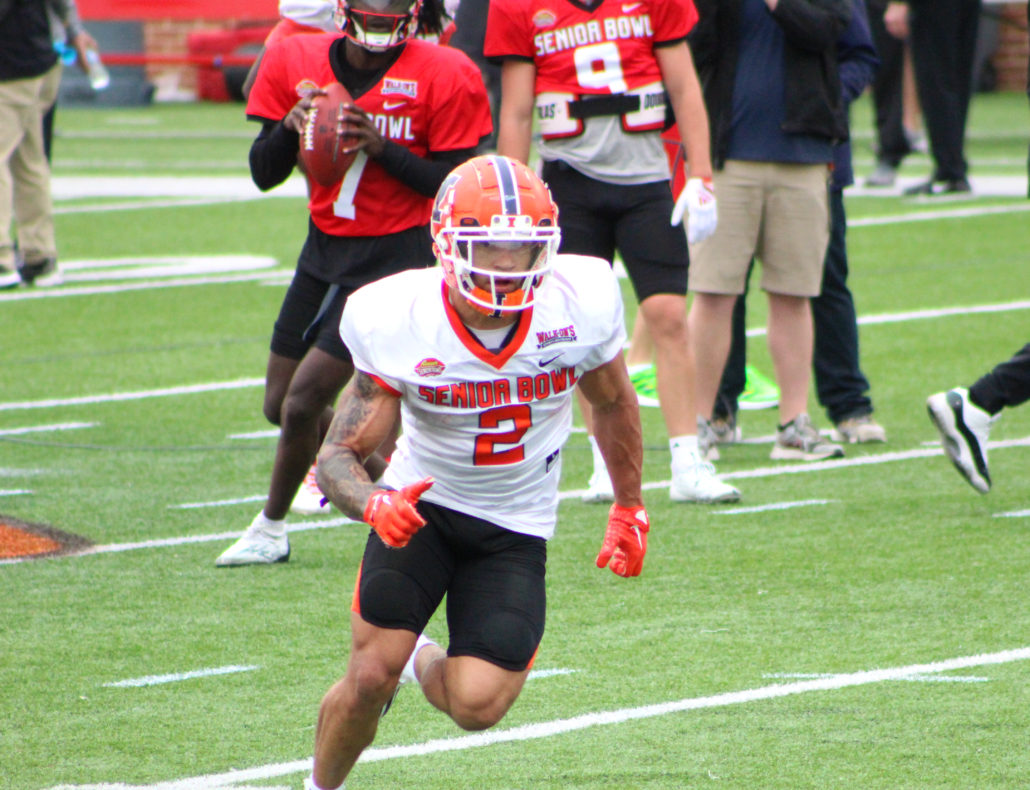 MOBILE, Ala. — He's one of eight running backs competing at the Senior Bowl, and is trying to show the NFL what separates him from the rest of the rushers.
Chase Brown has a lot of momentum approaching Saturday's game. After all, he's coming off a monster campaign in 2022, and became Illinois' first back-to-back 1,000-yard rusher since Robert Holcombe. Brown also finished fourth in the FBS in rushing yards and led the Big Ten in carries.
The Canadian is dynamic out of the backfield too, and caught  27 passes, including three touchdowns. That shouldn't come as a surprise, considering Brown has the second-largest hands out of all the running backs participating in the event.
It's mind-boggling that he fell 55 yards short of breaking the school's single-season rushing record. And Brown would've accomplished that feat had he not decided to sit out Illinois' bowl game, but he wanted to prepare for his journey to the Draft.
Brown only stands five-foot-nine and weighs 215 pounds, but it's all brawn and he takes his dieting seriously. The former three-star prospect is just glad to be down in Mobile, and playing in a game with his twin brother Sydney by his side. They're two of three Illinois players at the event, along with Jartavius Martin. So they're all trying to represent for the Fighting Illini.
"It's a lot of fun, there's a bunch of titles that come through Mobile, and to add to that and compete against some of the best guys in College football, it's a lot of fun to me," Brown said. "It's a blessing, we grew up watching this game and now being able to compete in it makes it even sweeter."
Brown isn't the biggest or fastest back that'll be playing in the Senior Bowl. However, he believes he brings speed, burst, quick feet and the ability to run and catch the football to the table. Some Draft analysts are projecting him as a Day three pick, which is why Brown is trying to improve certain areas of his game this week.
"I want to continue to work on my pass protection and ball security," he said.
That's going to be key at the next level, because blocking is vital and turnovers aren't an option. He knows everyone is rooting for him back in Champaign, so he appreciates the support and doesn't want to let anyone down. Most importantly, Brown is thankful for everyone that's been part of his journey and helped him get to this position.
"I look back on my time at Illinois as a true blessing," the 22-year old said. "We left off with a winning season and that's what we were hoping to do, so I'm grateful for everyone that coached me there."
It's no mystery that Brown has come a long way. From persevering through injuries, to earning the top spot out of a crowded backfield, Brown is all about conquering odds. He understands that the life span for a running back is short-lived in the NFL, and Brown doesn't want to be damaged goods.
Which is why Saturday can't get here fast enough for the talented rusher.