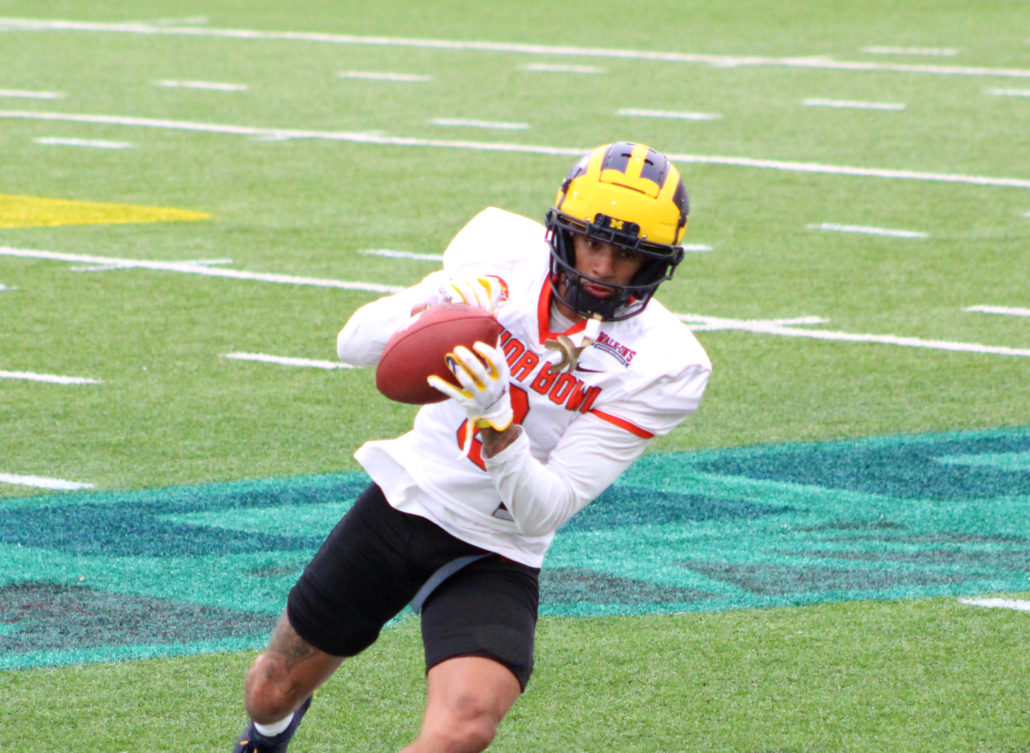 MOBILE, Ala. — After leading Michigan in receptions and receiving yards last season, the wideout is out to prove he's a versatile weapon to NFL scouts during Senior Bowl practice.
Ronnie Bell has the speed and route-running ability to stretch the field on defenses. Not to mention he's a natural at returning punts, and had a 40-yarder against Indiana. So Bell is confident that he can be used in a variety of ways at the next level. And he didn't come this far to not have an impact.
Bell's journey up to this point has been all about perseverance. After all, he overcame a grueling knee injury that made him miss 13 games in 2021. The Kansas City native bounced back with a solid 2022 campaign though. Bell caught a season-high, 11 passes in the victory over Indiana, had 135 receiving yards and a score in the Playoff semifinals against TCU.
Now he's trying to keep that momentum going approaching the Senior Bowl Saturday. Bell is representing for the Wolverines, along with teammates Ryan Hayes and Olusegun Oluwatimi. The All-Big Ten performer is confident in his abilities and feels he can excel wherever he's asked to play.
"My versatility, I'm willing to do anything," Bell said. "Compete in any type of situation or circumstances with my energy, effort and brains."
Bell weighed in at 192 pounds earlier this week, which is solid for his 5-foot-11 frame. He wants the National team to be victorious Saturday afternoon and determined to be a reason for it. Before every game Bell makes sure he drops to his knees at the eight-yard line and pray. It's usually for good health of everyone playing and to talk to his late grandfather, who he regards as his guardian angel.
The former three-star prospect feels he learned from the best in Jim Harbaugh, who was a head coach for two NFL teams. So of course Harbaugh knows what it takes to succeed at the next level, and Bell is grateful for his guidance in several areas of his game.
"Definitely mental toughness," he said. "He (Harbaugh) talked about the hot days, the sun sculpting the body and shaping the mind, I feel like he's really built in that program."
Bell doesn't want to get too consumed in a schedule because he loves being flexible and floating like water. He enjoyed his time as a Wolverine and wouldn't change it for the world. In his eyes there's nothing like playing at the Big House in front of the fans.
"I hope I left a successful mark, a real genuine mark with everybody," the 23-year old said. "And not just fanbase-wise, but in that building because it was real love."
Bell believes that love is what helped Michigan win two-straight Big Ten Titles, and back-to-back Playoff appearances. He knows he left the Wolverines in a better state than when he arrived.
Which is why Bell wants his performance in the Senior Bowl to be a reflection on his time as a Wolverine, and the success they endured with love and support from all parties involved.
"I feel like that's what helped us to really start climbing the ladder and becoming National Title contenders."